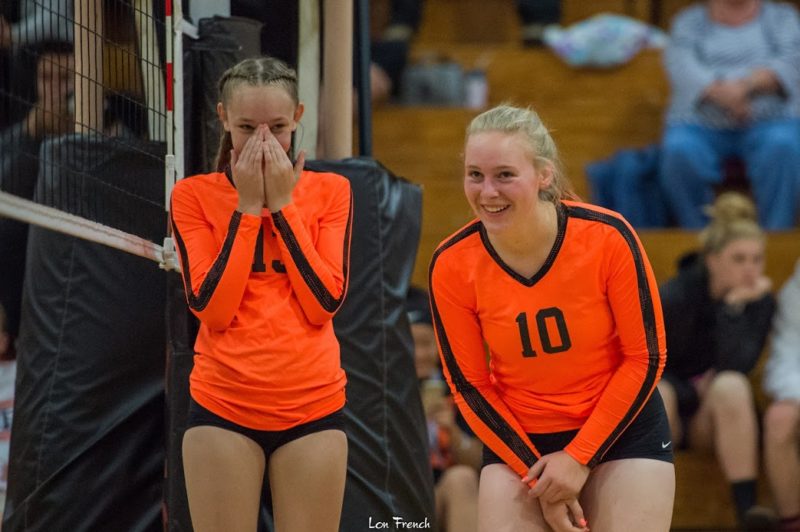 Unaccustomed to winning, the playoff-bound Taft High volleyball team can secure a winning record in the 2019 Coastal Range League standings by winning their regular-season finale Tuesday at home on Senior Night.
Regardless, the Class 3A Tigers have assured themselves of a .500 league season and clinched third place in the conference standings entering the Coastal Range League playoffs Saturday, Oct. 26, at Willamina.
"It's a great feeling to go from a string of losing seasons to not only get more wins than we have in a long time, but to also have a winning season," said Taft coach Kelsey Hart, whose Tigers (4-3) positioned themselves for a share of second place behind undefeated Warrenton (7-0) by winning 3-0 Tuesday night at Clatskanie (0-6).
The Tigers, who conclude the regular season at 6 p.m. Tuesday, Oct. 22,  against Willamina (4-2), can possibly tie the Bulldogs at 5-3 in league play with a victory at 6 p.m. in the school gym after defeating Clatskanie 25-12, 25-20, 25-7 last night.
"Team attitude is pretty high right now," Hart said. "We've played with several lineups, girls are all getting playing time, and we've had quite a few wins. We're raring to go for our final league game next week."
A Taft victory over Clatskanie last year was its first league win following 37 straight conference defeats since a 3-1 home conquest of Horizon Christian-Tualatin on Oct. 5, 2015. The Tigers went 2-17 overall and 1-7 in league play last season, 1-17, 0-14 in 2017, and 0-17, 0-14 in 2016, and had lost 29 straight matches overall at the time of the Clatskanie win.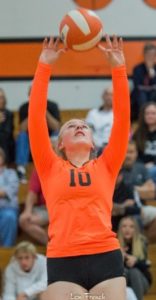 This year's Tigers, who suit up just one senior in Corey Van Damme, have won two straight conference matches and four of their last six contests. One of those defeats was to the Bulldogs, 3-0 at Willamina on Oct. 3.
"We had an exceptionally bad game against Willamina the last time we played them," Hart said. "We had trouble with almost all of our skills. It was just an off-game."
As things stand, third-place Taft would play the fourth-place team, likely Rainier, in the playoffs at Willamina on Oct. 26. Should the Tigers, who have swept Rainier this season, win that match, they would play the second-place team, likely Willamina, with the Bulldogs heavily favored to defeat Clatskanie on Thursday.
"We've been working on addressing some of our issues in practice," Hart said. "We're also watching film on the Willamina team to get a jump on preparing for our rematch next week. It's going to be a battle for sure, but if we come out playing the way I know that we can play, I think we can come out victorious."
Regardless of the outcome, the Tigers have grown to understand they are no longer pushovers in league matchups, Hart said.
"I'm so incredibly proud of this group of girls and how hard they've worked this season," she said. "They're a very young team, and with this start, I expect great things from them the next few years."
Class 3A Coastal Range League Standings
SW = Sets Won; SL = Sets Lost
Schedule
Wednesday, Sept. 4 vs. Amity, L 0-3
Thursday, Sept. 5 @ Waldport, L 2-3
Monday, Sept. 9 vs. Waldport, W 3-2
Tuesday, Sept. 10 @ Toledo, L 3-0
Friday, Sept. 13 @ Sutherlin, L 3-1
Wednesday, Sept. 18 @ Amity, L 3-0
Thursday, Sept. 19 vs. *Warrenton, L 3-2
Tuesday, Sept. 24 @ *Rainier, W 3-0
Thursday, Sept. 26 vs. *Clatskanie, W 3-0
Thursday, Oct. 3 @ Willamina, L 3-0
Tuesday, Oct. 8 @ *Warrenton, L 3-1
Thursday, Oct. 10 vs. *Rainier, W 3-1
Tuesday, Oct. 15 @ *Clatskanie, W 3-0
Tuesday, Oct. 22 vs. *Willamina, 6 p.m.
* denotes league game
Roster
| No. | Name | Grade |
| --- | --- | --- |
| 1 | Keeara Harmon | 11 |
| 2 | Natalie Gates | 9 |
| 4 | Addie Gates | 10 |
| 5 | Kayla Lininger | 11 |
| 6 | Jordyn Ramsey | 11 |
| 7 | Aleah Bailey | 9 |
| 9 | Makena Cole | 11 |
| 10 | Corey Van Damme | 12 |
| 11 | Lily Hatton | 10 |
| 13 | Hailey Weaver | 9 |
| 14 | Shelline Nerup | 10 |
| 15 | Natalie Ramirez | 10 |