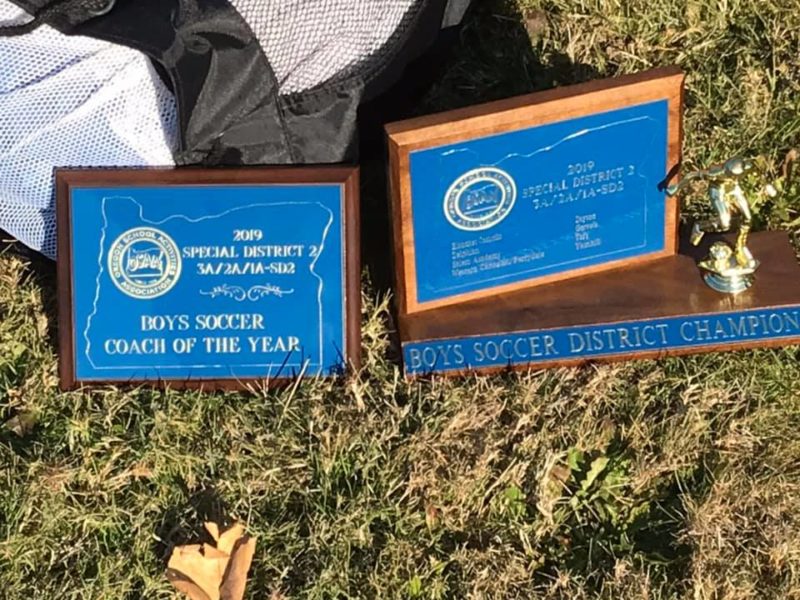 Coach of the Year Ryan Ulicni's undefeated Taft High boys soccer team secured a home game in next week's State playoffs by defeating Delphian 3-0 Saturday for the Class 3A/2A/1A Special District 2 championship at Salem Academy.
"Knowing Delphian is always a great matchup for us, we went in with the confidence we can get it done," said Ulicni, whose fourth-seeded Tigers will play 13th-seeded Central Linn (8-3-4 overall, 6-2-4 Special District 3) Wednesday at Voris Field at a time to be determined. "We expected an all-out battle and it was."
CLASS 3A/2A/1A OSAA BOYS SOCCER BRACKET
Junior William Calderon, a first-team all-league selection, sandwiched goals around a score by senior SD2 Player of the Year Edson Fuentes to improve the Tigers to 15-0 on the season and the team's scoring advantage to 104-8.
Jose Flores joined Fuentes and Calderon on the league's first team, while Alex Del Valle, Estib Hernandez and Sam Cortes were second-team selections. Ivan Cortez, Mauricio Rivas and Ethan Thomas were honorable mention.
"There was some fantastic end-to-end play," Ulicni said. "It seemed the longer the game was a draw, the stronger we became, which is a great attitude to see with our team. Last year, it brought frustration."
Calderon broke the stalemate with the game's first goal on a penalty kick in the first half.
"Going into the second half, Delphian threw it all at us and we kept it to our game," Ulicni said. "Eventually, Edson got himself a goal with his individual skill beating the last defender. William was able to grab one more by not quitting and cleaning up around the box."
Cortes, Taft's sophomore goalie, kept Delphian off the scoreboard for the Tigers' ninth shutout in 15 games this season.
"Our defense was in much better communication and worked so well against their rotating front line," Ulicni said. "We are all very much looking forward to beginning our route to State. Knowing we will be hosting the first game is a great confidence boost."
Class 3A/2A/1A Special District 2 Boys Standings
GS=Goals Scored; GA=Goals Allowed