On the third floor of the City Hall building in Lincoln City there is a fire hydrant. Why you ask?
I took my family to City Hall so I could take a picture of the City Council chambers for a story I'm going to write about the upcoming election. I was having a great time explaining to the children about the colorful posters that decorate the walls.
"This one shows visitors to Lincoln City where they can hunt for glass floats!" I said as they listened intently.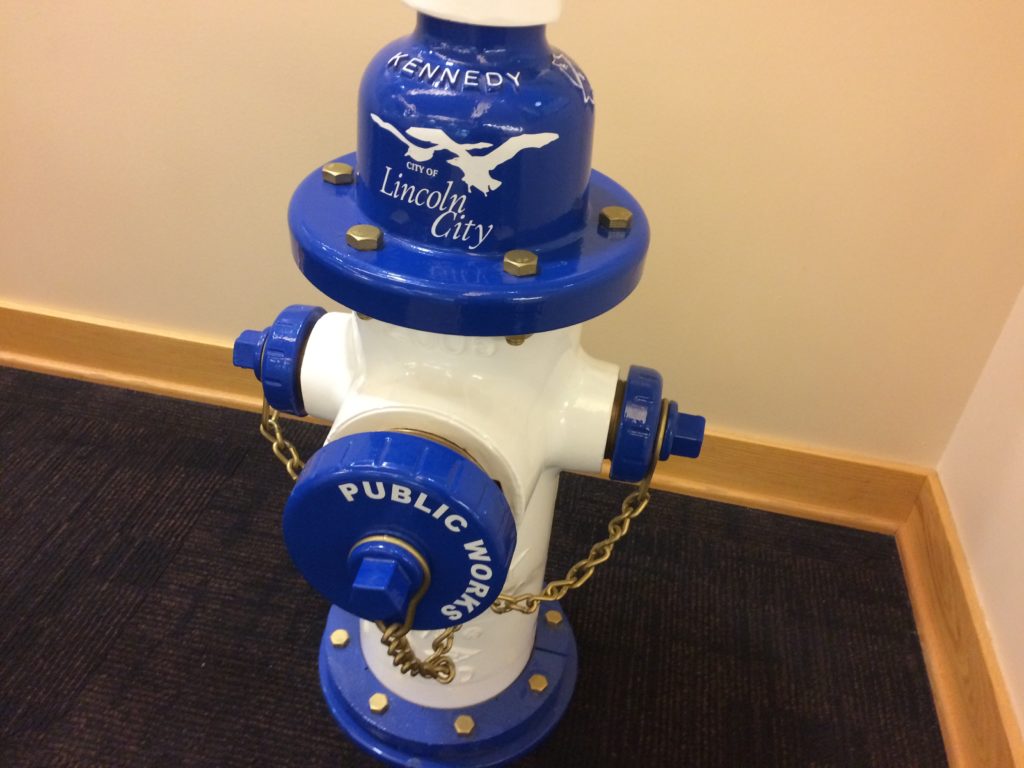 "And this is a … fire hydrant?"
I was perplexed. What was a fire hydrant doing on the third floor? Did the Fire Department actually hook up hoses in the middle of the hallway? This was not any ordinary fire hydrant either. It was beautiful. We all know the classic fire hydrant which is usually yellow and shows obvious signs of weathering. This particular fire hydrant was absolutely immaculate and it was a very pretty blue. The Lincoln City logo was painted on the front and the nuts were gold. Gold chains adorned it and it looked like something you would see in a movie where the streets are gold and all the people smile and wave at you. My kids ran to it and started playing with it.
"What is it doing here?" I said under my breath.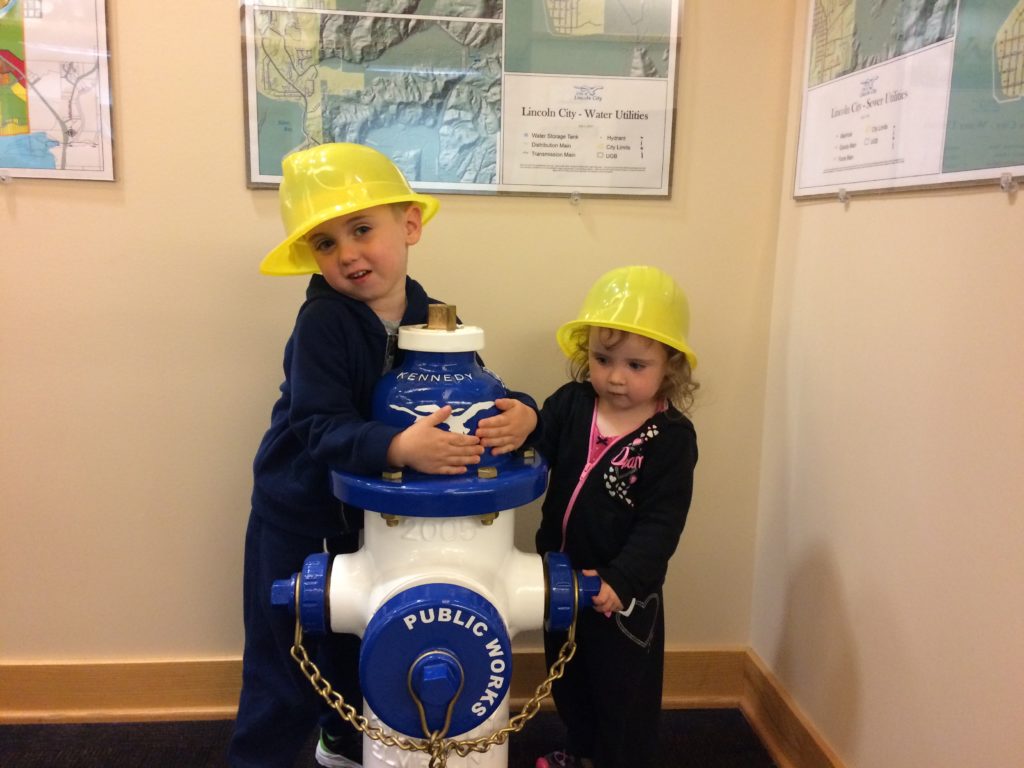 Seeking answers I went to the Public Works desk where a very nice person had left two plastic hard hats out for our kids.
Kevin Mattias was responsible for the nice gesture and more importantly, had some answers about the fire hydrant. I found out from him that this was not a working hydrant. There were no working parts inside it at all. It was hollow. Additionally he told me it was not hooked up to any water source. When I asked about the history of the hydrant he referred me to a Dave Scheib. Kevin said the front desk people could put me in touch with him.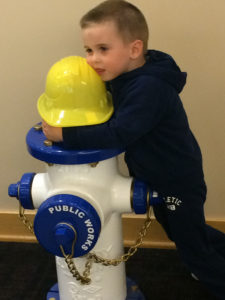 The kids wanted me to talk to Dave immediately so I explained the process to them and at some point they realized they would have to leave the hydrant behind. My younger daughter Alaina had no problem with this but my older son Skyler did not want to go. It was the equivalent of telling him it was time to leave the playground. After a brief negotiation period I convinced him to leave. I am out two Oreo cookies as of the writing of this story.
The ladies at the front desk were ever so nice to put in a call to Dave Scheib so he would have my number and hopefully fill me in on the story of the blue and white fire hydrant. My wife took the kids down the elevator so they could look out through the glass and I decided to take the stairs to see if I could beat them to the ground floor.
Dave's call came as I was jumping down the stairs. I dropped to the ground, opened my notepad, and prepared to take notes. Within the first minute I could tell that Dave was great at his job. He knew the model of the hydrant (Kennedy K-81) and even touched on some of the parts. He told me he teaches a class on fire hydrants and makes sure every volunteer fire fighter knows not to shut down a hydrant too fast or it can create a Water Hammer and do damage to the main. I told him that I didn't know that and you learn something new everyday. He laughed. Turns out Dave is a pretty funny guy.
When Dave said the fire hydrant had been there for over ten years I was shocked. Had I really missed this artistic fire hydrant the whole time? Why did I see it now? Maybe it was because of my kids. Toddlers are at that height so maybe my brain made the connection because of that.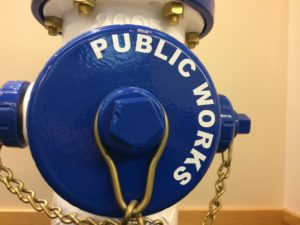 We continued talking about the fire hydrant and I learned about how it came into existence. Dave Scheib wanted to standardize the fire hydrants. Dave, his supervisor, Lila Bradley, and their engineer went into action to streamline the fire hydrant system around 2005. Back then there were several different kinds of hydrants and the maintenance people who worked on them would need to carry all kinds of different parts in the trucks to be able to fix them. This was not very efficient so Dave picked one fire hydrant "to rule them all" the Kennedy K-81 for its durability, simplicity, and Made In America stamp. The Kennedy K-81 is easy to work on and you only need to order the parts for one fire hydrant.
They powder coated the City Hall Fire Hydrant and put it where it is today to commemorate a standardized fire hydrant system.
Kids love it.