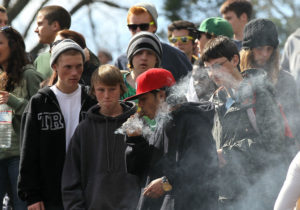 An Oregon Health Authority media campaign aimed at youth and young adults is raising awareness among its target audience of the risks associated with marijuana use, an independent evaluation has found.
"Stay True to You," the OHA's youth marijuana use prevention campaign, was launched in July 2016 in two pilot communities–the Portland metro area (Washington, Multnomah and Clackamas counties) and Southern Oregon (Josephine and Jackson counties). RMC Research Corp., contracted by OHA to evaluate the campaign, found that, at mid-campaign, a statistically significant higher proportion of youth and young adults in the pilot areas correctly identified that only one in five Oregon high school juniors use marijuana.
The evaluation also showed that a significantly higher proportion of youth and young adults in the pilot areas also correctly identified that possession of marijuana by persons under age 21 can result in a steep fine, community service, or court-ordered drug treatment.
Social norms, intent to use and perceived risk of use are known predictors of substance use behavior.
"Our focus group research showed youth and young adults wanted more information on marijuana use and its effects," said Kati Moseley, OHA policy specialist at the OHA Public Health Division. "This campaign provided those facts and our research shows the audience was receptive to them."
The mid-campaign evaluation was contained in a report OHA submitted this month to the Oregon Legislature. The full report is available at http://healthoregon.org/marijuana under "Publications."
The ability to measure long-term effects of the youth marijuana use prevention pilot campaign is limited given the short five-month duration between campaign launch and mid-campaign assessment. However, the campaign is reaching its intended youth and young adult audience, the evaluation concluded.
OHA launched the pilot campaign last summer in the midst of increased marijuana advertising and access to retail marijuana–recent changes that may promote underage marijuana use. Although the magnitude of marijuana advertising in Oregon is unknown, marijuana retail locations are almost twice as common as Starbucks or McDonald's. In eight of the 12 youth and parent focus groups conducted in pilot campaign areas, participants reported an increase in the visibility of dispensaries, marijuana advertising, and marijuana-related products in the past year.
Youth and young adult attitudes–including intent to delay marijuana use until age 21–have held steady in this environment. Despite that, the mid-campaign evaluation results indicate that a standalone media campaign may not be sufficient by itself to counteract Oregon's growing advertising of and access to retail marijuana. Because media campaigns are most effective when implemented in the context of community-wide support for youth, parents and families, this campaign's effects on youth marijuana use will grow with increased collaboration among the Oregon Health Authority's Public Health Division, counties, tribes and schools in Oregon.
Background on Stay True to You Campaign and evaluation
After the legalization and ongoing rollout of recreational marijuana, the Oregon Legislature passed HB 4014 and SB 1597, which provided OHA with $3.97 million to develop, pilot and evaluate a youth marijuana use prevention campaign in a rural and urban area of the state. Legislative intent guided OHA in choosing the Portland metro area and southern Oregon as the locations for the pilot campaign.
OHA developed the campaign using extensive audience research and focus groups. OHA conducted 28 focus groups in Portland, Bend, Medford and Pendleton featuring 260 youth and young adults ages 14 through 20. Participants from the African American, Asian and Pacific Islander, white, American Indian/Alaska native and Latino communities were included. RMC Research Corporation conducted groups in English and Spanish between October 2015 and March 2016.