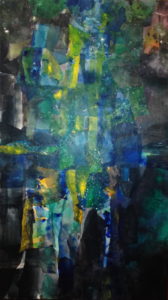 This joint exhibit, "Kaleidoscope: Patterns of Land, Ocean, Sun, and Sky" features collage/ mixed media artist Ron Bunch and glass artist Bob Heath. It will open at the Chessman Gallery on Friday, February 10th with an artists' reception from 5 to 7 pm. Wine and appetizers will be on offer. This exhibit will be on display until Monday, March 10th.
Both artists are exhibiting works inspired by the natural world. Bunch and Heath fragment these visual influences and reorganize them into abstracted works that still evoke the brilliance of the original natural phenomena.
The works exhibited in "Kaleidoscope" echo our unique coastal landscape. Such inspiring land and seascapes create emotional responses that are reiterated within the gallery walls through this collection of work. As Bunch deconstructs and recreates visions through the layering of colors and transparencies in his collages, he pushes the boundaries of light and form in their relationship to ocean, earth, and sky. These ideas are complimented visually with the fused glasswork of Bob Heath. While translucency is inherently important to works of glass, Heath skillfully patterns colors, layers, and forms merging light with solid in his pieces drawing inspiration from beams of sunlight and topographical images alike. Bunch and Heath's playful abstractions place viewers into a fantastic kaleidoscope where the natural world's beauty is only illuminated.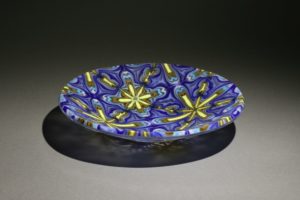 Ron Bunch's background in landscape architecture informs his work, he is primarily a self-taught artist, having created art for decades. Bunch is strongly influenced by the landscapes associated with his upbringing in rural Oregon. He often creates from memory alone and finds his recollections transform the landscapes. His collage/mixed media work is made from his own painted papers mounted on canvas and  board. Upon retirement Bunch is able to work full time in his own studio at Radius Studios in Portland, Oregon. www.rbbunch-art.com
Bob Heath's 35 years as an engineer had given him the appreciation for detail and design that is evident in his glass forms. Heath has studied with a wide range of glass artists and experimented with just about everything one can do with glass, but is always eager to learn and explore new techniques. Heath was selected as a finalist in the 2014 Bullseye Emerging Artists bi-annual art-glass competition. He is an active member of the Oregon Glass Guild, having served as its president for two years. www.candlelightglass.com
For more information about this show or any of the many events going on at the Lincoln City Cultural Center, call 541-994-9994, head to lincolncity-culturalcenter.org, or become a friend on Facebook.