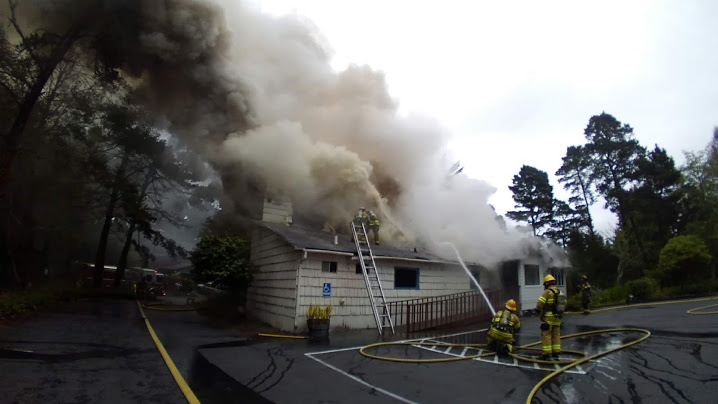 Investigators have determined Gleneden Beach Christian Church was deliberately set on fire Sunday, Sept. 15 as the alleged arsonist turned himself in to authorities.
Deputies, with the assistance of the Toledo Police Department, contacted the suspect in the case, Jordan James Savariego age 29, who is transient. Mr. Savariego was subsequently taken into custody without incident.
Savariego reportedly confessed to setting the fire. He is lodged at the Lincoln County Jail on charges of criminal trespassing, criminal mischief, burglary and arson with bail set at $357, 500.
Depoe Bay Fire, North Lincoln Fire & Rescue and Newport Fire responded to heavy smoke and flames coming from the church Sunday and doused the blaze after a three hour battle.
No injuries were reported as the building was unoccupied.
Lincoln County Sheriff deputies, Pacific West Ambulance and the Oregon State Police also responded.
"The mutual aid training we have done these past months has paid off," Depoe Bay Fire Chief Bill Johnson said. "Crews were able to operate smoothly and minimize damage to the structure."
According to sources, the church, 7185 Church Ave., Gleneden Beach, had recently had a new roof installed and the fire took place in an older part of the building, leaving much of the newer part intact.
The Lincoln County Fire Investigation Team, comprised of members from the Oregon State Fire Marshal's Office, North Lincoln Fire and Rescue, Newport Fire Department, Toledo Fire Department, and the Lincoln County Sheriff's Office were activated and through the course of the investigation, it was determined that the fire was intentionally set.