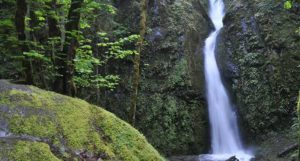 Oregon Parks and Recreation Department (OPRD) invites the public to visit state parks for free on Nov. 25. For the second successive year, the department will wave day-use parking fees at the 26 state parks the charge them.
"We invite you to join a new tradition: Green Friday," said OPRD Director Lisa Sumption. "Why not skip the mall, and instead come out to play with your family and friends at your favorite state park?"
To help celebrate, the nonprofit Oregon State Parks Foundation is hosting special events at L.L Stub Stewart State Park, Tryon Creek State Natural Area, Champoeg State Heritage Area and Silver Falls State Park from 10 a.m. to 2 p.m. Hot drinks and snacks will be available, and visitors will be able to deposit entry forms for drawings to win prizes from Columbia Sportswear, Keen Footwear, REI and Leatherman Tools. Entry forms are obtained by registering at www.oregonstateparksfoundation.org. Completed forms must be brought to one of the four participating parks from 10 a.m. to 2 p.m. that day. KINK-FM radio will host a special promotional appearance by Music Director Jared from noon to 2 p.m. at Champoeg.
Parking is free year-round at almost all state parks; the waiver applies to the 26 parks that charge $5 daily for parking. The waiver applies from open to close on Nov. 25, except at Shore Acres State Park, where it expires at 3 p.m. for the Holiday Lights event that runs Thanksgiving through New Year's Eve. A list of parks that require day-use parking permits is at http://bit.ly/OregonStateParksParking.
Visit the Oregon State Parks website for directions to each park: www.oregonstateparks.org.