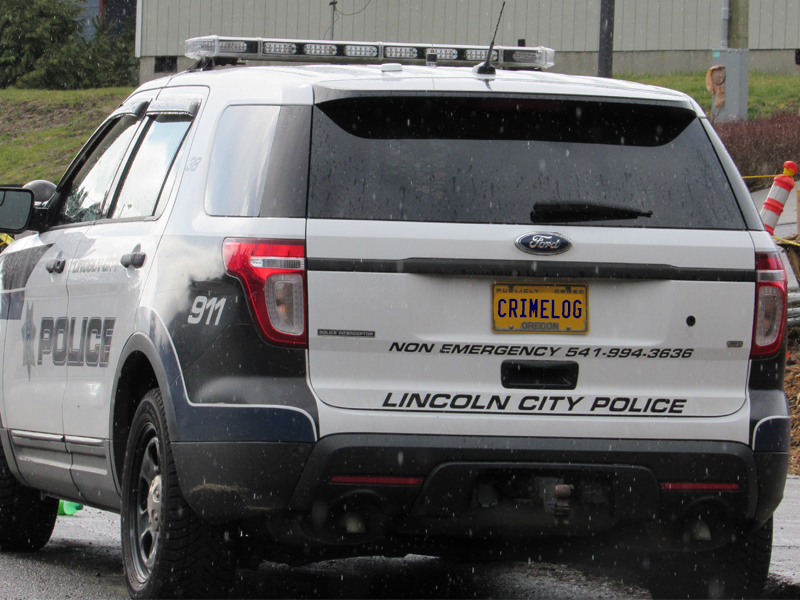 The Lincoln City Police Dispatch Daily Desk Log is a public record of police calls. All suspects are innocent until proven guilty in a court of law.
Friday, Feb. 22
Extra Patrol – 5:59 a.m. – Community Center – Extra patrol requested for illegal camping.
Stolen Vehicle – 7:34 a.m. – Report of vehicle stolen from residence. Front bumper and tail light taped on with duct tape. Vehicle entered into LEDS/NCIC, BOLO (be on the lookout) sent. Suspect: Trevor Petricevic.
Trespass – 11:41 a.m. – 2313 SW Bard Loop – Caller reports a person is on her porch used the power outlet and then the hot tub. Extra patrol request ordered for this property.
Harassment – 3:50 p.m. – Taft Elementary – Report taken for incident that happened at school.
Saturday, Feb. 23
Criminal Mischief – 2:09 a.m. – 3913 SW Highway 101 – Attempted burglary at location. Damage to exterior door of main office area. No entry made.
Peace Officer Hold – 9:15 a.m. – 1249 NW 15th St. #5 – Report of a naked man yelling outside of hotel. Kevin Duggan (9/4/60) taken into custody on POH and transported to SNLH.
Fraud – 3:43 p.m. – Chinook Winds Casino – Report of fraudulent use of a credit card at the casino.
Found Property – 4:47 p.m. – SW 52nd Court – Found wallet on the beach in Taft turned in to LCPD. Wallet taken for safekeeping. Wallet had ID and seven $100 bills. Wallet was returned to owner.
Extrication – Wecoma Park Bathroom, NW Jetty & NW 31st St. – Sgt. Winn had to free a trapped female in the bathroom. The lock mechanism was broken and door is not able to be secured. Public Works notified.
Extra Patrol – 6423 NE Neptune – Spoke to juveniles throwing rocks at deer. Extra patrol requested.
Theft – 9:21 p.m. – 2945 NW Jetty, Room 323 – Hotel guest says vehicle was broken into. Report taken.
Assisting Outside Agency – 9:47 p.m. – 1313 SE 1st St. – Report of intoxicated male breaking items in vacation rental. Taylor Burner (9/4/92) cited and released for probation violation warrant.
Theft – 9:55 p.m. – 2845 NW Highway 101 – Theft of cell phone at restaurant.
Sunday, Feb. 24
Assault – 2:27 a.m. – 2751 SW Anemone Ave. – Report of intoxicated female striking a relative. Kayte Coffelt (5/24/88) taken into custody for domestic assault and transported to Lincoln County Jail.
Burglary – 4:01 p.m. – 5021 SW Highway 101 – James Schweitzer (1/6/63) arrested for burglary. Business had damage to front door and window. Items inside indicated someone had been sleeping inside.
Reckless Driving – 5:38 p.m. – D River Wayside – Alicia Magana (8/10/86) cited for reckless driving and reckless endangering.
DUII – 9:46 p.m. – 1300 N Highway 101 – Curtis Bosworth (12/15/82) taken into custody for DUII. Cited and released from LCPD. Vehicle impounded by Lincoln City Towing.
Monday, Feb. 25
Extra Patrol Request – 3456 NE West Devils Lake Road – Residents requesting extra patrol due to transients going through trash in area.
Tuesday, Feb. 26
Warrant Arrest – 7:03 a.m. – LCPD – Page Riddle (1/9/95) turned herself in at station. Riddle was transported to Lincoln County Jail.
Wednesday, Feb. 27
Extra Patrol – 814 SW 9th St. – Caller reports several vehicles are driving around the neighborhood. She believes they are trying to break into vehicles. Caller is emailing surveillance video and photos.
Theft – 10:18 a.m. – 660 SE Highway 101 – Plumbing stolen from bathroom. Report taken.
Thursday, Feb. 28
Suspicious Activity – 12:21 p.m. – Chinook Winds Casino – CWC Security found suspicious pictures left at the arcade. Report taken.
Probation Violation – 3:30 p.m. – South Shell – James Ayres (12/24/80) taken into custody and transported to Lincoln County Jail for probation violation and possession of meth. Juvenile released into grandparent's care.
Theft – 7:03 p.m. – Safeway – Theft of three beers. Perpetrator left on foot. Report taken.