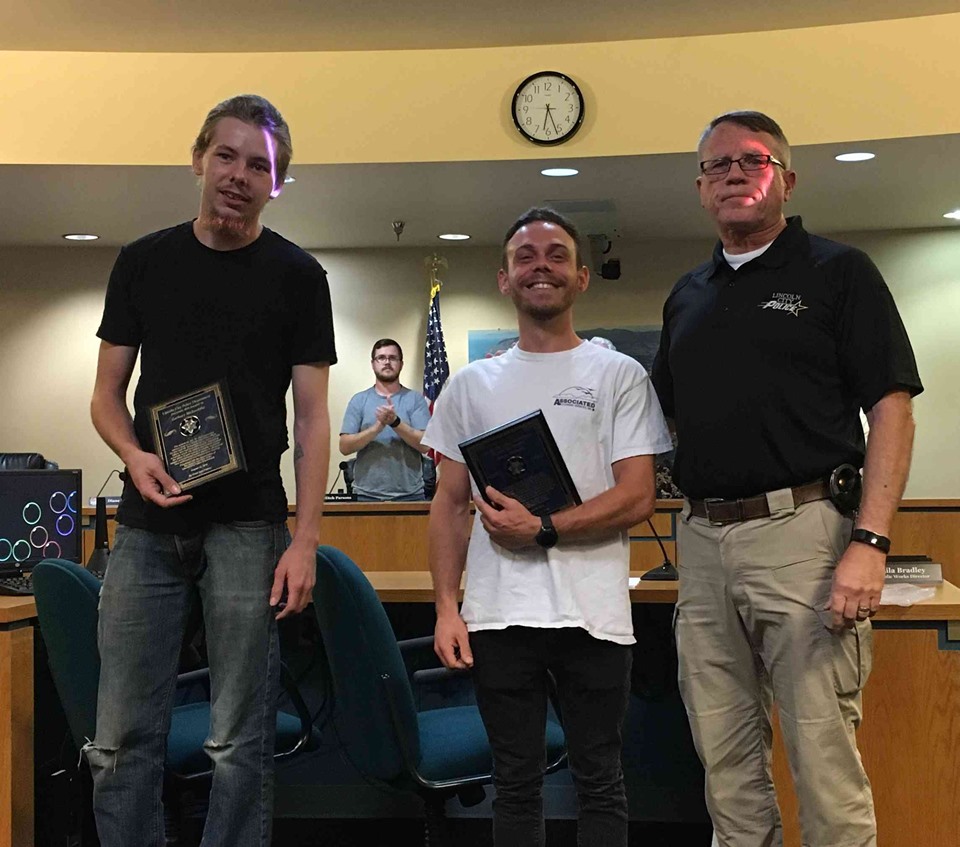 Two local men have been cited for their bravery in assisting police officers in distress in the apprehension of an assailant involved in a late-night fight.
Austin DePaolis and Zachary Bickerdyke received special recognition for their courage on behalf of the Lincoln City Police Department (LCPD) and city legislators Monday at the Lincoln City City Council's regular session at City Hall.
"It's obvious that had these individuals not joined this fight, our officers may have struggled a lot harder and could have been more seriously injured," LCPD Police Chief Jerry Palmer said.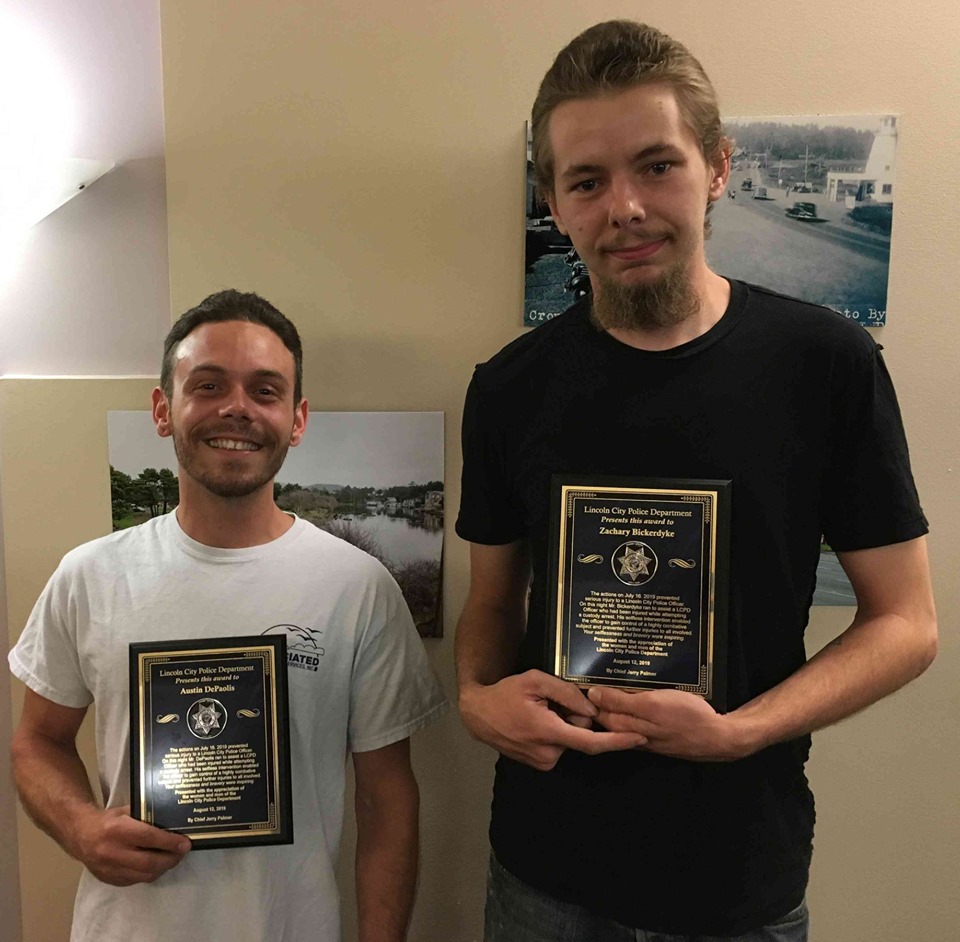 According to a background report, officers were dispatched to a fight involving multiple people on Highway 101 at D River just after midnight on July 16.
DePaolis had been traveling southbound on 101 when he observed the altercation. He was calling 911 when he saw LCPD Officer Jim Hoydic arrive and several of the people involved in the fight run away.
As Hoydic exited his vehicle, one of the males attacked him, landing a blow to the officer's head and face.
Hoydic deployed his baton, landing several strikes that did not appear to affect the attacker. When DePaolis saw the assailant continue to advance and wrestle with Hoydic, he ran to the officer's aid.
The attacker landed knee strikes to Hoydic when DePaolis jumped on the aggressor's back and put a neck hold on him. Officer KC Claunts then arrived on scene and joined the fight.
All three got the attacker on the ground, but couldn't gain control. Officer Claunts attempted to deploy a taser, but the unit failed to discharge. Officer Summer Danneker and Bickerdyke then arrived on scene.
After Bickerdyke was able to control the attacker's legs, Officer Claunts got hold of one arm and Hoydic and Danneker control of the other and handcuffed the assailant.
The male continued to fight, and leg restraints had to be applied before they got the subject under control.
A male victim of the attacker was transported to Samaritan North Lincoln Hospital for injuries, while Hoydic was treated for head, shoulder and knee injuries and forced to take several days off to recover.
The suspect was medically evaluated before being jailed.
It is the belief of all the officers on scene that Hoydic, and perhaps others, would have been more seriously injured had DePaolis and Bickerdyke not intervened.
"Thank you gentlemen for your efforts and chief for bringing this forward and making a nice ceremony out of it," Lincoln City Mayor Dick Anderson said.