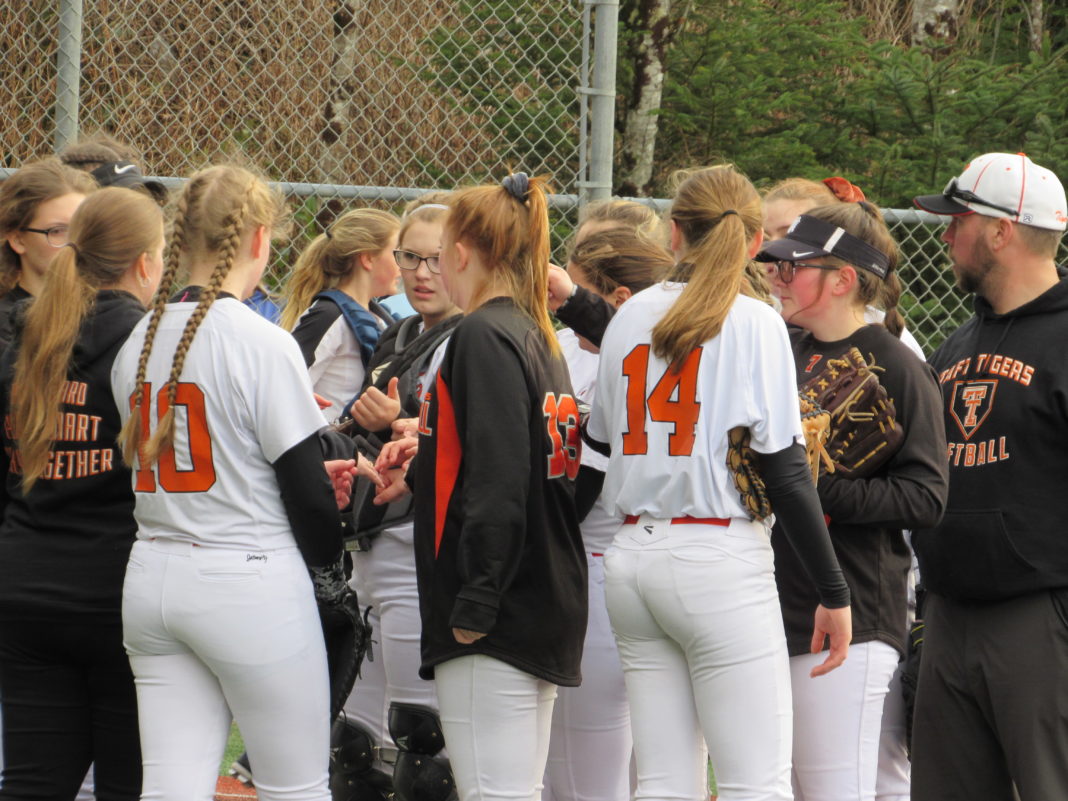 The No. 1 -ranked Clatskanie Tigers won a cat fight with the Taft Tigers on Friday to sweep a home league softball doubleheader and wrap up an undefeated regular season.
"We did not show up to play our best games of the year today," Taft coach Sandy Stuart said. "We tried to come in with a low-pressure mindset facing the No. 1 team in the state and i think we got a little bit too relaxed."
Clatskanie used two home runs off Taft junior starter Emma Coulter to emerge victorious 8-1 in the opening game and defeated freshman starter Lily Hatton 6-4 in the second game to improve to 22-0 overall and 12-0 in Special District 1 play.
"With the heat and Emma's recent knee injury, we decided to mix it up the second game and throw Lily in the circle," Stuart said. "She did a great job. Her different speed made it a completely different look for their hitters. We would have been more successful in the second game if we had woken up a little bit earlier."
Taft collected seven hits behind Hatton in the nightcap, including two by freshman Olivia Coulter, after managing just three in the opener, but trailed 6-6 before erupting for three runs in the top of the seventh to fall to 16-8, 7-5.
"Our bats were not alive like earlier in the week, and we had some key defensive mental errors that really hurt us today," Stuart said.
Clatskanie broke open a 2-1 game against Coulter in the opener with three runs in the bottom of the fifth and sixth innings.
"I'm proud of the players for pushing through two games in high 80- degree heat, but we all agree that we need to put more focus in going forward into league playoffs and then state playoffs," Stuart said.
Despite the sweep, Taft will host a league playoff game Thursday against the winner of a Tuesday game between fourth-place Warrenton (5-15, 2-10) and fifth-place Willamina (5-15, 1-11). A victory would give Taft a home game in the State playoffs on May 22.
GAME 1
Clatskanie 8, Taft 1

TAFT             AB  R  H BI   CLATSKANIE         AB  R  H BI
Hailee Danneker   2  0  1  O   Sprague             4  2  3  1  
Addie Gates       2  0  0  0   A Smith             2  3  1  0  
Emma Coulter      3  0  1  0   S Blodgett          3  2  2  3  
Kayla Lininger    3  0  0  0   T Hamm              3  1  0  1  
Olivia Coulter    3  0  0  0   M Jackson           3  0  1  2  
Claira Tolan      3  0  0  0   K Sizemore          3  0  0  0  
Kyla Knott        3  0  1  0   S Hummer            4  0  0  0  
Corey VanDamme    2  0  0  0   K Harrison          3  0  1  1  
Chloe Peterson    2  1  0  0   J Makinson          2  0  0  0  
TOTALS           24  1  3  0   TOTALS             27  8  8  8

TAFT                          000 010 0 -- 1  
CLATSKANIE                    200 033 x -- 8  

LOB--TAFT 5, CLATSKANIE 8. E--Addie Gates,
Kayla Lininger, Olivia Coulter. 2B--Hailee Danneker, S
Blodgett. 3B--A Smith. HR--O Sprague, S Blodgett. HBP--A
Smith. SACF--T Hamm, M Jackson. SACB--Addie Gates.

 TAFT                  IP    H    R   ER   BB   SO   HR
Emma Coulter         6.00    8    8    6    4    3    2
 CLATSKANIE                 
S Blodgett           7.00    4    1    1    2    5    0

PB--Hailee Danneker. WP--S Blodgett. SO--Kayla Lininger
(2), Olivia Coulter, Chloe Peterson, Corey VanDamme, S
Hummer, K Harrison, S Blodgett. BB--Chloe Peterson, Corey
VanDamme, K Sizemore, A Smith, J Makinson, S Blodgett.

GAME 2
Clatskanie 6, Taft 4

TAFT             AB  R  H BI   CLATSKANIE      AB  R  H BI
Hailee Danneker   4  1  1  1   O Sprague        3  2  1  0  
Addie Gates       4  1  1  0   A Smith          3  1  0  0  
Emma Coulter      4  0  0  0   S Blodgett       2  2  0  0  
Kayla Lininger    3  0  0  0   T Hamm           2  1  1  1  
Olivia Coulter    3  0  2  0   M Jackson        3  0  3  4  
Claira Tolan      3  1  1  0   K Sizemore       2  0  0  0  
Kyla Knott        3  0  0  0   S Hummer         2  0  0  0  
Lily Hatton       1  1  1  1   J Thomas         1  0  0  0  
Chloe Peterson    2  0  1  0   K Harrison       1  0  0  0  
Caitlyn Rundstrom 0  0  0  0   J Makinson       0  0  0  0  
                               G Tallman        2  0  1  0  
TOTALS           27  4  7  2   TOTALS          21  6  6  5

TAFT                      000 100 3 -- 4  
CLATSKANIE                320 100 x -- 6  

LOB--TAFT 6, CLATSKANIE 10. E--Addie Gates,
Olivia Coulter, O Sprague (2), K Harrison . 2B--M Jackson.
HBP--K Sizemore, J  Thomas, K Harrison , S Blodgett (2).
SACF--M Jackson. SACB--K Harrison . SB--Lily Hatton, T Hamm,
O Sprague.

 TAFT                  IP    H    R   ER   BB   SO   HR
Lily Hatton          6.00    6    6    5    6    3    0
 CLATSKANIE                 
K Sizemore           7.00    7    4    1    4    6    0

PB--Hailee  Danneker (2). WP--Lily Hatton, K Sizemore.
SO--Addie Gates, Kayla Lininger, Olivia Coulter, Hailee
Danneker, Claira Tolan, Emma Coulter, K Sizemore, A Smith, K
Harrison. BB--Caitlyn Rundstrom, Kayla Lininger, Lily Hatton
(2), T Hamm (2), O Sprague, K Sizemore, A Smith, J Makinson.

Final Special District 1 Regular Season Standings