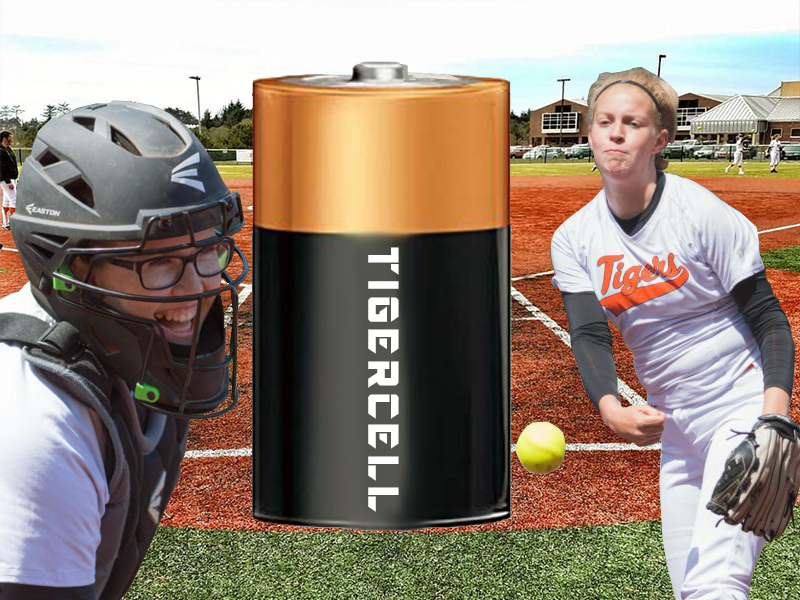 The term "battery" refers collectively to the pitcher and catcher, who may also be called battery mates. The word was coined in the 1860s by Hall of Fame baseball executive and sports writer Henry Chadwick, who developed the modern-day box score, in reference to the firepower of a team's pitching staff. It was inspired by the artillery batteries used in the Civil War.
As battery mates go, few are as powerfully charged and well connected as Taft High juniors Emma Coulter and Hailee Danneker.
Coulter, a hard-hitting, fireballing right-handed pitcher, and Danneker, a slugging leadoff-batting defensive-minded catcher, comprise perhaps the most potent punch in all of small-school Oregon softball.
"They are the two most important players on the field," Taft High coach Sandy Stuart said. "And, one of the things that we have been stressing to them for the past two seasons is that they have the power to make each other better."
Together, the two players' power-packed presence has propelled the Tigers to a sixth-place Class 3A ranking with a 5 p.m. home-field Special District 1 playoff game scheduled Thursday against Warrenton.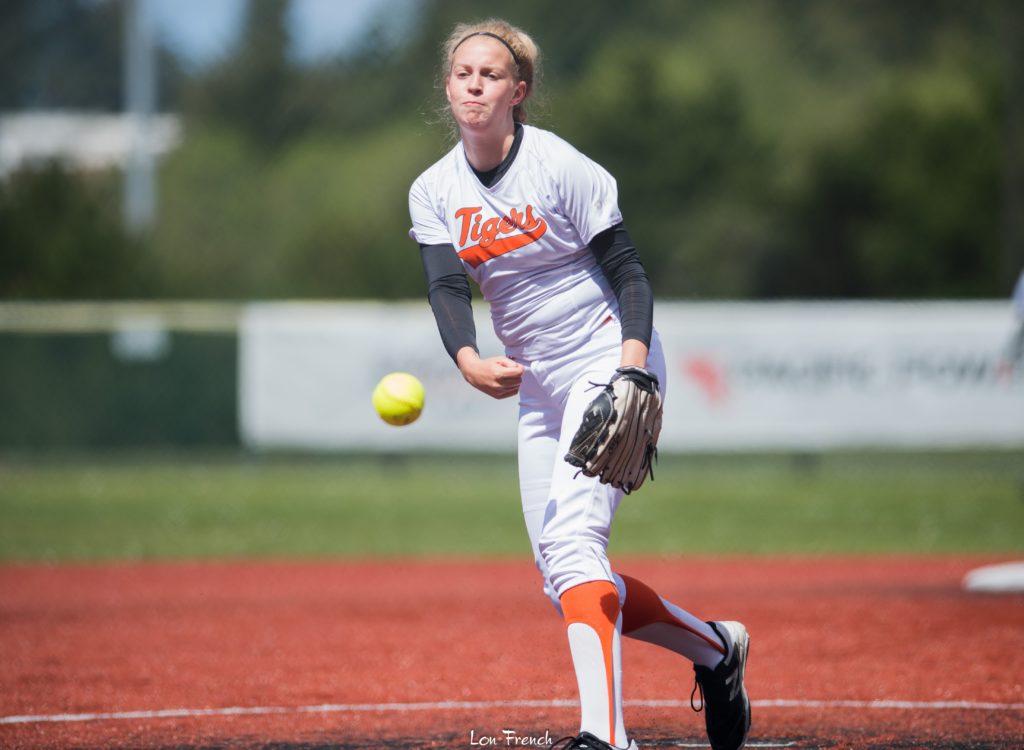 "A pitcher needs a good catcher to succeed," Stuart said. "She needs a teammate to support her, tell her when she is letting up or not hitting her spots, and to watch for things that might help her out. And, the catcher needs a pitcher who she can trust to take her advice and see the things she can't."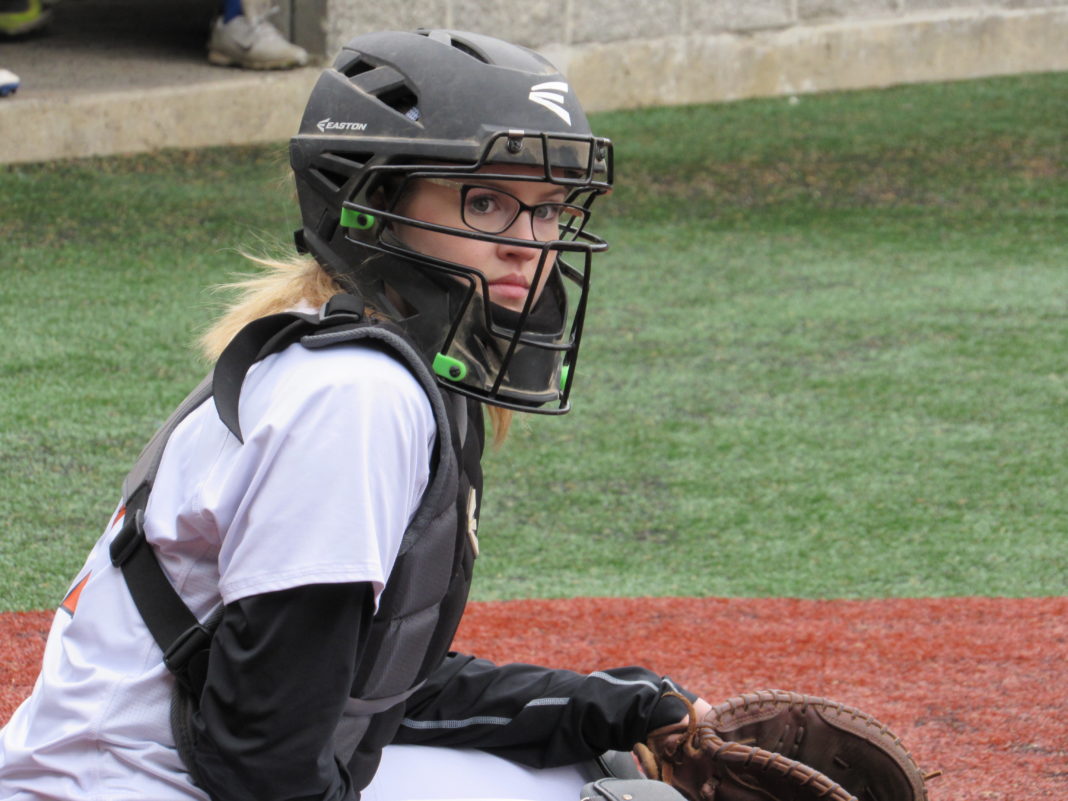 While the heavy-duty battery's positive energy dictates the pace of a game, it's at the plate where this fearsome twosome of All-State teen talent has proven itself to be twin terrors to opposing pitchers, leading the Tigers in virtually every major offensive category.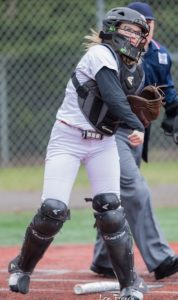 Danneker, tied for third on the squad in RBIs despite batting leadoff, is hitting a team-leading .494 with a team-high 40 hits and 33 runs. She's first in homers (four) and second to Coulter (23) with 12 doubles.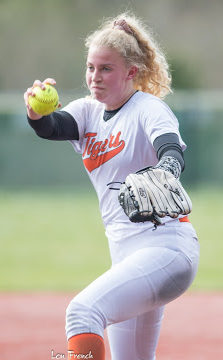 Coulter, who bats third, is second to Danneker in average at .430, first in RBIs with 28, second in hits (37) and homers (three) and tied for third in runs (17).
In league play, Coulter leads the team with a .429 batting average, 18 hits and 10 RBIs, while Danneker is first in runs (15) and second in hitting (.390).
Coulter owns a 2.59 earned run average overall and 2.30 in league play while averaging over a strikeout per inning.
"One of my favorite things to see is when Emma gets a strikeout on a great hitter and Hailee jumps up and points at her because they both know that they had the upper-hand on the hitter's weakness," Stuart said.
As with any partnership, not everything's been pitcher-perfect in the circle or behind the plate, Stuart said.
"We had a time or two early in the season where things were not meshing quite right between them and it affected the entire game," Stuart said. "Luckily, they are mature girls and they were able to figure out any issues and move forward. We have Hailee spend extra time catching for Emma in practice because they need to work together at all times."
Stuart credits assistant Tom Trunt, who led Taft to the 2005 State softball title as the Tigers' longtime head coach, for making the duo more dynamic.
"He has had to get on them a couple of times this year, but his influence is making them better together," Stuart said. "That threesome works all game to throw the best pitches possible to get hitters out."
Coulter and Danneker are hardly new to success. Both were first-team all-West Valley League selections as 15-year-old sophomores last season.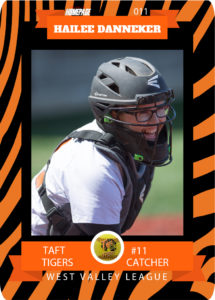 Danneker, batting third, hit .462 and led the Tigers in slugging percentage, RBIs, hits and triples en route to first-team All-State recognition.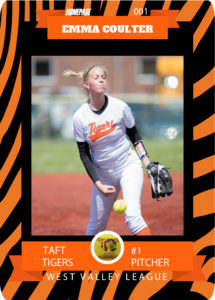 Coulter hit .472 with a 1.89 ERA while batting cleanup and was named to the second team while leading the Tigers to the Class 3A State quarterfinals.
Advancing deeper into postseason play is a prime objective for Taft's two star players this season.
"One of my goals is for us is to be able to make it into at least the semifinals this year, since last year we only made it to the quarterfinals, " Coulter said. "We have so much young talent, and I am thankful for that. We have been able to meet many of our goals and continue to do so."
"We've talked about wanting to go far this year in State and how we will accomplish it," Danneker said. "My goals are just to beat what I was last year. I like to push and improve, to be better today than yesterday."
While Danneker protects home plate, her parents preserve health and safety throughout the community. Her mother, Summer, is a Lincoln City police officer; her dad, Shawn, a local fireman. She has a younger sister who catches in an 8-and-under league.
Danneker moved to Lincoln City from her lifelong home of Las Vegas during her sophomore year. She played some soccer as a youngster, but was primarily devoted to softball.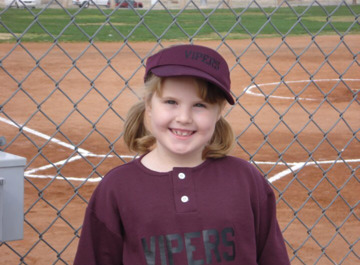 "Many members of my family played softball and baseball, so that kind of gave me more encouragement for softball," she said. "Softball has impacted my life a lot. My two aunts were catchers, so that kind of led me to follow in their footprints."
Coulter, who enjoys the outdoors and hopes to become a baseball scout after playing NAIA college ball in Arizona, was born and raised in Lincoln City.
Her mom, Amy Marsh, keeps the books for the Side Door Café in Gleneden Beach and does taxes for the hospital. Her dad, Jack Marsh, builds skate parks around the country. She has two sisters; Olivia, a freshman third baseman for the Tigers, and her youngest, an 8-year-old second-grader.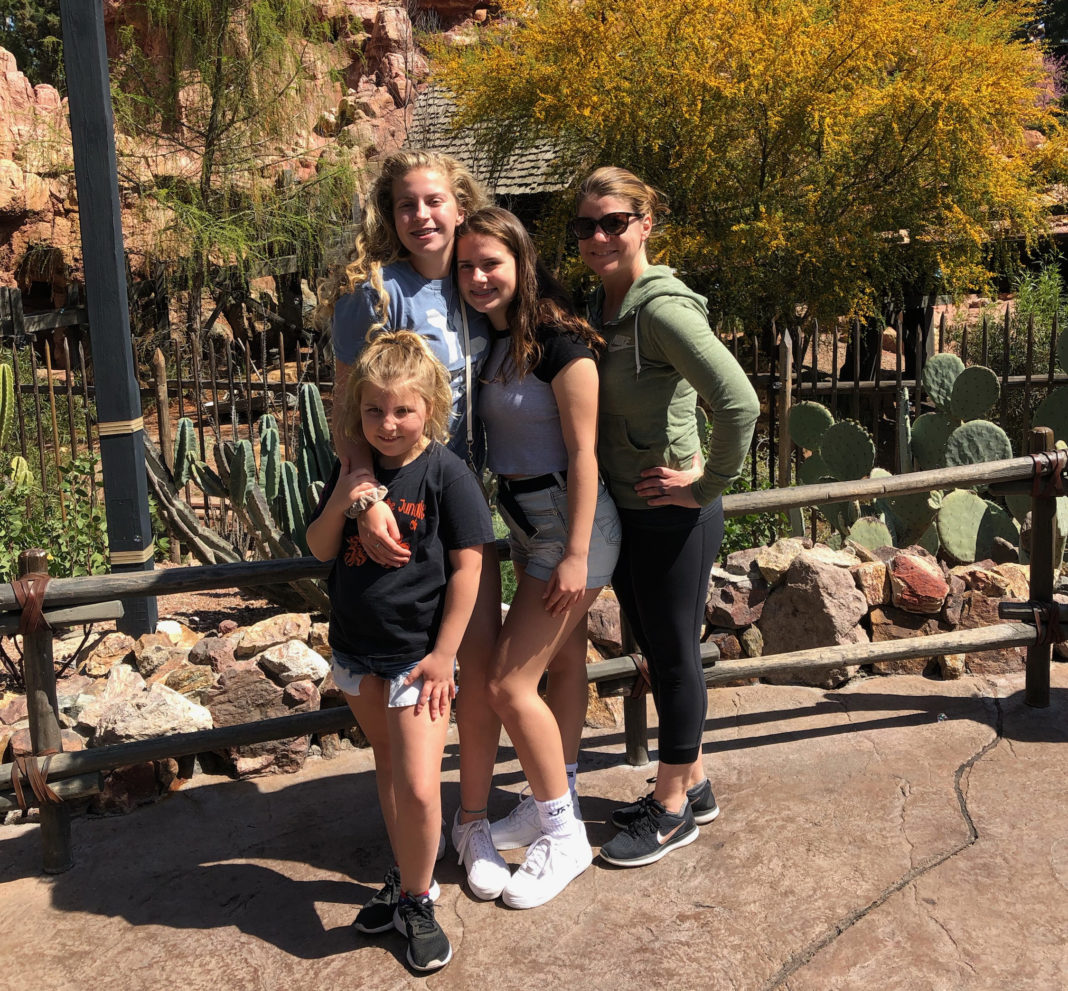 "Some of the most influential people in my life have been my family members by being my support system and No. 1 fans, my coaches for pushing me to be the best player I can be, and God for giving me strength and teaching me patience through it all," she said.
United, the two players understand the value of connecting the negatives with the positives by working together.
"Emma has pushed me a lot as a player," Danneker said. "We challenge each other to be better, but also are there for each other when needed."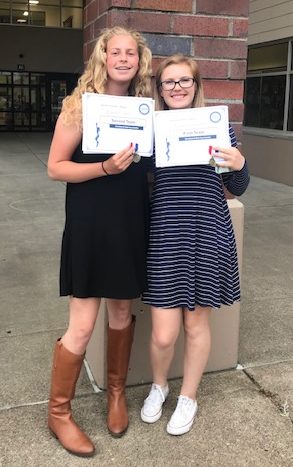 The skinny from Coach Stuart on pitcher Emma Coulter:
"Emma is a very dedicated athlete. She has put countless hours in over the years going to private pitching and hitting lessons. She has played for multiple high-level summer-ball travel teams, and she takes the game very seriously.
"For her, each play and each win or loss is personal. She has incredible softball skills and is a very physically strong athlete. She definitely has a big presence on the field and she impresses coaches, umpires and fans.
"It has been amazing to see the transformation watching her grow and how she handles the ups and the downs. Because she takes it all so personally and she wants it so bad she has had to learn how to let some of it go and continue to lead. This year, she has really stepped up as a leader. She understands that her teammates are young and not perfect and she is finding ways to encourage them and help them become better faster.
"Emma is a very smart girl with a great head on her shoulders. She is funny and outgoing and just a joy to be around. I feel like we have great open communication with each other and we know what we can expect from each other. I want to see her succeed and I want to help her reach her goals as a softball player and in life."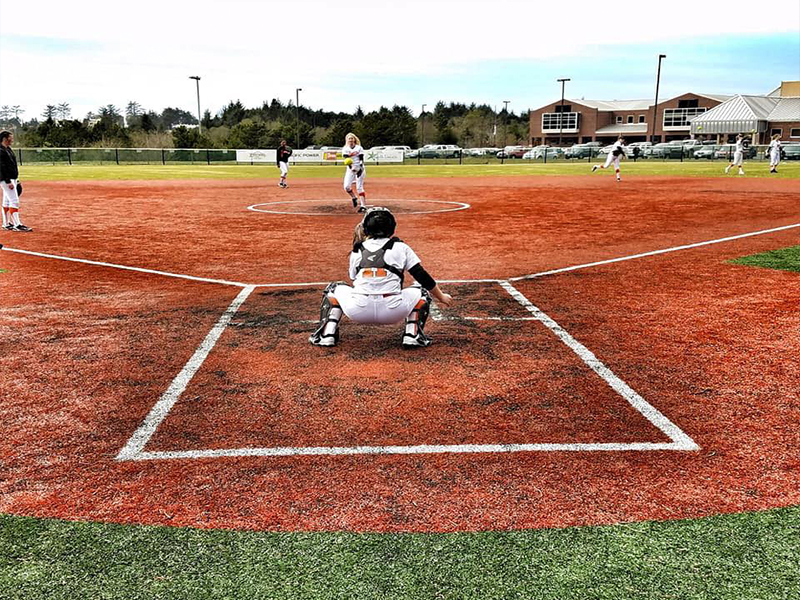 The skinny from Coach Stuart on catcher Hailee Danneker:
"Hailee is also a dedicated player who has spent full summers playing for high-level travel teams to make herself better. She is incredibly strong. We have faced many teams who back up all of their fielders in fear of how hard she hits the ball. She has to work very hard as our only catcher spending hours squatting and throwing the ball.
"Hailee is chatty, funny and outgoing. She is constantly talking and messing around with her teammates. She keeps things light, and makes the younger players feel welcome. She is smiling most of the time, which can be refreshing with a group of teenage girls.
"She has aspirations of playing college softball, just like Emma does, and it makes her work harder. I would love to see that she is able to accomplish that goal for herself."