Creativity is one of those traits that has to be nurtured to really see it thrive and what better way to nurture creativity than the high school musical? Taft High School is putting on Willy Wonka the musical and I had the chance to get up close and personal with the cast, crew, and director.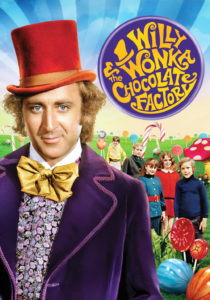 I've seen the movie (old and new) and have to say I'm a fan. I can see why this story has touched so many. Everyone has been impacted by candy in their life so the story resonates with a broad swath of society. My dad would buy me a Butterfinger after baseball games and that was our thing.
Cast and Crew
When Beth Towers (Public Relations) contacted me on Facebook I knew I had to come down to the high school and bring my camera. Maybe it's because I was in high school drama and loved it. Maybe I felt like seeing Charlie, Willy, and even that nasty Varuca Salt. In any event I'm glad I did. It's going to be an awesome show because of all the talent, great set, and capable direction.
I met with the backstage crew who is ready for anything and they were happy to show me just what it takes to pull off those massive set-moves and lighting tricks. It's a feat of engineering that unfolds throughout the show and we don't really get to see it. I applaud you for your hard work and expertise. The sets are coming along really good. Someone has some serious building experience and a little bird told me it was the well known Justin Sparks. He has been called a genius by some of the students. Well he is an accomplished artist after all.
Jennifer "Mama" Sparks (yes from The Sparks Gallery) strikes me as a great director. Everyone in the building respects her and the actors call her "Mama." She is fun to watch when she's acting with her actors. She is Uncle George in the play and wears a big gray beard that just works on her. She directed Aladdin in 2015, Fiddler on the Roof in 2016, and now Willy Wonka and the Chocolate Factory. Pretty nice resume. "Mama" is passionate about drama and does it all for the kids.
Tara Souter is an eighth grader who plays Charlie. She seems highly intelligent and well suited for acting. She has some acting experience already and has been in a couple big movies as an extra. She said she's nervous about being in the play but she didn't shy away from my interview so I think she'll do great.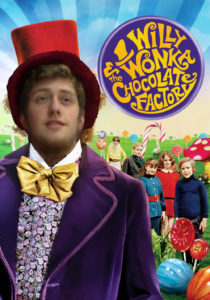 Micah Morgan is a Senior at Taft High School and is like the perfect Wonka. He has the part absolutely nailed and he can sing. I would pass him on to Hollywood if I was an American Idol judge. I knew right away this kid was a talented actor and then I find out he's also the President or Captain of everything. ASB President, President of the National Honor Society, Captain of the Varsity Football team…the list goes on and on. He's really involved with church, community service, and just about anything you can think of he has done, is in the process of doing, or is getting ready to do.
There are a bunch of elementary students participating in this play and it's actually a first to have all the schools in the area in the same play. Taft Elementary, Oceanlake Elementary, the middle school, and home school students are all involved in the musical. Some have parts and some are Oompa Loompas.
Golden Tickets
What I found really interesting was that while you are sitting there watching the show, chocolate bars wrapped in Willy Wonka wrappers will be available for purchase and you just might be singing "I got a golden ticket!" Salishan is giving away a $150 Golden Ticket each show. Can you imagine getting the Golden Ticket? I imagine you would feel a bit like Charlie did.
Support has seemed to come from everywhere for Taft High with donors like Salishan, Prehistoric, The Sparks Gallery, Ace Hardware, The Eventuary, Chinook Winds, Thriftway, Price & Pride, and Les Schwab. Sorry if I forgot any businesses. And all those volunteers. There are so many volunteers. Hats off to all of you who made this possible.
We go to the movies to be entertained. And here on the coast it's been rainy and entertainment has been in short supply and that creates a void. This musical fills that void. In just the short amount of time I spent on location with these talented students I was thoroughly entertained. My face still hurts from so much smiling.
Show Times – Taft High School
Thursday April 13th @ 6:30PM
Friday April 14th @ 6:30PM
Saturday April 15th @ 6:30PM
---
Thursday April 20th – VIP – @ 6:00PM
Friday April 21st @ 6:30PM
Saturday April 22nd @6:30PM