Republican Congressional candidate Alek Skarlatos visited Lincoln City Wednesday as part of a motorcycle tour encompassing 1,000 miles of House District 4.
Skarlatos, accompanied by his younger brother Solon, is meeting with people from all over the district in a bid to represent them in Congress.
At the public meet and greet at the Old Taft Fire Hall, Skarlatos fielded questions from the crowd concerning topics such as, invasive species of weed in Devils Lake, access to medical care and DOJ and FBI investigations. He also spoke about how fun it is to do a motorcycle tour and "meet people at events like this." He mentioned the troubles COVID-19 presented in his last election cycle where he faced incumbent Peter DeFazio.
"It's been awhile since we could have events like this," he said. "We're making up for that now."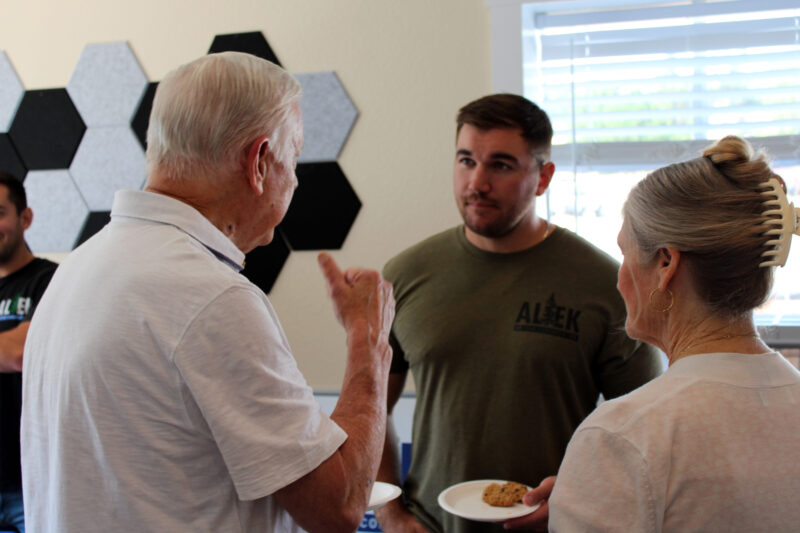 The Roseburg resident spoke about DeFazio being in office for 36 years and said this is the best chance Republicans have had in over 30 years to win seats and possibly the governorship. DeFazio has chosen not to seek reelection after defeating Skarlatos by a mere 24,000 votes in 2020.
Skarlatos said his campaign was "professional and polished," however, said he was not professional and polished, referring to himself as a "regular guy" who does not hold elected office yet.
"I'm just hoping to create a better economic outlook for people of this district," he said. "This is the poorest Congressional district in the state."
Skarlatos said the Oregon Coast has largely been ignored, echoing Oregon House Representative David Gomberg's statements, and illustrating how the new district runs from Lincoln City all along the coast to the California border.
Attending the event was a Corvallis resident vacationing in Depoe bay. Natalie Lesperance saw a Facebook post about Skarlatos' visit and drove to Lincoln City and see him for herself.
"He's a very solid young man that's wanting to make changes," she said. "The status quo is not a solution and we need this youthful energy in Washington."
"He's one of us," Lincoln City resident Tom Berg said. "Sure he's been on Dancing With the Stars and was in a movie, but he's a regular guy."
Skarlatos will be on the ballot in November, running against Democrat Val Hoyle, who serves as commissioner of Oregon's Bureau of Labor and Industries.
Skarlatos continues his tour later today, visiting Depoe Bay and Newport.