If you mini-golfed or hit in the batting cages at All American Putt N Bat here in Lincoln City, there is bad news for you. Long time owner Dick Davis and his wife LaRena Davis have sold the building to enjoy retirement. This may sadden some of you but you can take solace in the fact that "The Putt" will live on in Sequim, Washington.
An All American Story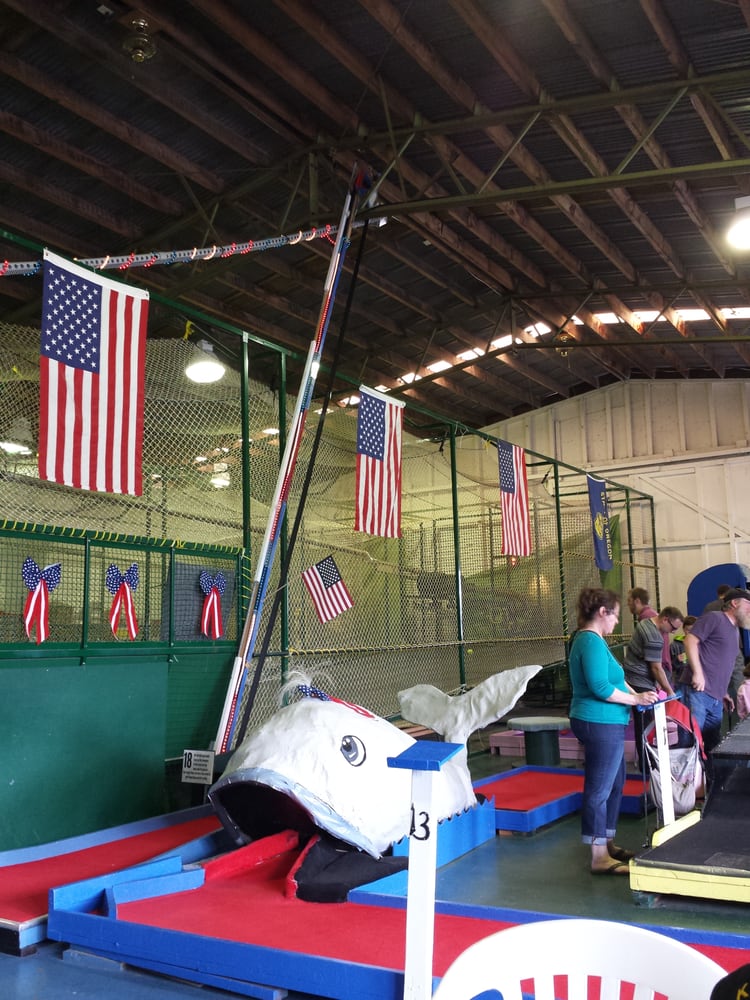 Bright blue floors scattered with red white and blue stars lead past games, batting cages, and a baseball store full of hundreds of items.
The Putt Putt course winds through arches to the Oregon Room, and the US Room which has wall-sized original art, including the Constitution, the Bill of Rights and more.
Owner Dick Davis moved to Lincoln City when he was 3 years old and since then his life in Lincoln City has been centered around baseball. He was a four year Letterman at Taft High School and played on a team that went to the state tournament in the 50's. His coach (Roy Harrington) was voted into the Oregon Baseball Hall of Fame in the late 80's. Dick coached Little League for years – coaching both his son and grandson.
Dick had a logging business with his brother, but when his brother and business partner became ill, Dick's logging business ended.
And so in 1966 (at age 59) when a lot of people are aligning their retirement funds, Dick sold the CAT used for logging, took out the mutual funds, mortgaged the house and started over.
Son Darin and daughter-in-law Stacy came into the business with their HeadQuarters4Sports and the best deals on baseball & softball gear.
One GM's Take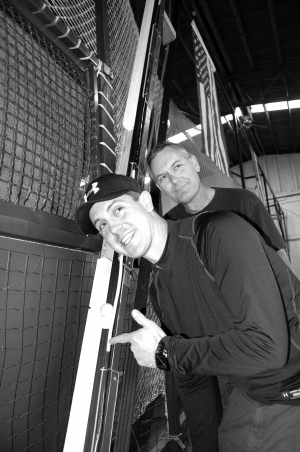 I'm Justin Werner. I was the General Manager at Putt N Bat for a couple years and was part of the construction of the 18th hole. It carried the ball up to the rafters via conveyor belt, rolled down a giant 30-foot tube, and flew six feet across the open air over people getting clubs and tokens at the front desk.
If you made it in the target you won a free round of golf. People loved it and would cheer when someone won. I'd let the little kids shoot two or three times and cross my fingers, hoping they would win — they usually did.
During my time managing Putt N Bat, I witnessed many family firsts, such as the first hit of a baseball, first hole-in-one and the first time anyone beat Dad.
Putt N Bat was truly unique and made you feel at home. People would come back the next year and make it a family tradition to see who could get the best score at mini-golf or hit the most consecutive softballs.
Some people would stop in to just say hi and sign the guest book because they felt the place made an impact on them. I heard a few stories of how someone learned how to hit in Putt N Bat's batting cages and went on to get a college scholarship.
Degree of Difficulty
Golfers made the comment: "the course was very challenging," on more than one occasion. The course got progressively more difficult and golfers would pride themselves on a par outing. Take a look at this video and you'll get the idea.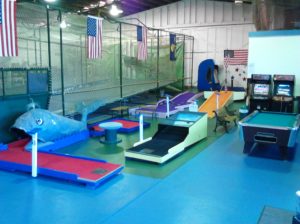 We had some real pro golfers come in and they all shot over par and were laughing about the high school kids in front of them scoring better. They said it was a difficult course to putt unless you knew the tricks.
Putt N Bat had History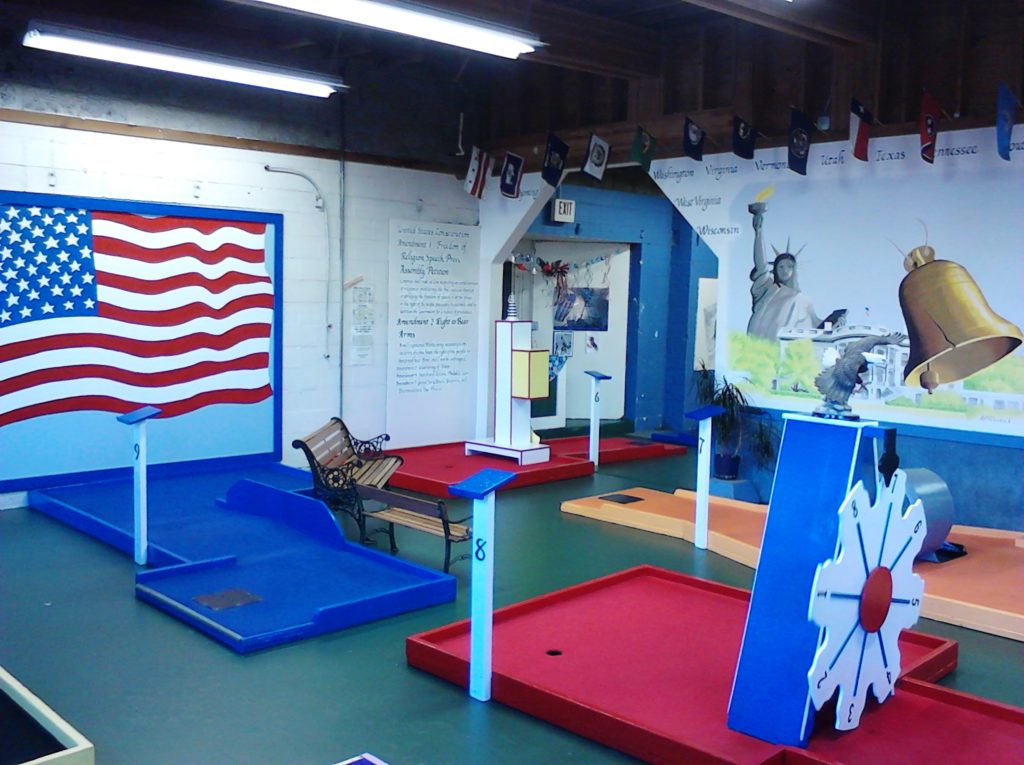 All over the walls there was art. An entire room was dedicated to United States history and included pictures of all the U.S. Presidents, flags of all 50 states, vital parts of the Constitution & Bill of Rights and a wonderfully painted Statue of Liberty, Liberty Bell and White House.
Kids would golf, look around and learn something. I really enjoyed answering historical questions. There was a kid that could recite all 50 states without looking up at the flags and he was only six.
The Cages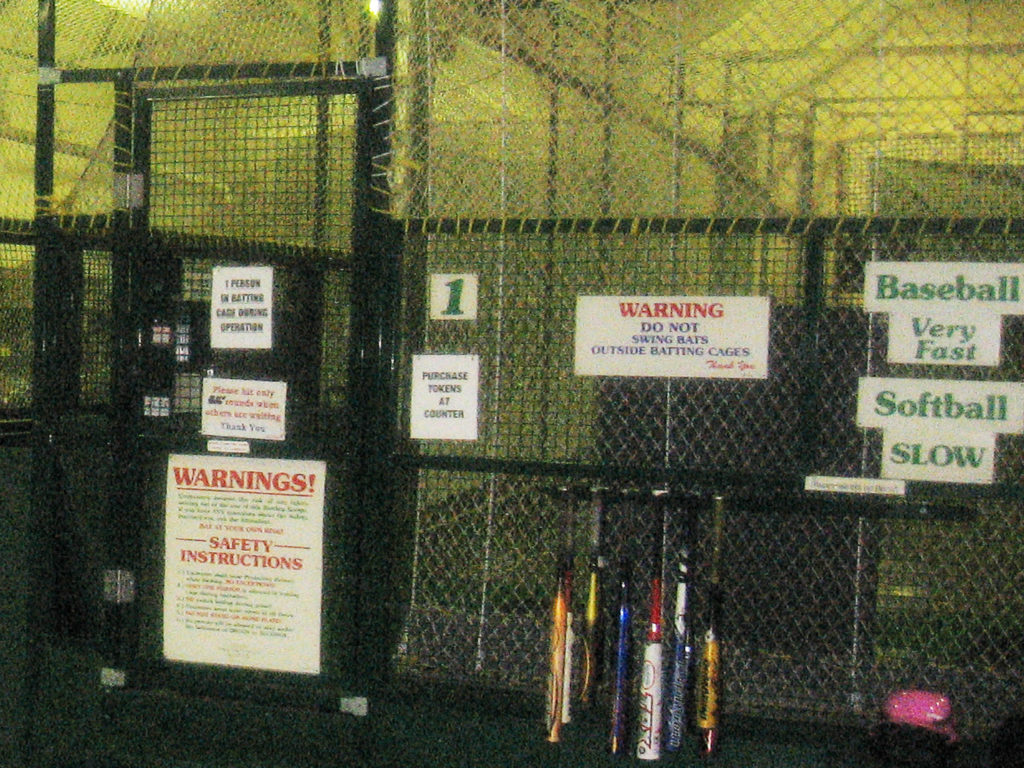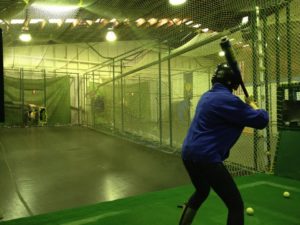 Twenty balls in the cages was only $1.50. Best deal anywhere and you could get an even better deal if you bought 10 tokens.
You could test your major league skills on the 80 mph pitches, or take your time and pummel the slow pitch softballs. Scores of people would come to Putt N Bat and have a great time in the cages.
In the summer, the cages would be packed but we kept it flowing smoothly by making sure balls weren't stuck. Looking back on those hectic times, I'm proud of how we all pulled it off. Special thanks to Dick Davis for always showing up immediately in an emergency situation. Without him the cages would have broken down.
As general manager, I took it upon myself to "test" the cages anytime there were no customers. I remember cranking up the speed on the fast pitch to the highest setting and making contact on 1 out of 20 balls, and I can still remember how bad my hands hurt after fouling the one off. I'm going to miss that perk of the job.
Some Serious Mini-Golf Moments
The mini-golf was always the main draw. Everyone remembers CJ Olsen's epic putter stand he did — on-demand — in front of a crowd. In case you missed it here it is:
That was the thing about Putt N Bat. People felt comfortable there. Things like the Putter Stand happened all the time and we all just basked in the goodness of it. Putt N Bat was really a fun place to hang out. We had a large number of local regulars and repeat family golfers who would come to Lincoln City just for us.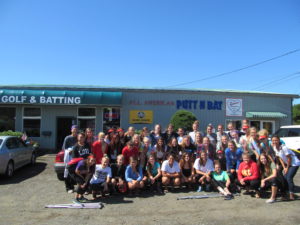 One day a bus rolled up full of soccer players. They found us because of our new website and wanted to golf. It got so busy so fast that I still to this day don't even know what college they were from.
It was a slow day and I was dusting the plants when all of a sudden there's 40+ people walking all over the golf course. They had so much fun that day! I remember Dick checking out the numbers and saying how cool it was that they found us. We sold half of our ice cream inventory that day.
I had the privilege to host a Little League team that had been in the Little League World Series. A team from Gresham, Oregon made it all the way to Williamsport, PA. They hit in the cages and played some serious mini-golf. They even signed a shirt for us to proudly display.
I'm going to miss the place. Dick and LaRena Davis were the best bosses anyone could ask for. They had wholesome All-American policies in place like veterans and their families play free, and disabled people get whatever they need for whatever they want. That speaks volumes about what kind of people they are and how big of hearts they have. They donated frequently and made the community a better place.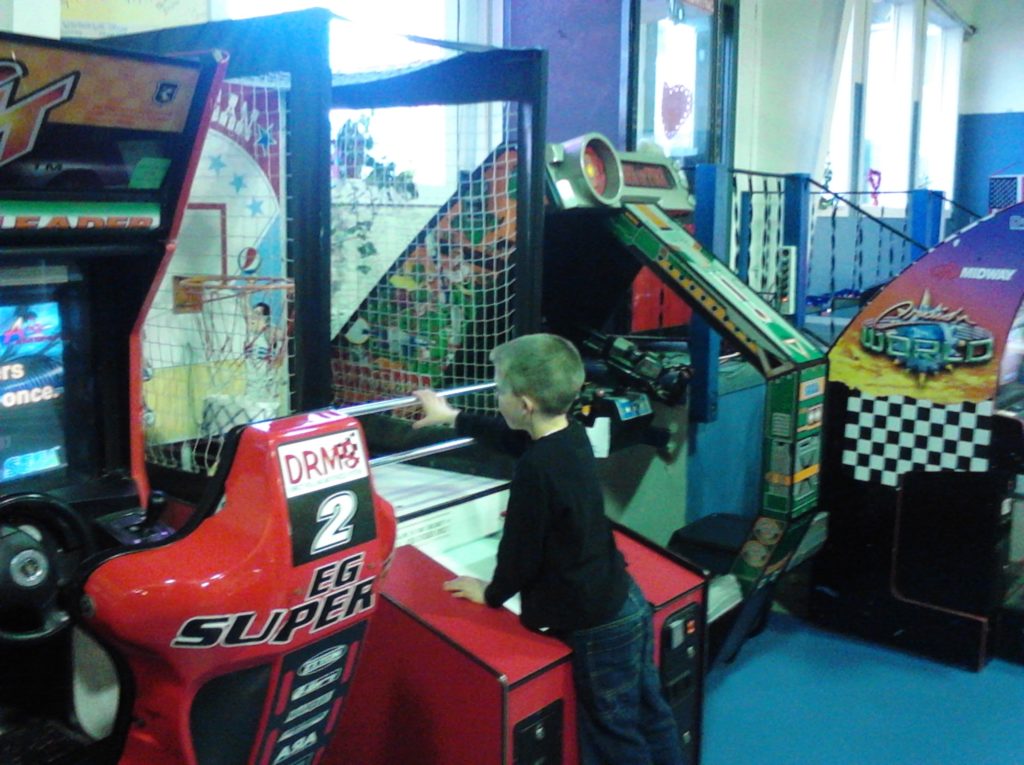 Lincoln City has always been short on fun things to do with kids so the All American Putt N Bat will be missed. It was and always will be a piece of Americana.
If you have an interesting Putt N Bat story to share leave a comment or post something on the
Facebook page.
"I wish I had a place to go to like this when I was a kid."

-Dick Davis