Lincoln City, OR – Monday's Lincoln City Council meeting was a three hour affair that dealt with the questions of municipal internet, who would be appointed to the Budget Committee, and how to prioritize efforts to address our affordable housing needs.
Kaety Jacobson running for Lincoln County Commissioner Position 3
Born and raised in Lincoln County, Kaety Jacobson has a Bachelor's Degree in natural resources and a Master's Degree in Coastal Zone Management. She has spent the last 15 years working for OSU on issues relating to coastal communities. She wants to run for commissioner as she claims it's time for a fresh perspective on county leadership. Kaety Jacobson is a foster parent and because of that she deals with a lot of social services. She wants to build a strong relationship with Lincoln City and the citizens here. Her website is: ElectKaetyJacobson.com.
Russ Baldwin running for Circuit Court Judge
55 year old Russ Baldwin seeks to get elected as judge and is running against the incumbent, Thomas Branford. Baldwin said "we need to address people's problems in the civil arena in a timely manner, and we need to do it in a way that people understand what has happened, and that should also reduce appeals."
Awarded – Tree City USA 2017
A special award given to Lincoln City on behalf of the Arbor Day Foundation and Oregon Department of Forestry: Tree City Oregon USA for 2017.
Budget Committee Applicants Interviewed for three openings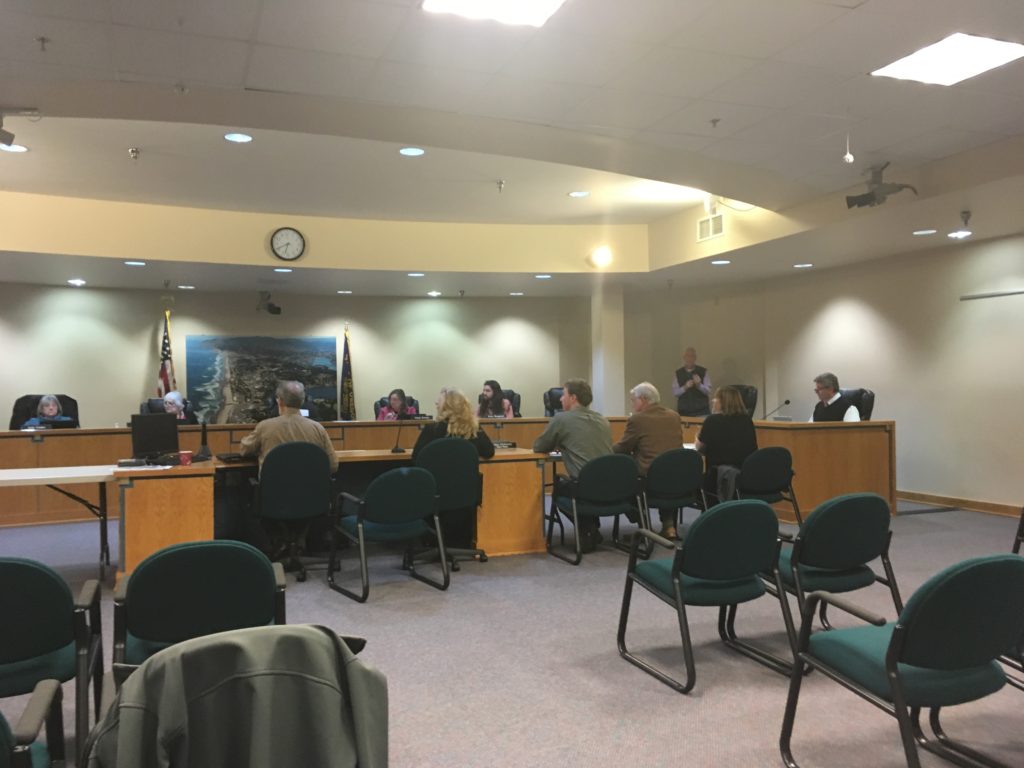 Counselors asked a series of questions to potential budget committee members and voted for three applicants out of five.
Larry Armstrong, Rick Mark, Nancy Oksenholt were appointed to the budget committee.
Municipal Broadband
City Manager Ron Chandler said "the city is not considered to be underserved."
The FCC says Lincoln City is getting enough internet and is not rural. FCC defines underserved as a download speed under 25 MB/s and an upload speed as under 3 MB/s. Chandler said there would be a heavy taxpayer cost to have municipal broadband. Mayor Don Williams thanked Councilor Judy Casper for taking the time to do the research.
The city's IT Director Tony LeSoya said the city should go to internet service providers (ISPs) and ask for more bandwidth. "The bandwidth is there," said LeSoya.
Cutler SW Jetty Realignment vacation process
Urban Renewal's Allison Robertson said a project would make it safer and more visible. A land swap would give a private property owner better access to his property.
Passed by unanimous decision.
Dick Anderson: "All hands on deck" for housing crisis
Dick Anderson said Lincoln City is losing money because of housing and we need to address affordable housing as the top priority. Casper also supported making affordable housing a top priority. Anderson wants the council to be able to focus and get things done. Big picture items will be focused as agenda items. A motion to shorten a memo to prioritize police services, economic development, infrastructure, and housing failed 3-3 with Anderson, Casper, and Williams voting "nay." After discussion, an amended version passed 4-2 with Hinton and Hoagland voting "nay."
Michelle Gaylor from My Sister's Place on Sexual Assault Awareness Month
Gaylor, shelter advocate for My Sister's Place, wanted to point out that the Lincoln City community has been "very generous" with donations. Gaylor is a certified sexual assault victims advocate. She wants to alert the public that April is Sexual Assault Awareness Month. One in five women have been or will be sexually assaulted in their lifetime.