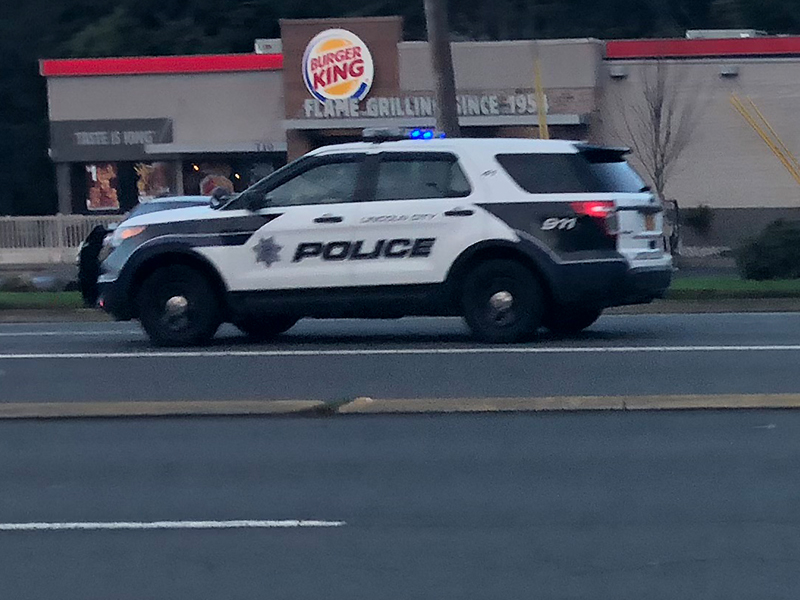 The Lincoln City Police Dispatch Daily Desk Log is a public record of police calls. Homepage will run the log every Friday. All suspects are innocent until proven guilty in a court of law.
Friday, Nov. 23
DUII – 12:58 a.m. – 950 SE 32nd St. – Female called advising husband left intoxicated in van. Corey A. Quakenbush (7/26/85) cited and released for DUII and driving while suspended.
Runaway – 7:05 p.m. – 4782 SE 51st St. – Juvenile ran from parents car. Family reunited and escorted out of city.
Saturday, Nov. 24
Hit and Run – 9:13 a.m. – Caller reports his vehicle was hit while parked on the street.
Telephonic Harassment – 9:04 a.m. – 734 N Deerlane Loop – Blake Lee Blakely (1/6/99) taken into custody for telephonic harassment and transported to Lincoln County Jail.
Theft – 10:21 a.m. – North Shell – Caller reported a female shoplifted several items. Staff says they have surveillance video and know suspect. Suspect trespassed from North Shell. Management doesn't wish to press charges.
Theft – 2:17 p.m. – 660 SE Highway 101 – Caller reports he had cash and identification stolen while washing his car. Josephine Napoleon (7/8/98) taken into custody and transported to SNLH for possible wrist injury. Cited and released at SNLH for disorderly conduct in the second degree.
Drugs – 8:06 p.m. – McDonalds – Rhanda M. Blain (9/5/94) spotted at Rite-Aid and then stopped at McDonalds. Methamphetamine pipe in plain view. Blain taken into custody for possession of controlled substance and transported to LCPD. Cited and released.
Sunday, Nov. 25
DUII – 12:57 a.m. – 100 NE Highway 101 – Robert Clark (8/13/68) cited and released for DUII.
Animal Bite – 9:39 a.m. – 1834 NE 67th St. – Dog bite to cheek of juvenile. Juvenile transported to SNLH. Animal control provided quarantine information.
Theft – 12:21 p.m. – Claire's, Lincoln City Outlets – Mall security reported a juvenile shoplifted at Claire's.
Domestic – 6:10 p.m. – Report of child assaulting his mother. Juvenile taken into protective custody and transported to Lincoln County Juvenile Detention.
Assisting Other Agency – 9:29 p.m. – S Drift Creek Rd. & S Highway 101 – Deer struck and alive in roadway. Deer dispatched and removed from roadway.
Monday, Nov. 26
Warrant Arrest – 1:42 a.m. – Chinook Winds Casino – Report from security that Jamie L. Brink (1/30/87) was hiding in bathroom then left in a PT Cruiser. Vehicle located and stopped on NE Holmes Rd. Brink located inside and taken into custody on outstanding warrant for failure to appear. Brink cited and released.
Criminal Mischief – 6:25 a.m. – Subway, 247 SW Highway 101. Broken window.
Domestic – 4:32 p.m. – 964 SE Jetty Ave. – Caller reports a physical altercation between a man and woman behind business. Taser deployed on Howard Joseph Lee (9/30/77) and taken into custody for domestic harassment and interfering with 911. Transported to Lincoln County Jail.
Theft – 6:14 p.m. – 3090 NE 26th St. – Theft of firearm from location.
Burglary – 7:15 p.m. – 3507 NW Jetty Ave. – Vacation home broken into.
Tuesday, Nov. 27
Extra Patrol – 9:58 a.m. – 1645 NW 26th – Glass float stolen from yard. Would like an extra patrol at night.
Found Property – 3:36 p.m. – Caller found a bullet in car she recently purchased. Bullet seized.
Shoplifting – 4:57 p.m. – Coach, Lincoln City Outlets – Theft of purses and wallets from Coach store.
Wednesday, Nov. 28
Theft – 9:31 a.m. – 2844 NW Mast Ave. – Caller reports online bank scam with money taken from his account.
Fight – 7:07 p.m. – 3820 NE Highway 101 – 911 report of fight at Taco Bell involving three males. Parties left prior to officer arrival. Gabriel Paul Deanda (7/14/98) cited and released for disorderly conduct and minor in possession of alcohol.
Thursday, Nov. 29
Alarm – 5:47 a.m. – 3325 NW Jetty Ave. – Alarm monitoring center reported a living room motion alarm. Open window was found and officers made entry to house. No persons found inside.
Burglary – 9:12 a.m. – 6515 SE Ebb Ave. – Beach house broken into.
Burglary – 2:46 p.m. – 2103 SW Coast Ave. – Possible burglary at location.
Crash – 4:16 p.m. – 540 NE Highway 101 –  Single vehicle crash. Vehicle crashed into building.
Theft – 7:22 p.m. – Chinook Winds Casino – Theft of $450 voucher from guest.