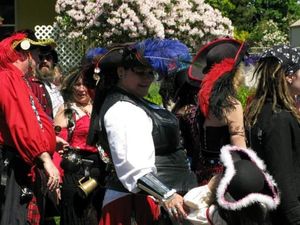 Pirates from Portland's Maelstrom Armada will be on hand for the Pirates Invade Nelscott event this Saturday. (Courtesy photo)
Avast Ye Mateys! Pirates are invading Nelscott for a day of pillaging and mayhem! Get your picture taken with a pirate! Ask them real pirate questions! Enter to win some booty from some of the local merchants! Search for your own pirate treasure!
Pirate reenactors from Portland's Maelstrom Armada are descending on Lincoln City's Nelscott Strip Saturday. The salty crew will be congregating in front of the Nelscott Mercantile building, located at 3201 SW Highway 101, Lincoln City, OR from 10 a.m. until 5 p.m.
This family friendly event will have pirates available for pictures and a scavenger hunt and raffle will be presided over by the Armada's own Lorde Admiral Marva LaFaye. Prizes for these events are donated by local businesses and will be announced the day of the event.
For more information contact Mac at Rock Your World 541-351-8423