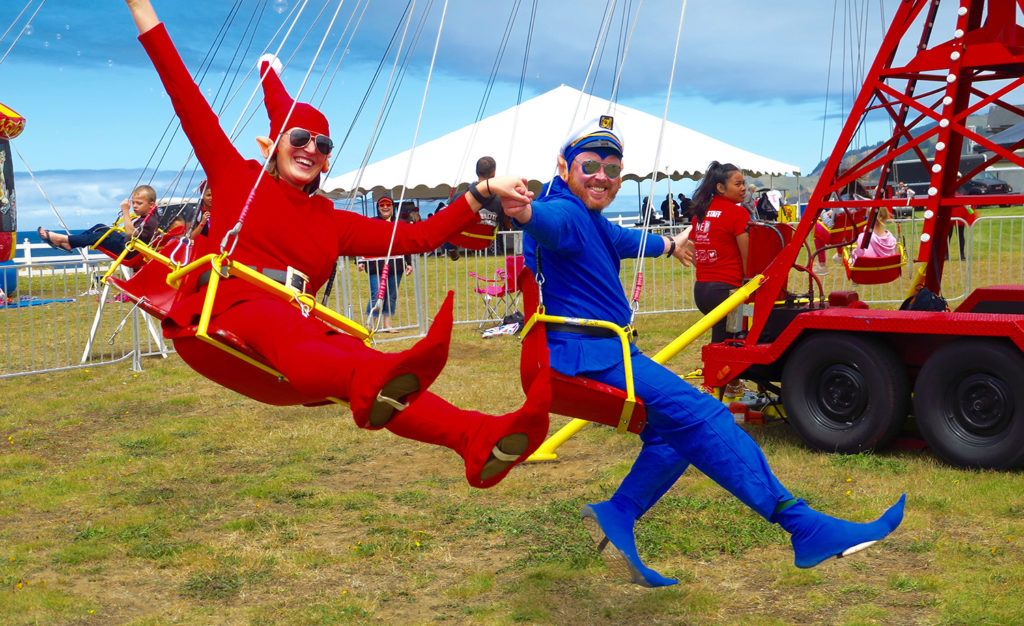 An athletic field at Taft High 7-12 will be the site for the annual Pixiefest festival in late June as part of several major changes announced Monday by the Kiwanis Club of Lincoln City.
The "mesa" practice athletic field, located at the base of the hill climbing up to the school at 3780 Spyglass Ridge Dr., will host the June 28-29 event. The festival was originally held in Otis beginning in the late 1960s, then Chinook Winds Casino Resort last year.
"I am excited to partner with Kiwanis and have Taft 7-12 be a part of Pixiefest," Taft High Principal Nick Lupo said.
Several additions will be introduced to attendees at reduced prices from noon to 5 p.m. both days, according to a news release issued Monday by the Kiwanis Club through Explore Lincoln City.
Feedback sought by the Kiwanis Club from previous year's attendees has resulted in a reduction in tickets to $10 for adults and $6 for kids 6-11.
"Pixiefest is an ongoing learning experience for the Kiwanis Club of Lincoln City," Kiwanis Pixiefest Committee Chairperson Milt Johnson said. "We listened to our guests and strive every year to create a Pixiefest experience based on their feedback.
"We heard loud and clear that they want affordable, family-priced tickets. They also love entertainers that kids can enjoy. We've changed our pricing and are recruiting amazing children's entertainment."
The Captain Barnacle Variety Show will return to Pixiefest with a new cast of characters., including Louis Fox, a contestant on America's Got Talent, who will perform Saturday. Presto the Magician will perform Sunday.
New carnival rides and games will also be unveiled. Rides will be $1 and games 50 cents. Pony rides from Green Acres in Pacific City will also be added.
According to the release, Pixiefest is "a fundraising event for the Kiwanis Club celebrating the magic of childhood memories while making childhood magical for kids today."
Funds raised by Pixiefest benefit youth sports, college scholarships and various local nonprofits.
The Pixie Kitchen opened its doors on May 21, 1953, in Wecoma Beach. Owners Jerry and Lu Parks bought the restaurant from former owner T.C. Gallagher, who had called it Pixie Pot Pie.
The Parks created a restaurant where families could enjoy an affordable meal and be transported to a magical fairy tale land. Special attention was given to children, who were viewed as customers and were given candy gifts and placemats that folded into pixie hats.
By the 1960s, the restaurant had become a popular tourist spot with the slogan "Heavenly Food on the Oregon Coas.t" An amusement park inspired by the restaurant, called Pixieland, opened just north of Lincoln City.
Riding on the success of Pixie Kitchen, in 1967, Jerry Parks envisioned a 57-acre "Fairytale Story of Oregon." He unveiled plans to build Pixieland Amusement Park in Otis.
Opening in 1969, Pixieland was dedicated to the families of Oregon by Gov. Tom McCall. Keeping the fairytale theme of the Pixie Kitchen, Pixieland featured a steam locomotive, a log flume ride and an opera house.
Pixieland did not survive the decade and closed its gates in 1974.
To learn more about Pixiefest, please visit Pixiefest.com.