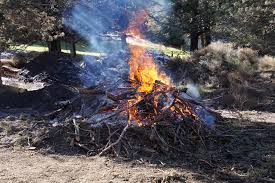 A rare total burn ban for all of August and September and most of October will be lifted Friday for Lincoln County.
Recent rain and precipitation in the forecast, which will further reduce the risk of fire, prompted suspension of the ban, the Lincoln County Fire Defense Board said Thursday in a news release.
The summer's unusually dry and warm weather resulted in record-low fuel moisture levels and increased fire danger throughout the region, the release said.
The LCFDB thanked the public for its cooperation: "Their diligence, along with the quick response of all of our Lincoln County firefighters helped keep wildfires to a minimum."
Many Lincoln County fire agencies require a permit to burn yard debris. Contact your local fire agency for specific regulations regarding burning of yard debris:
Newport Fire 541-265-9461
Central Coast Fire 541-563-3121
Depoe Bay Fire 541-764-2202
North Lincoln Fire541-996-2233
Oregon Department of Forestry 541-336-2273
Seal Rock Fire 541-563-4441
Siletz Fire 541-444-2043
Toledo Fire 541-336-3311
Yachats Fire 541-547-3266