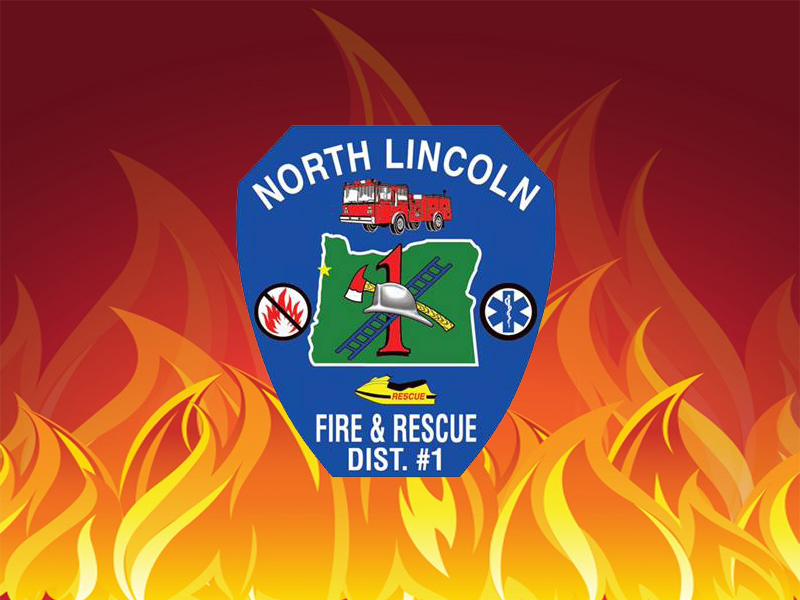 Perhaps it's not surprising North Lincoln Fire & Rescue (NLFR) responded to two structure fire calls in the first two days of 2019.
The District has experienced a large increase in call volume over the last two decades.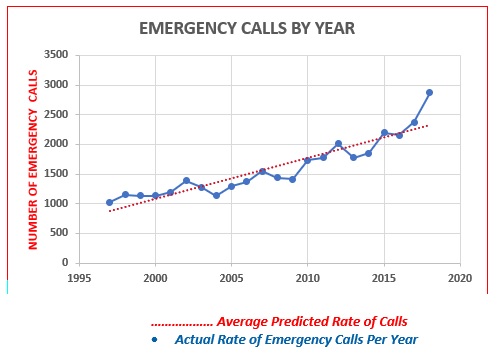 In 1998, NLFR calls numbered 1,154, but rose to more than 2,000 by 2012, a 54 percent increase. The call volume steadily increased from 2,153 alarms in 2016 to 2,371 alarms in 2017, a 10 percent increase.
NLFR responded to another record of 2,868 calls in 2018; a 21 percent increase from 2017.
At the same time, the decline in volunteers has been alarming.
In 2017, there were 43 volunteer firefighters. Today, there are 28 volunteer firefighters and EMS responders; and 12 paid shift firefighters, with only three or four working 24 hours a day, 365 days a year. The paid crews started Aug. 8, 2017.
The increase in calls and drop in firefighters isn't only a problem locally. The problem exists throughout Lincoln County, the state of Oregon and nationwide.
Newport Fire has seen a decline in volunteers and had a record number of calls in 2018 with 2,308, a 7 percent increase from 2017.
The problem is compounded by the rising number of wildland fires throughout the Western United States.
"Last year, Lincoln County had deployed on five fires in Oregon and California [a record]," Newport Fire Chief Rob Murphy said. "These county Task Force deployments are lasting longer and put extra pressure on the resources within our departments."
Sending dozens of firefighters and equipment during peak tourism and fire season creates not only a lack of personnel within the borders of a district or department but impacts agencies' ability to respond for "mutual aid" to assist neighboring districts for large fires or staff additional medical personnel to scenes during multiple EMS calls.
Fire chiefs are looking for answers. but solutions might not come quick enough to catch up with the increase in calls and lack of responders.
NLFR History
In March 1997, North Lincoln Fire & Rescue District #1 was formed with the merger of two Volunteer Firefighter Districts that have been serving the communities of North Lincoln County since 1937 — TND (Taft, Nelscott, DeLake) Rural Fire District and Devils Lake Fire District. At the time of the merger the District had nearly 100 volunteers responding to just over 1,000 emergency calls annually.
NLFR Today
NLFR has nine paid employees (Fire Chief, Fire Marshal, Safety Officer, Training Chief, Administrator, Clerk, Mechanics, etc.) who manage administrative tasks and are available during business hours.
Calls are responded to through the service of dedicated volunteer firefighters who provide 24-hour day, night and weekend response from their homes or on standby shifts at two of the District's six stations. The stations are strategically placed in Rose Lodge, Otis, Oceanlake, DeLake and Taft areas of Lincoln City and Kernville.
Increase in the District's calls created a need to hire 12 firefighters (three are paramedics) after a Levy measure was passed by voters. The crews started Aug. 8, 2017.
NLFR Commitments
The District mandate is to provide fire suppression and investigation, as well as respond to medical calls, which account for 77 percent of all calls. The District currently provides services that do not fall under our fire suppression mandate: Emergency Medical Services (EMS), Motor Vehicle Crashes (MVC), and Water Rescue Services.
In addition, the Fire District plays a major role in community response to such potential emergencies as earthquakes and tsunamis, as well as prevention activities like fire inspections, water safety and fire prevention education.
NLFR Geographical Location
The District provides fire and emergency services to more than 80 square miles of Lincoln County, with an estimated residential population of 14,000 people. This population swells with the influx of visitors, particularly on weekends and during the summer months three to four times as many people.
To the north, the District starts near the top of Cascade Head at the Tillamook County line. To the east, it weaves through coastal forest as far as Milepost 10.0 on Highway 18 and Milepost 8.7 on Highway 229. The southern boundary is the Siletz River and the Pacific Ocean provides natural boundaries to the west.
NLFR Training, Facilities and Apparatus
NLFR has made a large investment in training, Personnel Protective Equipment (PPE), facilities and firefighting equipment. The District has purchased seven engines, two tenders, several rescues, staff vehicles and two aerial units (75' ladder and 100' platform), replacing 24 of its fleet of 26 emergency response vehicles since 1999. NLFR is committed to the finest training and safety practices, while delivering rapid service to the community and visitors they serve.
On Sept. 11, 2009, the District dedicated a new DeLake Station and on Sept. 8, 2012, dedicated a new training tower at the St. Clair Station in Taft.
NLFR Service
As North Lincoln Fire & Rescue District #1 continues to grow and expand, these Standard Operating Guidelines (SOGs) serve as the road map for volunteers to understand the critical and lifesaving role they play in the community. These SOGs will give every member of the District information, rules and guidance for continued quality service that traditionally has been the standard given to our community.