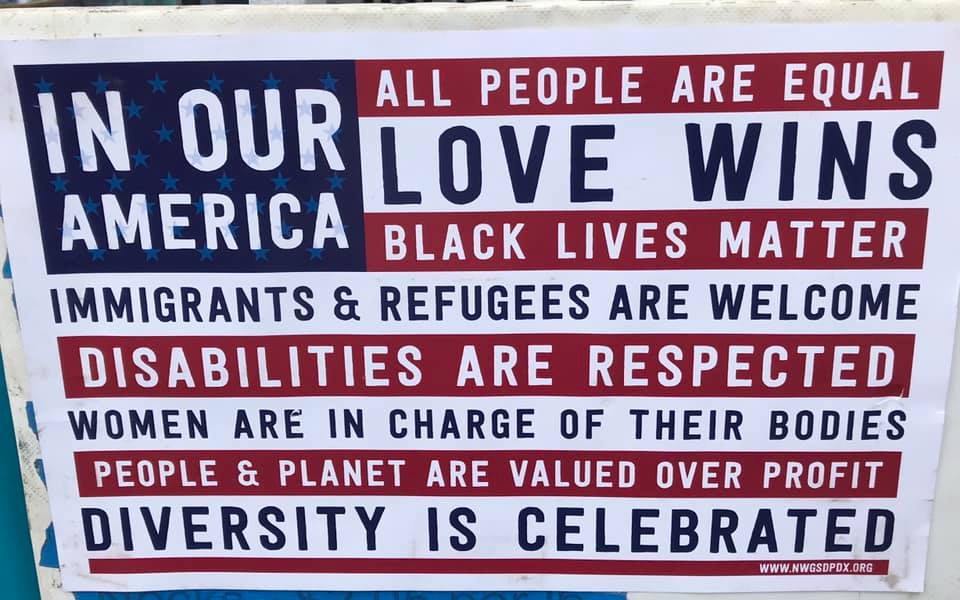 Walker Farms of Siletz has had its Lincoln City Farmers and Crafters Market membership revoked for refusing to take down a sign expressing various viewpoints.
Walker Farms, which maintains that removal of the sign violates its right to free speech, said it received an email Tuesday morning stating its membership had been revoked "because the sign is too political."
"We have been advised to comment with a 'no comment' until we consult with our lawyer further," Farmers Market officials said.
The disputed sign has a link to the website https://www.nwgsd.org/ in the bottom right-hand corner, where the image of the American flag (shown above) can be downloaded.
Lincoln City Cultural Center Director Niki Price said the Farmers Market rents the space at the Cultural Center, but is its own independent business and determines its own policies.
"The only time we intervene is if the public's health and safety is at risk," Price said.
A copy of the Lincoln City Farmers and Crafters Market (LCFCM) rules can be found HERE
According to a Facebook post from Walker Farms:
Due to a philosophical difference of opinion we are no longer welcome at the Lincoln City Farmers and Crafters Market. Our values are important to us and we shared them with a sign. We were told to take the sign down and refused to do so; our freedom of speech is a value that we do not take lightly. As a result we have had our membership in the market revoked. We are fully prepared to shoulder the economic burden of losing a market rather than to give up our ability to speak out in support of those things we hold dear. We have put our money where our mouth is.
To all you fine folks that have supported us at the Lincoln City Market for the last 10 years, we loved getting to know you and hope you will join us at our other great markets.
Walker Farms of Siletz said they will sell its products at Newport, Neskowin, Waldport and Yachats farmers markets.