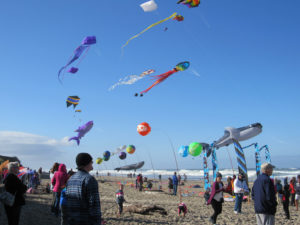 Kite flying professionals and enthusiasts descended upon the coastal town of Lincoln City at D River State Recreation Site on Saturday for the annual Fall Kite Festival.
Biannual kite festivals bring thousands of visitors to Lincoln City and have been a tradition for almost as long as there has been wind. To the amusement of hundreds of event-goers, professional kite flyers from the American Kitefliers Association showed off their skills with choreographed stunt-flying to music.
The City of Lincoln City puts on summer and fall kite festivals every year, and with every new year, a contest is held to determine the name of the event based on a letter. This year's letter was "Y" and the Fall Kite Festival was dubbed "Year of the Kite."
Professional kite fliers, Amy and Connor Doran flew kites and shared news that indoor kite flying would return to Lincoln City in April, when Homepage plans to preview the event.
The Doran duo travels around the country spreading awareness for epilepsy and bullying with the Dare to Dream program, which inspires people of all ages to try the impossible and never listen to the word "no." Connor has epilepsy, but he doesn't allow it to get in the way of his passion for kite flying.
Explore Lincoln City's Eric Johnson was in the main tent and told us of a water rescue that had just occurred. According to Johnson, a family let their children go into the water and a wave pulled one of the kids underwater. A retired fireman and kite flyer rescued the boy. "He just went into action." Johnson said.
Practice beach safety as the festival continues through Sunday at D River Wayside.