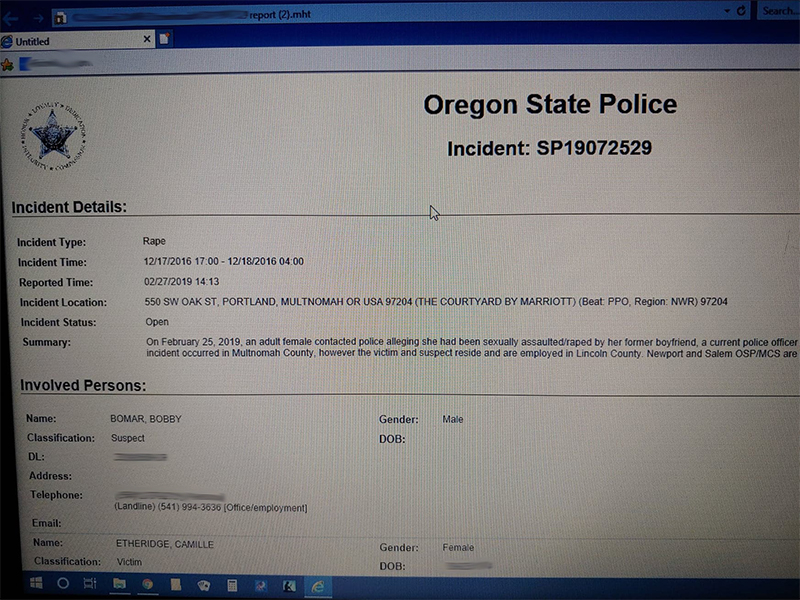 The Multnomah County District Attorney's Office has decided not to pursue allegations of felony sodomy, rape and sex abuse against a Lincoln City Police officer following an investigation by Oregon State Police.
According to an OSP report filed Feb. 27, 2019, Camille Etheridge, 44, of Neotsu, alleges that Sgt. Robert "Bobby" Bomar, 54, drugged and performed anal sex on her while she was incoherent in a Portland hotel room in December 2016.
"I spoke with the DA on Thursday and she doesn't think that she will be able to convince an entire jury," Etheridge said Saturday. "I would like her to have at least tried, but it is being dismissed even though she says she believes the assaults were committed."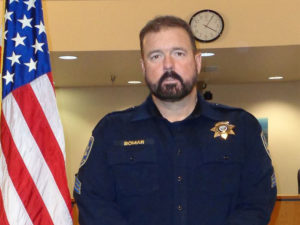 According to Brent Weisberg, spokesperson for the Multnomah County District Attorney's Office:
"After a thorough investigation into this matter, the Oregon State Police submitted a criminal case for review to the Multnomah County District Attorney's Office.
"Upon a careful and exhaustive legal analysis, the District Attorney's Office determined it would be unable to prove the allegations made against Lincoln City Police Sgt. Robert Bomar beyond a reasonable doubt in a court of law.
"As such, the District Attorney's Office has decided not to file criminal charges in this case. The District Attorney's Office has informed the investigating agency about our decision.
"Furthermore, this office worked closely with its Victim Assistance Program to inform the complainant, in person, that charges would not be filed in this case. A decision not to prosecute is different than a 'dismissal' of criminal charges."
Bomar, who has been on administrative leave, said Saturday he was relieved he was "exonerated," but could not comment.
LCPD Chief of Police Jerry Palmer said:
"The Lincoln City Police Department and the City of Lincoln City take all allegations of abuse very seriously. The complaint against Sgt. Bomar was made to Newport P.D. When I became aware that a criminal investigation had been opened, Sgt. Bomar was immediately placed on paid administrative leave.
"As is customary in allegations of this magnitude against a local police officer, the investigation and case review  was turned over to agencies outside of the county. The Oregon State Police Criminal Division took charge of the investigation, which has taken several weeks.
"This case and the OSP report was then given to the Multnomah County District Attorney's Office for review. LCPD has received verbal notice from the Multnomah County District Attorney's Office that, after reviewing the case, no charges will be filed against Sgt. Bomar. Sgt. Bomar remains on administrative leave, until I receive the official copies of the report from Multnomah County and can review the ruling."
In recorded interviews, phone calls and Facebook messenger communications detailed in the OSP report, Etheridge claims she and Bomar — her boyfriend of three months at the time of the alleged incident — checked into the Courtyard by Marriott at 550 SW Oak St. before walking to a restaurant/bar at approximately 7 p.m.
She alleges that after visiting the restroom and taking sips of a cocktail, she began feeling "hot and nauseated" before waking up hours later on her hotel room bed with Bomar inside of her. She said she does not remember how she got from the bar to her room.
Etheridge said she has had to see numerous doctors and counselors since the alleged incident.
According to documents shared with police that Etheridge said were Facebook messenger screenshots of conversations between the two parties, Bomar was apologetic and said he never meant to hurt her.
A Taft High graduate, Bomar, whose law enforcement career spans over 25 years, was sworn in as LCPD sergeant in September 2018.
After completing enlistment with the Army and employment with a private company in the Portland and Salem area, he became a reserve officer with the Gervais Police Department in 1994.
After spending a year in Gervais, he was hired by the Newport Police Department in 1995 and spent 10 years there before joining LCPD in 2005.