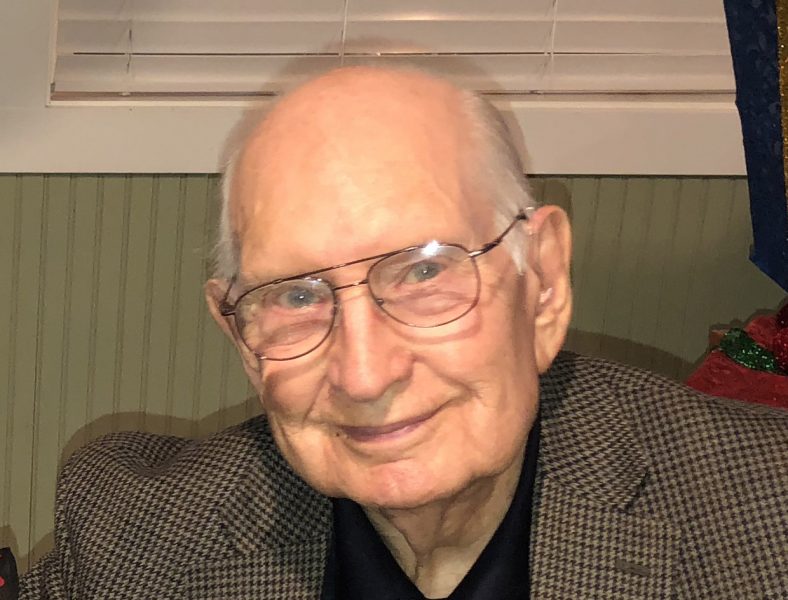 At 12:50 a.m. Thursday, March 4, Lincoln City's "Senior Pastor" George Moore, passed peacefully in his sleep at Life Care Center in McMinnville.   
Born in 1926, George spent his childhood on a farm in rural Brinkman, Okla. He recalls riding his blind horse to school, driving his dad's Model A (at age 9), singing hymns with his sisters, and like a character in The Grapes Of Wrath, recalls watching that farm turn to dust during what is now referred to as the Great Depression. Like the novel, the family then moved to California.
George spent World War II in the Merchant Marines sailing the Pacific. When discharged, George moved back to Corona, California where he met and married Ruth Wilcox. They would remain married for 73 years. 
By 1959 the family included Diane, David, Peggy and Cary.
Soon after their marriage, George became a full-time Church of Christ minister. The Moore family made their home in the northwest and for the next seven decades George Moore would serve as pulpit preacher, teacher and missionary in the service of Christ. 
Of special note was George's love for the people of Taiwan. After spending 1967-71 in Taipei, George continued to take yearly trips to support the work he began there in the Unity Village Church of Christ. He loved the people and the culture. 
George and Ruth have been residents of Lincoln City since purchasing Lil Sambos restaurant in 1995. George could often be seen at many bible studies taking place in the banquet room or at a table having a meal with a friend. His wife Ruth is a local celebrity as well and at 91 still runs her gift shop, hand-writing every tag placed on gift shop items.
A memorial service will be held at St Peter Lutheran Church at a date to be determined due to public health concerns. Pastor Ben Baker of the Church of Christ will be officiating.   
As for me, the rest of my life will include a big empty place where my dad used to be.
Donations in memory of George Moore can be sent to Coastal Support Services which provides services to our Lincoln City homeless.
Please mail your donation to 125 S.E. Mast Lincoln City, Oregon 97367.