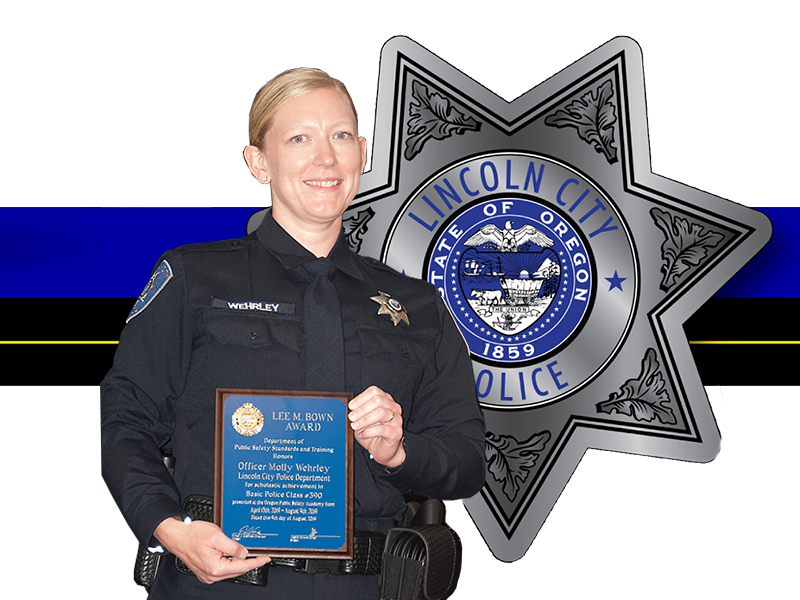 Lincoln City Police Officer Molly Wehrley was awarded the Lee M. Bown Award for academic achievement Aug. 9 by the Department of Safety Standards and Training (DPSST) upon graduating the academy at the top of her class.
Wehrley spent time as the LCPD Evidence Tech and did some decoy work during pedestrian safety enforcement operations before becoming an officer.
Wehrley is actively patrolling Lincoln City as an officer with honors.
Officer Jarett Villafane, who is a resident of Lincoln City, also graduated from the academy Aug. 9.
Villafane was formerly with the Lincoln County Sheriff's Office and transferred to the Tillamook Police Department.
DPSST's Academy Training Division develops curriculum and training scenarios to enhance the professionalism, skills and knowledge of Oregon's criminal justice officers and managers through the provision of high-quality basic and advanced training.
Lee M. Bown Academic Achievement Award
Lee M. Bown was appointed as the first Executive Secretary of the Advisory Board on
Police Standards and Training in April 1962. Mr. Bown worked with Oregon law
enforcement agencies and the Oregon Legislative Assembly to pass House Bill 1151 in
1968 which created the Board of Police Standards and Training and established
mandatory standards for police officer certification and training.
Previous Wehrley coverage:
Evidence tech Wehrley promoted to Lincoln City Police officer
Enforcement operation gives drivers crash course on pedestrian safety