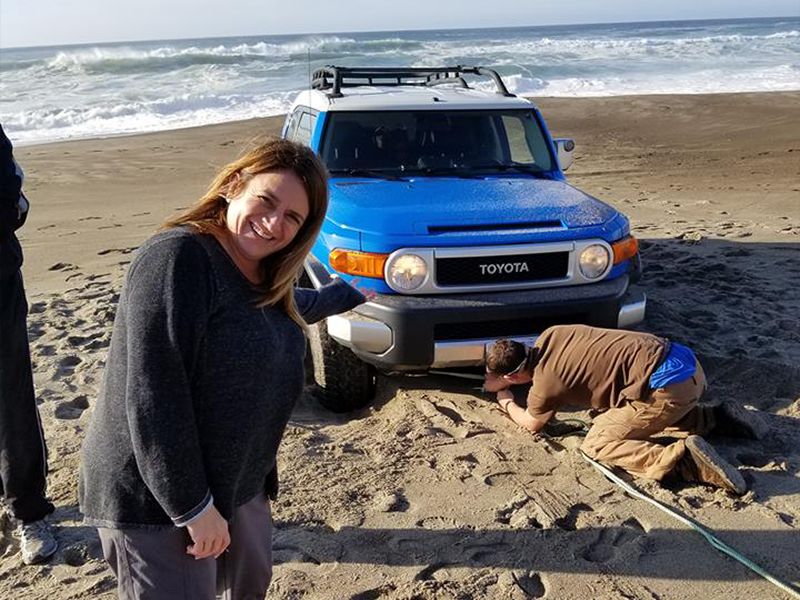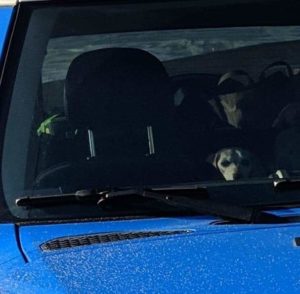 Heidi Krause didn't think she and her three dogs would get perilously stuck in the sand 35 feet from the approaching Pacific Ocean in her Toyota FJ Cruiser south of Taft on Thursday.
Krause was visiting longtime friend David Elton from Lake Oswego on a trip to possibly donate money to the Lincoln City Resource Center and Warming Shelter.
Krause and Elton went to Les Schwab Tires and got new tires for her vehicle and they wanted to test them on the beach. They saw a sign, but it was unclear to them that it stood for "No Motor Vehicles." Seeing three sets of tire tracks on the beach, Elton went for it.
He drove onto the beach and the car quickly sunk into the sand.
"Oh no, we are totally stuck," he said.
"I turned around and looked at the ocean and my eyes about popped out of their sockets. I knew we were in a bad pinch," said Krause.
Realizing they had to act fast, the couple called a tow company, which said it would cost $300 to pull the SUV to safety. Not wanting to pay the charge, they enlisted the help of Lincoln City and Gleneden Beach locals to help them free the stricken FJ Cruiser.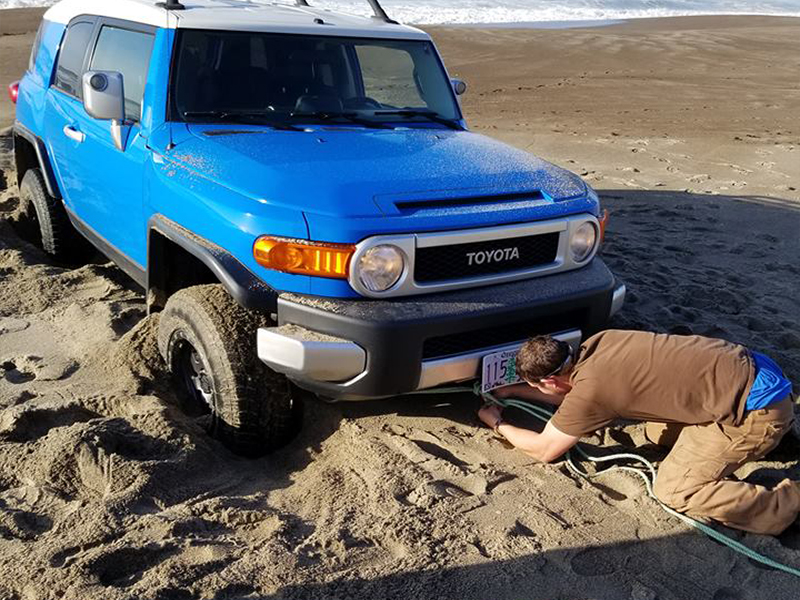 A team of six locals used two trucks and three tow lines in multiple attempts to pull Krause's vehicle free, but the Toyota had sunk too deep and it took Tillamook company Zwald Transport Inc. to save the day.
"It was a heartwarming day renewing our sense of community," Elton said.
As the vehicle pulled away from the beach, water struck the tires twice before Zwald could tow it to safety.
"It was close," Elton said of the rising tide. "At the very end, the water bashed up against the car as if the ocean was giving it one last college try."
Krause and Elton said they wish to thank everyone involved and say they will pay attention to the universal symbol of "No Motor Vehicles" in the future.