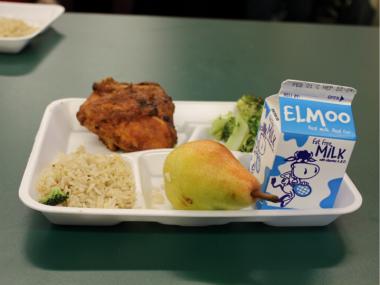 Thanks to a pilot program that is part of the federal Healthy, Hunger-Free Kids Act, all students in the Lincoln County School District will receive free meals this year. (Photo: U.S. Department of Agriculture)
Free and reduced meal applications are thing of the past now that all students in the Lincoln County School District will get free breakfast and lunches in the coming school year thanks to a federal program.
The district is participating in a pilot program during the 2015-16 school year that will provide students with breakfast and lunch for free. The project, titled "Community Eligibility Program"  is authorized by Congress as part of the Healthy, Hunger-Free Kids Act. Several school districts around the country are participating.
The pilot program will allow all students to eat breakfast and lunch at no charge. It will eliminate the need for parents to complete free/reduced applications, eliminates student lunch charges, and will streamline operations for food services staff. Students will still be responsible for paying for ala carte items and second lunches.
Providing students with nutritious meals (at no charge) enhances the district's focus on "every child, every day."
"We are excited to be a part of this program to better serve our students. We always do our best to remove barriers to learning, and this program can go a long way toward that goal," said Lincoln County School District Business Manager Julie Baldwin.