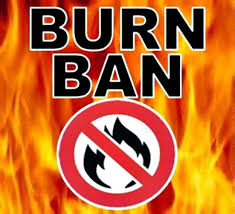 Lincoln County's seasonal burn ban will remain in effect until weather conditions improve dramatically, the Fire Defense Board and Oregon Department of Forestry (ODF) announced Monday.
"The burn ban may stay in effect until the end of the month unless we get significant amounts of rain and higher humidity levels," North Lincoln Fire & Rescue Fire Marshal Ed Ulrich said.
The ban is for the entire Lincoln County area, including the Coast. Expected dry winds, low relative humidity and unusually warm seasonal temperatures are expected over the next several days. The forecast calls for temperatures in the mid 70s throughout much of Lincoln County and no precipitation until next week.
"Dewpoints will remain low in the 30s in Lincoln County this week and RH (Relative Humidity) is currently only at 19 percent at Newport's airport. These conditions can be cause for fire concern," KOIN-TV Chief Meteorologist Natasha Stenbock said Monday in a phone interview with NLFR.
While burning of yard debris remains prohibited throughout Lincoln County, small recreational fires no larger than 3 feet in diameter within a designated fire pit or ring away from combustibles and structures will continue to be allowed.