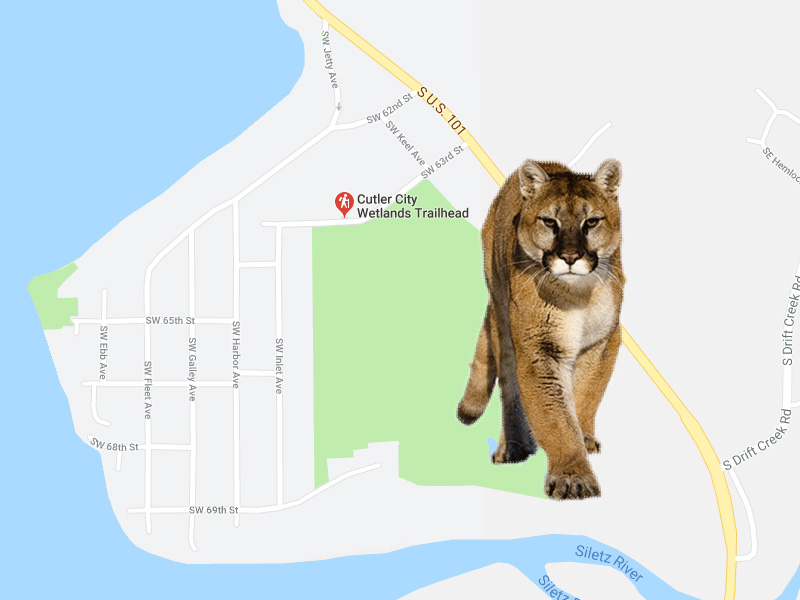 A cougar was sighted Monday near Cutler City Wetland Trailhead and warning signs detailing what to do in the event of an encounter have been posted.
According to Oregon Department of Fish and Wildlife (ODFW) officials, a cougar was spotted by a landowner killing domesticated geese. The man shot at the animal and might have wounded it, causing it to flee towards Cutler City Park.
ODFW did not find evidence the cougar was wounded and has not received notification of additional sightings or livestock losses in the area.
ODFW officials encourage the public to contact their office or Oregon State Police if a cougar is spotted.
ODFW: 503-947-6000
Oregon State Police: 800-442-0776
If you cross paths with a cougar:
Stop
Never approach a cougar at any time for any reason.
Stay calm
Face the cougar and do not turn your back towards it. Do not run. Running encourages it to chase.
Appear large
Make yourself look large. Do not bend over or crouch down. Raise your hands. Hold your coat open. Hold small children.
Fight back
Fight back if attacked.
Make noise
Make noise while hiking to reduce the chance of surprising a cougar.
Keep children close
Always keep children close by and in sight.
Avoid walking alone