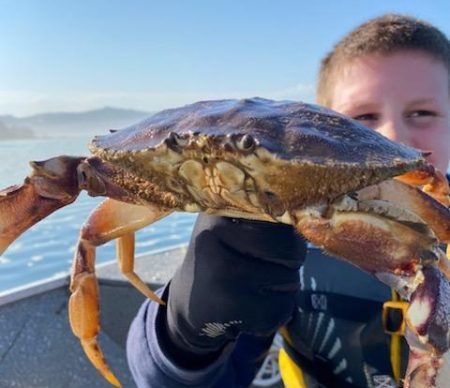 In the early morning mist on the Siletz river dozens of small fishing boats glide quietly past each other.  The boat's passengers seek the prize of all fishermen; salmon.  And they are finding them.  Trolling slowly, dangling shiny flashers and succulent shrimp or deceptive lures, the anglers hope to strike silver and bring home not only dinner but bragging rights.
Summer steelhead fishing has slowed down with the low water conditions but there are still fish holding throughout the system, especially in the upper river sections of the gorge. Summer steelhead will be around to be caught throughout September and October. The peak for summer steelhead is typically June-August.
Fall Chinook fishing has picked up on the Siletz estuary and there are some nice fish being caught every day. Fishing will continue to improve through September as more fish move into the system on each tide.
Wild coho retention is allowed on the Siletz River from Sept. 15 – Oct. 15. The daily bag limit is one adult wild coho per day and one for the season. This is another "one and done" season for wild coho. Meaning you can only keep one adult wild Coho from the Siletz River for the entire 2022 season.
Cutthroat trout are also abundant and available throughout the Siletz basin, check the regulations for open areas and bag limits. Trout fishing in streams closes on Oct. 31.
Many boats are landing limits while some also indulge in crab fishing by placing their pots nearer the bay and returning to retrieve their crustation booty later in the day.
For more information about fishing in Oregon go to:
https://myodfw.com/recreation-report/fishing-report