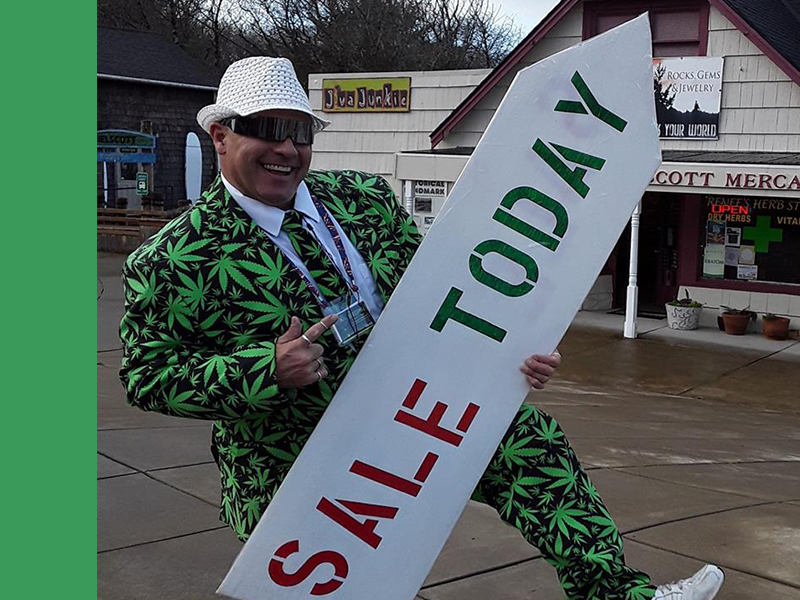 Lincoln City Police arrested well-known cannabis advocate Eddie 'Weedman' Biggar around noon today at the Nelscott Strip on an outstanding warrant for stalking.
"We're holding Eddie Biggar on stalking," Lincoln City Police Chief Jerry Palmer said of Monday's 11:30 a.m. detainment of the Toledo native on a misdemeanor warrant issued out of Lincoln County Circuit Court.
After working for Cannamedicine in Newport, where visitors would take their picture with the "Weedman," the City of Newport denied him a business license and Biggar came to Lincoln City to pursue his entertainment career performing at weddings and parties.
"I love Lincoln City," Biggar, 53, said. "It's way more chill than Newport."
Biggar, a divorced father of five, was recently hired by Rene's Herb Store in Nelscott to promote the cannabis business with his unique style of dancing and sign waving while dressed in a suit designed with pot leaves to attract customers.
The popular public figure and military veteran has been featured in numerous newspaper articles such as Legal pot dealers find home: Oregon's Cannabis Coast in the Salem Statesman Journal and Snubbed 'Weed Man' rolls to Lincoln City in the Newport News Times.
"Weedman" maintains a website, goweedman.com, where he sells hoodies and T-shirts and touts himself as a "cannabis ambassador." The website features press pieces about him, YouTube videos and drone footage.
The former pizza delivery man has co-hosted a cannabis talk show on Salem public access, as well as Eugene Cannabis TV and Cannabis Common Sense.
Homepage is pursuing comment from Biggar on his arrest by Lincoln City officers Hayden Tolzman and John Goodman at the south 3200 block of Highway 101.
Bail was set at $15,000.