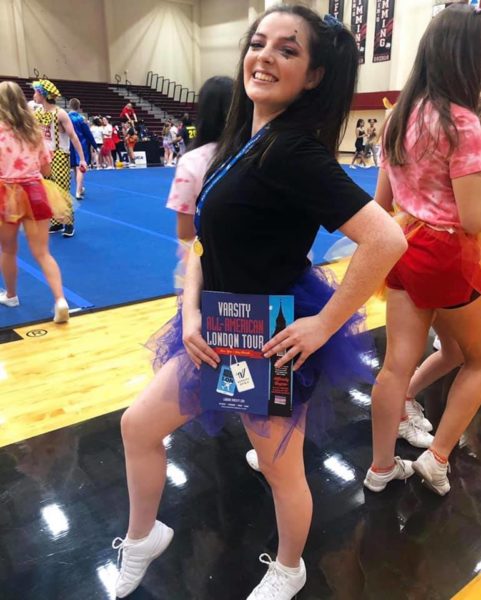 Inspired by new Taft High cheer coach Jazmyn Logan and nominated by her camp leader to try out, senior Nicole Sperry has become eligible to participate in London's New Year's Day Parade with fellow competitors who have achieved All-American status at a summer spirit camp.

The 17-year-old Sperry, in her first year of cheer and in her last year of high school, is just the third Taft cheerleader and among just 12 percent of athletes who attend the camps nationally to accomplish the feat.
"Nicole is one of many new cheerleaders we have on the team this season, and her being awarded this title means a lot to the program," Logan said. "The whole team is proud of Nicole and her success."
Sperry got a job two days following her camp performance and is fundraising for the trip overseas. She has saved and deposited $900 to secure her placement in efforts to earn the money necessary to make the Dec. 26-Jan. 2 trek (CLICK HERE to support Sperry's efforts to get to London).
"Cheer camp was definitely a challenge," said Sperry, the first Taft cheerleader to earn All-America honors since 2011. "We were constantly on our feet doing some sort of activity/practice. By the end of each night, I was exhausted but ready and excited to learn new material the following day."
Recipients of All-American status as a cheerleader or dancer from the Universal Cheerleaders Association (UCA) is an honor shared by select individuals who have exemplified showmanship, poise, technique and crowd-leading skills. Sperry was awarded the All-American acclaim in July at a UCA cheer camp at Pacific University in Forest Grove.
"This being my first year of going to a cheer camp, I wasn't sure what to expect," Sperry said. "Now that it's my last year of high school, I won't ever get to have the same opportunity again. Had I known all the experiences I would earn from joining the cheer team, I would have done it much sooner."
Logan said Sperry was assessed over a four-day period on skills such as strong motions and voice projection, dancing, stunting, jumps and an overall level of enthusiasm for the sport.
"Nicole winning All-American sets the bar for how this season is going to go," Logan said. "We are a new team — with new coaches, new ideas — and we are bringing an all-around fresh start to the program. While we are currently laying the foundation for the future of this program, Nicole and the rest of the team have consistently prepared and trained to be better than they have been before."
Sperry said she found the experience both exhausting and exhilarating.
"It was a three-night, four-day camp with continuous learning of cheers, dances, stunting and team-building," she said. "The third day of camp, I found out I had made All-American. I jumped right off the floor and ran to stand up with the rest of the cheerleaders from around Oregon who made it. The event draws a bonding experience from not only from my team but the other teams that attended."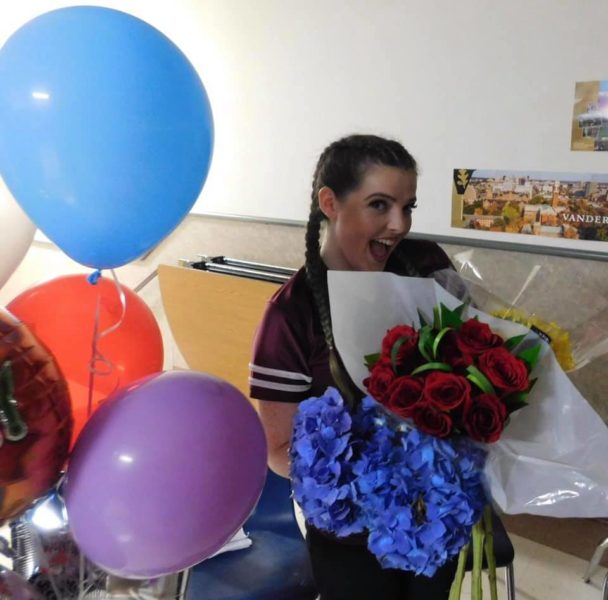 Born in Salem, Sperry grew up in Dallas (Ore.) until the fourth grade, when she moved to a small town in Texas. She lived there for a year, then moved back to Oregon, where she started sixth grade at Taft Elementary School. She has lived in Lincoln City since.
Sperry is the daughter of Kyrie Johnson, an office manager for a real estate appraisal company. Her biological father passed away a year-and-a-half ago. Her stepdad, Micheal, is a union laborer and a huge Oregon Ducks fan.
"My mom and Micheal are some of my biggest advocates," she said. "My grandparents also play an important role in my life."
Sperry is the youngest of several siblings, including Andre, 34; Derick, 32; Tayler, 21; and Jeremiah, 19. Her closest brother, Jacob, passed away at 20.
"High school was always quite a struggle for me, especially with the loss of my brother, but I'm very proud to say that I'm going to be graduating this year," she said. "Making the All-American team is truly such an honor. To know that my hard work and dedication to cheer was noticed and awarded is all that I could've asked for."
Sperry said she couldn't have accomplished the honor without the unwavering support of her coaches and family.
"My team and my coaches' persistent encouragement was another huge factor in what made me the best I could be," she said. "When you're surrounded with positivity, it's much easier to showcase what you're capable of. To be chosen to represent what cheerleading is to everybody is just amazing. It's absolutely incredible."
Sperry said she is uncertain about her future after closing out cheer and  her classwork in her senior year at Taft.
"My entire life, I have attended dance classes," she said. "I've always had a passion for those types of arts. I've also sang throughout my life, although I'm a little more reserved with that.
"I'm still undecided, but I know that with my perseverance, I'll find a way to do something I'm passionate about. I know that if my brother Jacob were here today, he would be super proud of me, and I aspire to make that happen every day."