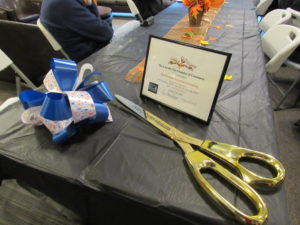 EDITOR'S NOTE: Updated with news release from Stiley at bottom of article.
Several big-name politicians and community leaders discussed affordable housing issues Friday at a ribbon-cutting ceremony, where the Lincoln City Chamber of Commerce congratulated Northwest Coastal Housing (NWCH) on its recent renovation of The Ridge Apartments.
Rep. David Gomberg and Lincoln County Commissioner Claire Elizabeth Hall spoke about affordable housing and the important role government plays in obtaining affordable housing resources.
Lincoln City Council member Dick Anderson joined Lincoln County Commissioner Doug Hunt, Family Promise of Lincoln County Executive Director Elizabeth Reyes and newly elected County Commissioner Kaety Jacobson.
"This is a celebration of the completion of the envelope of the 80 Unit Affordable Housing Property impacting 22 years of Lincoln County families," NWCH Executive Director Sheila Stiley said.
Northwest Coastal Housing is a nonprofit corporation committed to developing affordable housing, and advocating and supporting community efforts that enhance affordable living options. Its mission is "to provide affordable, safe, decent and stable housing with compassion and integrity."
Lori Arce-Torres represented the Lincoln City Chamber of Commerce.
The following is a news release from Stiley:
Lincoln City Chamber of Commerce Sponsored a Ribbon Cutting Event at the Ridge Apartments in Lincoln City celebrating a completed envelope construction rehab. The event was hosted by NW Coastal Housing (NWCH) on Friday, October 5, 2018 between 3:30 and 5:00 p.m. at 3340 SE Harbor Drive, Lincoln City in the newly remodeled Ridge Community Building/Office located in the center of the complex.
"This is a celebration of the completion of the envelope of the 80 Unit Affordable Housing Property impacting 22 years of Lincoln County families," said Sheila Stiley, Executive Director at NWCH & Spyglass Ridge LP (SRLP). It is also celebrating the finality of a very lengthy project taking nearly 2 years, $2 million, and opening the door to the next project ahead, future development.
The property experienced 22 year old failed siding and windows, leaving residents paying out anywhere from $100 to over $400 monthly in electric bills. The back decks were dry rotting and becoming a hazard. The back door sill pans were allowing moisture to run down the back of the rim joist resulting in dry rot. Therefore, before future development could be focused on, priority was care of currently owned assets needing to be addressed. The Affordable Housing world obtains its funding through various sources, combining multiple layers in order to develop. When that occurs, restrictions (encumbrances) on the property generate future funding stream complications, as with The Ridge. Case and point, after attempting to apply for NOFA (Notice Of Funds Available) from OHCS (Oregon Housing Community Services) 3 times without success in order to rehab the dilapidating property, NWCH/SRLP sought other means in the form of a HUD Refinance, taking 15 months just to close. Prior to this occurring, NWCH/SRLP resorted to pulling funds out of their own reserves to replace the roofing and gutters in 2014/2015.
In order to close the loan, NWCH/SRLP had to make repairs on their own in order to qualify for the funds. Though some of the repairs qualified for reimbursement from the loan, only partial amounts were eligible. One such example was the requirement to change baseboard heaters in the units after taking a survey of all of them. Upon doing so, it was realized the property had baseboard heaters between two water sources in the bathrooms and all of then needed to be replaced. The reimbursement funds from the HUD Loan amounted to $4000.00 however, the cost to replace the heaters was $26,000.00. That did not include sheetrock repair in all 112 bathrooms totaling $16,000.00. NWCH received funds from Wells Fargo to help offset some of the cost.
The Ridge now has new roofing, gutters, hardi plank siding, new windows, and back doors. In addition, the Ridge also received the following list of repairs: vapor barrier and ground floor insulation, (14) new kitchen cabinet/counter replacements, (38 units) subfloor and flooring repair/replacement, eight new continuous run fan systems on all eight buildings, a new concrete ADA ramp, all new exterior lighting, securing of all ground floor level dryer ducts, new rip rap retainer wall (60 ft in length), new footings and electrical boxes on one building, erosion control stem walls, all new front door lever handled exterior hardware, new bathroom lighting, new signage on buildings and both entrances, a new piece of playground equipment and new paint.
In order to continue to provide adequate services to the residents and the community, the Ridge community room also received a rehab of new flooring, new commercial grade backdoors, a new enlarged kitchen with cabinets, countertops, & appliances (provided by grants including Lincoln County Economic Development Fund, City of Lincoln City, First Interstate Bank and Confederated Tribe of Siletz Indians), and a fresh coat of paint.
The Ridge Apartments is not simply apartments. It is equipped with Resident Services which is a half time on site paid position providing resources for residents to overcome their current barriers and increase their standard of living. In addition are programs, educational seminars, and afterschool program for youth. The Ridge provides a space for nonprofits to reach the greater Lincoln City populous with pertinent and relevant information and resources.
The Ridge Apartments also works with partner organizations to not only provide resources, but housing. This includes homeless families, victims of domestic violence, single parents, seniors, veterans, and low income families/individuals. Thanks to partner organizations, such as Family Promise of Lincoln County, My Sister's Place, Community Services Consortium, Food Share of Lincoln County, OSU Extension Office and many more, residents receive supportive surrounding services and The Ridge has the pleasure of playing a role in stabilization of community.
The completion of the envelope construction rehab has been a great accomplishment for the organization and the residents. There is still work to be completed with the large complex, but this was a huge dent in the needs. Some of the following attendees included but were not limited to (Lincoln City Chamber of Commerce) Jill Woolsey, Chamber Board President, Josh Brainerd, Chamber Board Member, Jessica Barton, Chamber Office Manager and Lori Arce-Torres, Chamber Executive Director.
From the Lincoln County Commissioners Office were Commissioners Claire Hall, Doug Hunt and Kaety Jacobson. Representing District 10 was State Representative David Gomberg. Representing the City of Lincoln City were Councilman and Mayoral candidate Dick Anderson (also a former Director for NWCH and past President) and Urban Renewal Director Allison Robertson.
NW Legacy Contractor owners and Ridge project Contractors Monte & Hillary Pershall as well as Dustin Capri of Capri Architecture for the Ridge Apartment project were also present. Representing Guardian Property Management were Kelly Paine, Portfolio Manager and Glenna Brown, On-Site Community Manager for the Ridge Apartments.
Michelle Gaylor represented "My Sister's Place" and City of Newport Councilman and Mayoral Candidate Dietmar Goebel of DH Goebel Architecture was present. Pastor Luke Frechette for the South Beach Church attended as did the following NWCH Board Directors: Jack Baldwin/Vice President, Nancy Mitchell/Secretary, Michael Smith/ Director and Elizabeth Reyes/ Director. NWCH staff members included Sheila Stiley/Executive Director, Robert Bare/Development Director/Grant Writer and Marnie Hudson/Resident Services Coordinator for the Ridge Apartments.
NWCH is pursuing the next project of future development currently in the works.