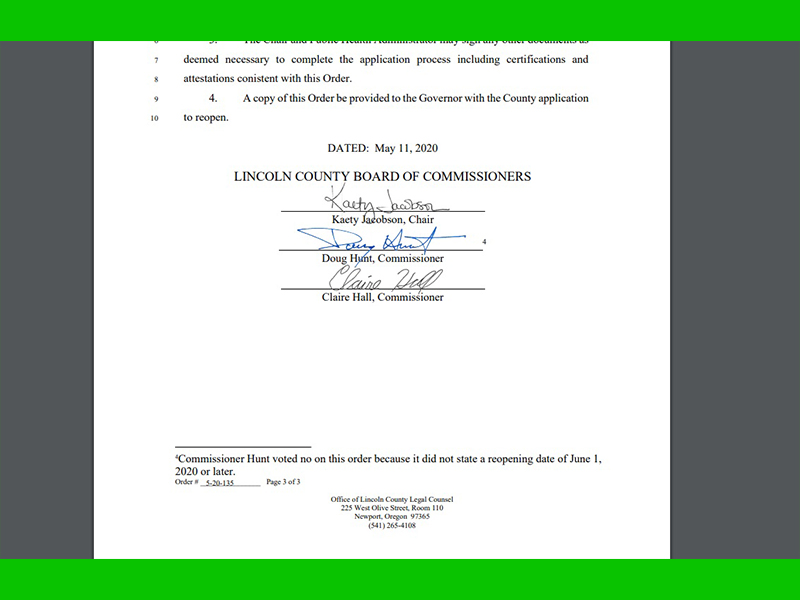 Lincoln County Commissioners voted 2-1 Monday to approve submitting an application for Phase One reopening to Gov. Kate Brown and Tuesday it was finalized and sent.
Lincoln County officials are uncertain when the Governor's office will approve the application and said it's possible the County could be asked to revise the application prior to approval. The Governor's office will be contacting applicants if necessary if additional information is needed.
According to Lincoln County, when the application is approved, Lincoln County will be allowed to enter a Phase One reopening. Guidelines for the reopening are provided on the Governor's website.
From Lincoln County Public Information Officer Casey Miller:
It's also important to recognize the County and most local jurisdictions have a local ordinance – Order #3-23-85 Minimize the Effects of the COVID-19 Emergency – that currently has certain provisions for VRD/STR and lodging facilities that describe allowable use of those facilities through the end of May.
A third Joint meeting of all jurisdictions regarding Order #3-23-85 is scheduled for Thursday, May 14, 2020 at 3:00pm. Public input received and forthcoming agenda information for this meeting is located online. This meeting will be streamed through the City of Newport's website.
Commissioner Claire Hall addressed the timeliness of Lincoln County's application submission:
"We understand the communities frustration that our application was not submitted on Monday as previously planned. But it was important to us that everything in the application was in proper order to ensure the Governor would accept our application in full as submitted. We needed more time than expected to ensure their review process would accept our application outright."