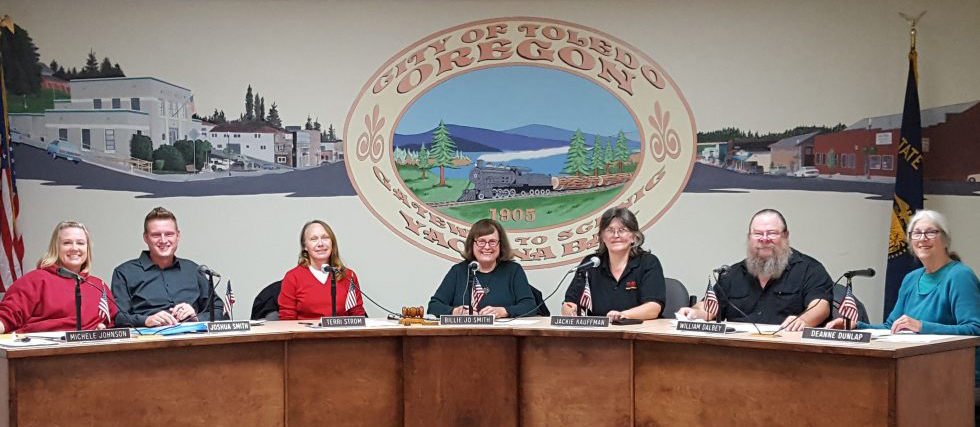 City of Toledo Mayor Billie Jo Smith and Councilors Terri Strom and Deanne Dunlap were recalled from their positions by Toledo Voters Sept. 11 for reportedly hiding information, conducting illegal secret meetings and being fiscally irresponsible.
Toledo citizens demanded a recall of Smith, citing questionable personnel practices, the forced termination of Municipal Judge Bruce C. Parsons, illegally participating in the termination of Fire Chief Will Ewing, and failing to disclose the forced retirement of interim Toledo City Manager Craig Martin from the City of Sweet Home to other city councilors and the public.
Smith said the goal of the recall was to replace three members of the City Council with supporters of three former City employees who were calling for the termination of the city manager.
Smith said the recall petition claims were untrue and all other claims were misrepresentations and only opinions.
Smith, who would have served her second term as Toledo mayor, plans to run again in the November election.
Toledo citizens also demanded the recall of Councilor Strom for ethics law violation, conspiring with Mayor Smith to conduct illegal closed and serial meetings with other councilors, fiscal irresponsibility, failure to investigate background and employment history of the current city manager, and incompetent evaluation and recommendation of a deeply flawed annual budget.
Council President Strom was serving her sixth year as a member of the Toledo City Council. She is running for election again in the November election.
Councilor Dunlap was also recalled by Toledo voters for the same reasons given for Strom. She did not provide a statement of justification for the recall ballot.
Total Number of Votes: 821
Approximate % Counted: 99.50%
21-PR2018-01 City of Toledo – Recall of Billie Jo Smith, City of Toledo Mayor

Yes, I Vote For the Recall
No, I Vote Against the Recall
21-PR2018-02 City of Toledo – Recall of Terri Strom, City of Toledo City Councilor

Yes, I Vote For the Recall
No, I Vote Against the Recall
21-PR2018-03 City of Toledo – Recall of Deanne Dunlap, City of Toledo City Councilor

Yes, I Vote For the Recall
No, I Vote Against the Recall