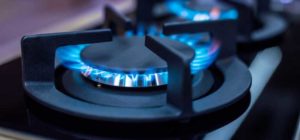 With winter storms nearing in our area (and the inevitable power outages that come with them), Northwest Natural Gas issued some safety reminders for those with gas appliances.
Natural gas Fireplaces: Some natural gas fireplaces contain a backup battery module that can be used during a power outage to start the fireplace. Install the batteries when the power is out, then use the manual switch or remote to turn on the fireplace. While the fan will generally not operate with the battery backup, the fireplace will emit radiant heat and light. When the power comes back on, turn off the fireplace and allow it to cool, then remove and store the batteries. 
Natural gas water heaters:  Most conventional natural gas storage tank water heaters have a pilot light that continues functioning during a power outage. If the pilot light goes out, review the instruction manual for steps to relight it, or contact a technician. Tankless water heaters typically require electricity, but some can be equipped with a backup battery that operates automatically during a power outage. 
Natural gas cooktops:  Most natural gas cooktops can be used without the built-in electronic igniter. Simply use a wand style lighter to ignite the burner. When the lighter is lit, turn the gas on for the burner using the knob (and note that the clicking sound of the electronic igniter will not be present when the power is out). To be safe, always double check that the burner is turned off when finished cooking. 
Instructional videos for how to operate natural gas appliances during a power outage are available online at nwnatural.com. Customers seeking more information on how to operate their natural gas appliances without electricity should check their appliance manual or contact an appliance dealer.