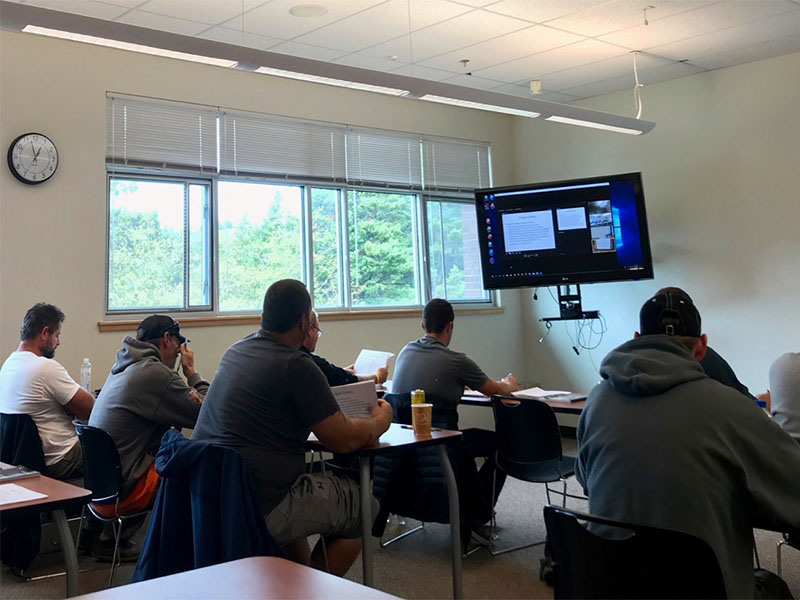 Thanks to a grant from the Economic Development Alliance of Lincoln County and the Lincoln County Board of Commissioners, the Oregon Coast Community College Small Business Development Center will soon be improving its services to Lincoln County residents seeking their CCB licenses.
Many builders, electricians, plumbers and other tradespeople find themselves needing a license from the Oregon Construction Contractors Board. Frequently, these folks have to register for online courses and do weeks of independent study, only to then be forced to drive to a city in the Valley to take the CCB test.
Thanks to an innovative program created by the Clackamas Community College SBDC and delivered via live video to the OCCC SBDC, Coast residents can participate live in a two-day session that includes all the studying and prep, along with the actual testing itself, all collapsed into one two-day period.  The next such class is scheduled for Friday and Saturday, March 5 and 6, at OCCC in Lincoln City.
"It would be great if we could offer this class on different days and at different times," said SBDC Director Dave Price. "This grant, for more than $6,000, will make it possible for us to create an in-house program using expert presenters and top-notch content, so that the program can be offered more frequently at the North and Central OCCC campus locations. We thank the county commissioners and the EDALC board for this support, and salute them for their support of Lincoln County's future contractors and builders.
Price said the SBDC plans to record and produce the CCB test this spring or fall. The precise dates will depend not only on the Oregon Coast SBDC's schedule but also that of its partners at Clackamas Community College.
"We know Lincoln County wants more supports for the trades," Price said, adding that the improved CCB license program and OCCC's new welding program are just two pieces of that larger effort, which has been identified as a priority for the College by President Birgitte Ryslinge.
Watch the SBDC's website, oregoncoastcc.org/sbdc, for more details, and to learn more about the March 2020 CCB license test, which still had space available as of the time of this release. Call 541-994-4166 for additional information.
The Small Business Development Center at OCCC provides no-cost business advising to any business in Lincoln County, as well as to anyone even considering one day launching their own business. The SBDC also offers free and low-cost workshops and classes – find the complete class schedule, along with easy online registration, at oregoncoastcc.org/sbdc.