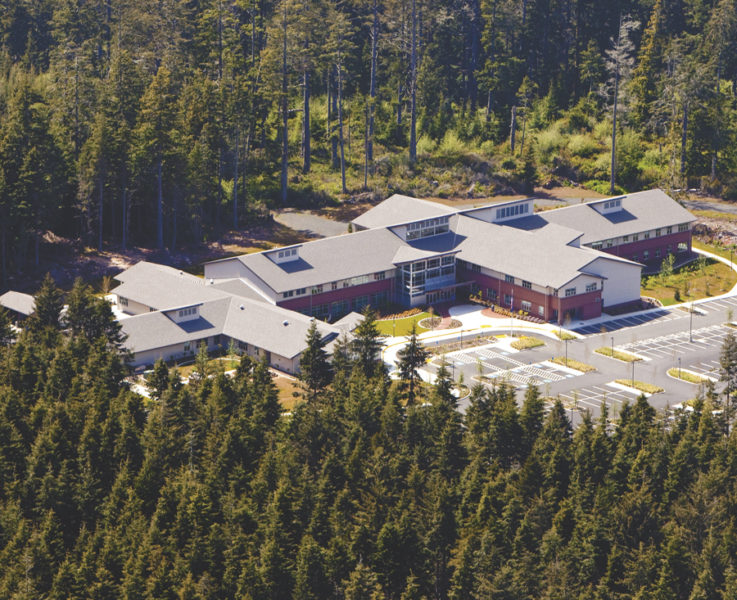 A new academic year is beginning at Oregon Coast Community College, and it promises to be an eventful one with fresh pizza, a new newspaper and "growing its own" teachers.
The first day of classes for Fall term was Monday, Sept. 23.
In October, OCCC will welcome an Evaluating Committee of college presidents and administrators from throughout the Northwest. The visit is the latest in a long series of steps the College has taken in its long process in pursuit of independent accreditation. The adventure began more than five years ago, in July 2014, when the OCCC Board of Education charged President Birgitte Ryslinge with leading the College to independence. That same year, Tillamook Bay Community College (TBCC) and Columbia Gorge Community College (CGCC) both secured their independent accreditation, after years of work similar to what OCCC has been going through. Both TBCC and CGCC had previously been accredited through Portland Community College, as OCCC is today.
After its visit – scheduled for Oct. 16, 17 and 18 – the Evaluating Committee will submit its findings to the Northwest Commission on Colleges and Universities. The NWCCU, in turn, will make a decision in January 2020 about whether OCCC will be granted Initial Accreditation. If the College is successful, accreditation will be retroactive to the start of this Fall's term, September 2019. Complete details of the College's ongoing pursuit of independent accreditation can be found on the College website, oregoncoastcc.org.
New programs
This year, more classes than ever will be available via distance-delivery, using Zoom videoconferencing. This allows classrooms of students from one part of the county to join students in another facility, thus saving the time and expense of driving from location to location. A wide variety of courses will take advantage of this improving technology, including OCCC's teacher-education program. This is the second year of the College's partnership with the Lincoln County School District, to provide a clear pathway for local students eager to become schoolteachers.
"Through our 'grow-our-own teachers' Rural Teacher Pathway, funded by a generous grant from the Meyer Memorial Trust, students can begin their teaching degree here at OCCC – some can even start while in high school," said President Ryslinge. "In the third year of the program, the students will need to spend nine months at Western Oregon University, but the fourth year returns them to Lincoln County, where those participants with adequate academic performance will be placed in student teaching positions." Successful graduates will receive preferential treatment in the LCSD's hiring process.
Another highly anticipated program the College has long pursued is slated to come to fruition during this academic year. This February, OCCC will begin offering welding courses – the vanguard of a lineup that the College plans to develop into a robust maritime construction program. The welding offerings will be made possible thanks to partnerships with the Port of Toledo and the Lincoln County School Districts. Interest in the initial welding classes has been intense; a series of Facebook posts made last spring when grant funding was secured to make the program possible were met with more than 10,000 post interactions. "In other words, as many as one in five residents of Lincoln County reached out and reacted to news of this future program in the space of just a few days," said Dave Price, OCCC's Director of Marketing and Community Engagement.
Details about the welding program will be available on the College website, oregoncoastcc.org, as February nears.
Improvements abound
The OCCC Nursing and Allied Health Department continues to grow. Last year, the school added two new high-tech mannikins, allowing students cutting-edge equipment with which to practice live interactions with "patients" in the school. The mannikins were funded by generous grants from the Siletz Tribal Charitable Contribution Fund. More support grew from elsewhere in the community, such as a $50,000 contribution to the program from the North Lincoln Health District.
"In past years, we have been so appreciative of matching donations of $40,000 each from the Pacific Communities Hospital Foundation and the North Lincoln Health District," said Linda Mollino, director of Allied Health and CTE Programs. "This year, North Lincoln's contribution to our nursing program and its students jumped 25 percent. We're grateful for that generous bump, and for the continued support from Newport. These institutions support our program in large part because of the excellent nurses our program graduates each year to support the best possible patient care in Lincoln County hospitals."
The Coastal Stagecoach
The South, Central, and North locations of Oregon Coast Community College (located in Waldport, Newport and Lincoln City, respectively) are abuzz for lots of other reasons this Fall. OCCC students are planning to launch their own newspaper, 'The Coastal Stagecoach,' this year. Meanwhile, there's big news at the College Store inside the Newport Campus. There, a new oven means students will be able to order fresh, made-to-order pizza – with homemade dough made fresh each morning.
To go with their hot pizza, students can fill up reusable bottles with cool, fresh, filtered water, using filling stations installed in Newport and Lincoln City. Both were funded by the Siletz Tribal Charitable Contribution Fund and funds raised by OCCC's Associated Student Government group. With the stations installed, the College will be planning next steps as it works to drastically reduce the number of plastic single-use water bottles brought to campus.
This year marks another year of growth in the College's dual-credit offerings, which deliver college-level courses and credits to Lincoln County high school students. The College is also continuing its Early College Program, providing free tuition to some high school students for classes taught at College campus locations. Details are available on the College website or from high school counselors.
Meanwhile, the College continues to offer its Digital Media & Marketing Studios, in Newport and in Lincoln City, to local businesses in need of professional photography, video, video editing, or audio recording and production services. The studios are managed by the OCCC Small Business Development Center and were funded by Economic Development Grants from the Lincoln County Board of Commissioners. When not in use by local businesses (who pay $30 per hour to use the space and equipment), the studios are often available at no charge to OCCC students.
The College also offers an impressive lineup of degrees and certificates, including transfer degrees in which many local students earn the first two years of a four-year degree at home before transferring to OSU, Western Oregon or other universities as juniors. The OCCC Aquarium Science Program is a unique program that offers a degree program as well as a one-year certificate program. Most of its one-year participants are from outside Lincoln County, and typically these students arrive having already earned four-year degrees from universities in areas such as marine biology. The hands-on practical skills in care and feeding of aquatic plants and animals, as well as experience in PVC piping and plumbing and lots of other areas, contributes to impressive job-placement rates for Aquarium Science Program graduates.
In addition, this Fall brings a wide variety of non-credit community education and small business classes open to anyone in the community. These classes range from cooking to German language, and from Internet Security to CCB License Prep and Testing, among many others. Find the complete lineups at oregoncoastcc.org/communityed and oregoncoastcc.org/sbdc.
For more information about Oregon Coast Community College, call 541-867-8501, or stop by the College's Central County Campus, at 400 SE College Way in Newport's South Beach District, or the North County Center, at 3788 SE High School Drive.