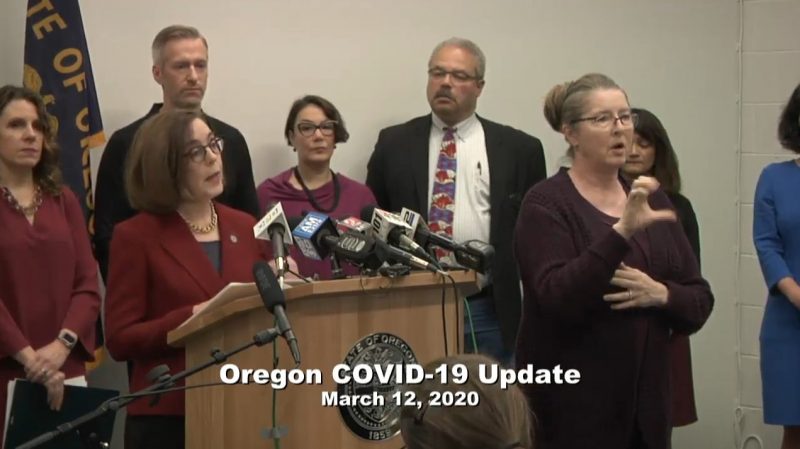 Gov. Kate Brown unveiled new measures to combat COVID-19 during a live stream Thursday morning that includes banning large gatherings and other social distancing measures to slow the pandemic.
The aggressive measures are based on recommendations from the Centers for Disease Control and Prevention (CDC), Oregon Public Health experts, epidemiologists and health professionals and are designed to prevent a widespread outbreak of COVID-19.
Brown called the spread of COVID-19 a "rapidly evolving crisis" and wants to prevent a massive outbreak by slowing the spread with new policies, such as canceling all gatherings over 250 people for four weeks until April 8. This measure applies to organized gatherings such as events and weddings but not grocery stores, shopping centers or schools.
Using CDC guidelines as a base, Brown said Oregon has issued detailed recommendations for workplaces to immediately implement social distancing measures to protect employees that includes increased physical space, limited travel and staggered work schedules.
Health experts said the "older population" and "at-risk" individuals should stay home as much as possible. Long-term-care and assisted living facilities are following already established guidelines and have limited access to essential personnel only.
Brown and top health officials said they need to focus on treating those hardest hit by the disease and stressed most Oregonians will suffer mild symptoms and recover while high-risk individuals may need more intensive care. The Governor said she wants to preserve hospital capacity for those that need it.
Brown said public schools will stay open, but all activities and gatherings, such as field trips, parent meetings and competitions will be canceled. Brown said school closures will be used as a last resort.
The Governor said she will be meeting with business leaders to provide assistance on how to ride out COVID-19.