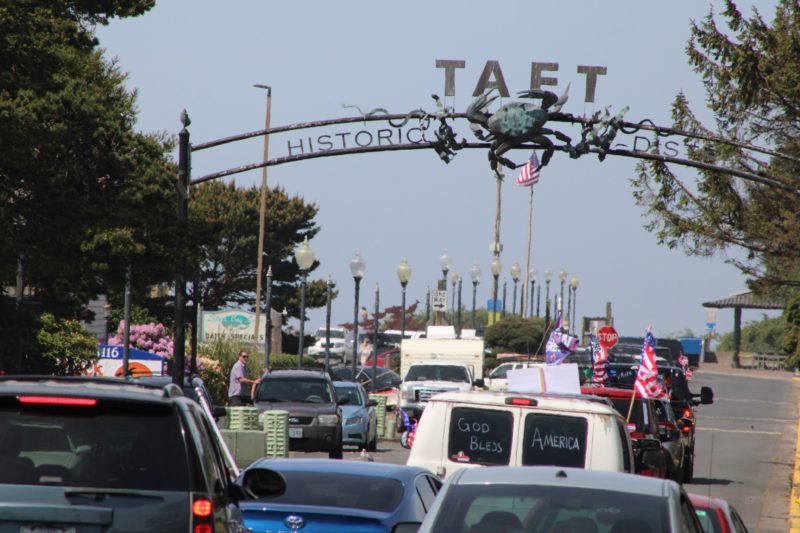 Lincoln City Councilor Rick Mark posted on Facebook Friday addressing concerns of a planned Saturday "drive-through" convoy in Lincoln City.
In Mark's post, he shares a message from Lincoln City Police Chief Jerry Palmer that he believes may "help to ease some worries."
Councilors,
I have made phone contact with one of the organizers of the rally supposed to be coming to Lincoln City this Saturday morning. This representative, Teri Lopes (sp?) advised that she knows of 16 people who have indicated they plan to attend in support. She was not sure if it would be 16 vehicles or multiple people in fewer vehicles.
She stated they are coming to show support for front line essential workers and 1st responders. They support reopening Oregon businesses. They plan to stage at the parking lot near the Grocery Outlet. Then they plan to drive through downtown on Hwy 101 to SW 51st Street near Mo's. They plan to have signs supporting and saluting local workers and 1st responders. I expect they may have political signs as well. They will drive through town honking horns and displaying their signs.
Some may stop to support local business by purchasing take-out from some of them. She advised they have done this support rally in several places and have been well received. They are respectful, clean up after themselves and are not coming to cause trouble but to show support. They also bring masks and gloves so they can don those if going into a business.
I also contacted Salem Police Chief Jerry Moore this morning and he confirmed this group did not cause either them nor OSP any problems when they were at the capitol last week.
Tomorrow, I and Sergeant Weaver will try to meet with this group before they start through town and provide a safety briefing. I heard that Riley may be there to meet them as well. My tentative plan is to allow them to drive through town at their own pace, obeying traffic laws. We will monitor so we can address any issues that might arise.
After they complete their drive through to Taft, they plan to disperse. Some may visit other open business and others may leave altogether.
I'd encourage you to reach out to concerned local citizens and relay this information. I find nothing illegal at this point. I hope our community can be respectful and we can avoid any unpleasant confrontations.
Thank You! Have a safe weekend and enjoy the sunshine.
Chief Jerry Palmer, LCPD
In an email sent to Homepage and posted to Facebook groups, a participant of the Seas the Moment Coast Convoy writes:
Convoys will be coming every direction, except the Ocean. The entire group will meet up in Lincoln City. .We will be meeting all the convoys at Bimart/Grocery Outlet parking lot at 11 am. Those coming from the East will meet at the Goodwill on Lancaster Dr. just north of Silverton Road on the west side of Lancaster at 9 am. We will meet up at 10-10:15 at Spirit Mountain with any one coming out of Newberg or Portland area. . From there we will head south and do our slow convoy to Taft Historical area in Lincoln city. Honking horns, waving flags and signs. If you have your reopen signs or our magnet Thank you signs that will work too. The parking lot at the South end of town in Taft Historical area by Mo's. Along the way if you see a store or place open for us, feel free to stop just meet us at the Taft parking area. Bathroom is open there for use.
FLORENCE – We will meet at the Veterans Memorial on Bay Street at 9am and get to Lincoln City before 11.
A search for Seas the Moment Coast Convoy did yield some results for Florence Liberty Alliance, Lincoln City Oregon community discussion (No Censorship from admins), Newport/Depoe Bay/South Beach Communities and Lincoln City Community Discussion
Update: