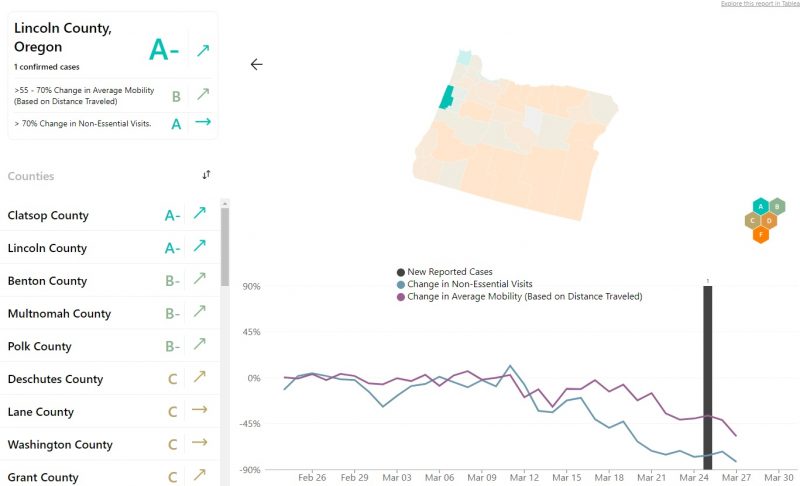 Unacast, a data company that provides cellphone location data and analysis, recently revealed a product called the Social Distancing Scoreboard. The scoreboard provides letter grades for every county and state in America based on how residents are practicing social distancing. 
According to Unacast, Lincoln County received an "A" rating and is one of only two of Oregon's 36 counties who received this rating, the other being Clatsop County to the north. 
Nationally, Lincoln County is listed just 44th out of more than 3,000 counties in the United States.
This data indicates residents in Lincoln County are ahead of over 98 percent of the nation in terms of cutting down non-essential travel and average mobility overall. Non-essential visits are down almost 90 percent and mobility has dropped by over half according to the data.  
Unacast's scores haven't been reviewed by public health officials, according to the Washington Post.
Unacast isn't the only tech company mining data for the public good. Facebook uses anonymized data from its users to power its Disease Prevention Maps, Kinsa Health's data from its smart thermometers is used to detect illness levels for its US Health Weather Map.
Some privacy advocates, such as the Electronic Freedom Foundation, have expressed concern about how civil liberties are being eroded during this crisis, but public health officials contend the benefits outweigh the potential drawbacks, as it allows them to fine-tune their efforts at informing the public.