Taft High graduate Maya Hatton shot a career-low 81 Tuesday to finish 14th in the College of Idaho's season opener in the Multnomah Invitational at OGA Golf Course in Woodburn.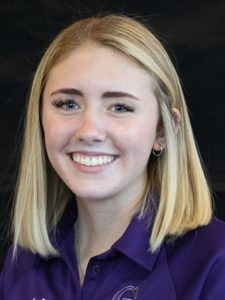 The sophomore, daughter of longtime Taft High golf coaches Rick and Heather Hatton, opened the 36-hole tournament with an 87 on the 5,852-yard layout, then closed with a 9-over-par 81 in the 26-player field.
College of Idaho did not record a team score as British Columbia took the title with a two-day 603, 32 strokes ahead of Oregon Tech.
Hatton, a 2018 Taft grad, played in 13 rounds as a freshman, recording a 87.9 stroke average with a season-best round of 81 and 36-hole score of 165 at the Corban Spring Invite.
Hatton qualified for the Class 4A/3A/2A/1A State championships all four years of high school, helping the Tigers to a sixth-place finish as a senior, when she shot a career-low 75 to win her third Special District 2 title with a school-record 36-hole score of 151.
Hatton returns to the course in two weeks at the Thunderbird Classic in Bellingham, Wash.
 Rank 
 Player
 Team
Scores
 Total 
 Par 

1

 CANON, Peyton 

 Oregon Tech 

 75

 72

 147

  +3

t

2

 GEORGE, Megan 

 Corban 

 77

 73

 150

  +6

t

2

 WEN, Jue 

 British Columbia 

 78

 72

 150

  +6

4

 DUNN, Kelly 

 Corban 

 74

 77

 151

  +7

5

 JOHNSTON, Kate 

 British Columbia 

 82

 70

 152

  +8

t

6

 KWON, Cecile 

 British Columbia 

 77

 76

 153

  +9

t

6

 LEE, Esther 

 British Columbia 

 81

 72

 153

  +9

t

6

 REMANDABAN, Shania 

 British Columbia 

 79

 74

 153

  +9

t

9

 SONG, Aerin 

 Oregon Tech 

 80

 75

 155

  +11

t

9

 ZHU, Ashley 

 Oregon Tech 

 79

 76

 155

  +11

11

 PATTERSON, Delainey 

 Corban 

 81

 79

 160

  +16

12

 HELLWAGE, Kelsie 

 Northwest Christian 

 83

 78

 161

  +17

13

 KOZA, Stephanie 

 Oregon Tech 

 85

 78

 163

  +19

14

 HATTON, Maya 

 College of Idaho 

 87

 81

 168

  +24

15

 BAKER, Maiya 

 Oregon Tech 

 89

 81

 170

  +26

16

 DEMENT, Sami 

 College of Idaho 

 86

 86

 172

  +28

t

17

 HULL, Grace 

 Oregon Tech 

 91

 84

 175

  +31

t

17

 KRAUSS, Cassidy 

 Northwest Christian 

 91

 84

 175

  +31

19

 BROUSSEAU, Carli 

 Northwest Christian 

 92

 88

 180

  +36

20

 PRESTON, Taylor 

 Corban 

 99

 85

 184

  +40

21

 MAY, Haley 

 Corban 

 95

 90

 185

  +41

22

 REAKA, Stella 

 Northwest Christian 

 98

 95

 193

  +49

23

 DAVIDSON, Emily 

 Walla Walla 

 97

 98

 195

  +51

24

 GARDEA, Fernanda 

 Northwest Christian 

 105

 95

 200

  +56

25

 HAGERTY, Marisa 

 Walla Walla 

 107

 95

 202

  +58

26

 KESSINGER, Kaylee 

 Northwest Christian 

 125

 113

 238

  +94