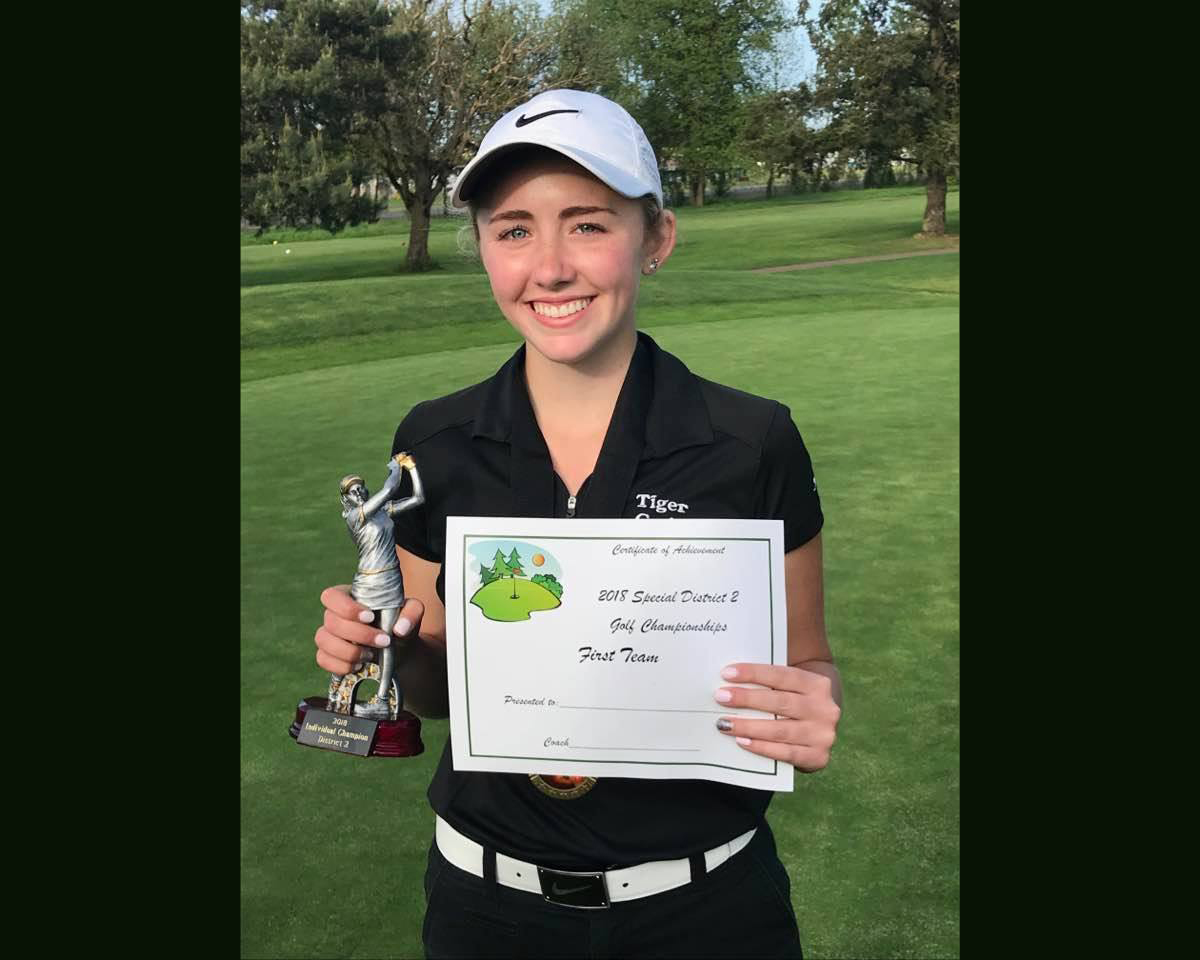 Turns out Taft High senior Maya Hatton's fate was to arrange a date with State with her mates Tuesday at the District 2 girls golf championships.
Rhymes aside, Hatton's play was pure poetry over two days of play at Santiam Golf Course in Aumsville.
In a word, it was great . . .
Saving her best for last, the 17-year-old senior shot a career-low 75 Tuesday to win her third District title and lead the Tigers to the OSAA Class 4A/3A/2A/1A Girls Golf Championships May 14-15 at Quail Valley Golf Course near Banks.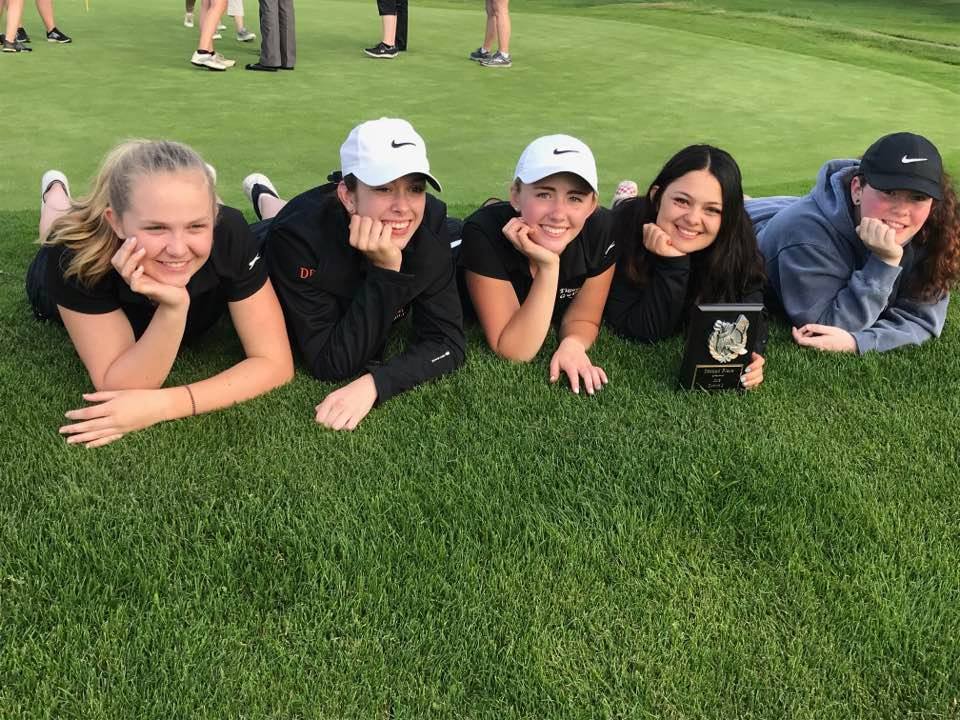 Hatton, who is headed to the College of Idaho to play golf in the fall, added a 1-over 75 to an opening 76 Monday for a school-record, 36-hole 151 to lead Taft to a State-qualifying second-place showing.
"I could not have asked for a better way to end my regular-season tournament play," said Hatton, who imposed a short shelf life on her first-round 2-over effort as her career-best round by going one stroke better. "Everyone on my team played amazing today, and that is something I will carry with me forever."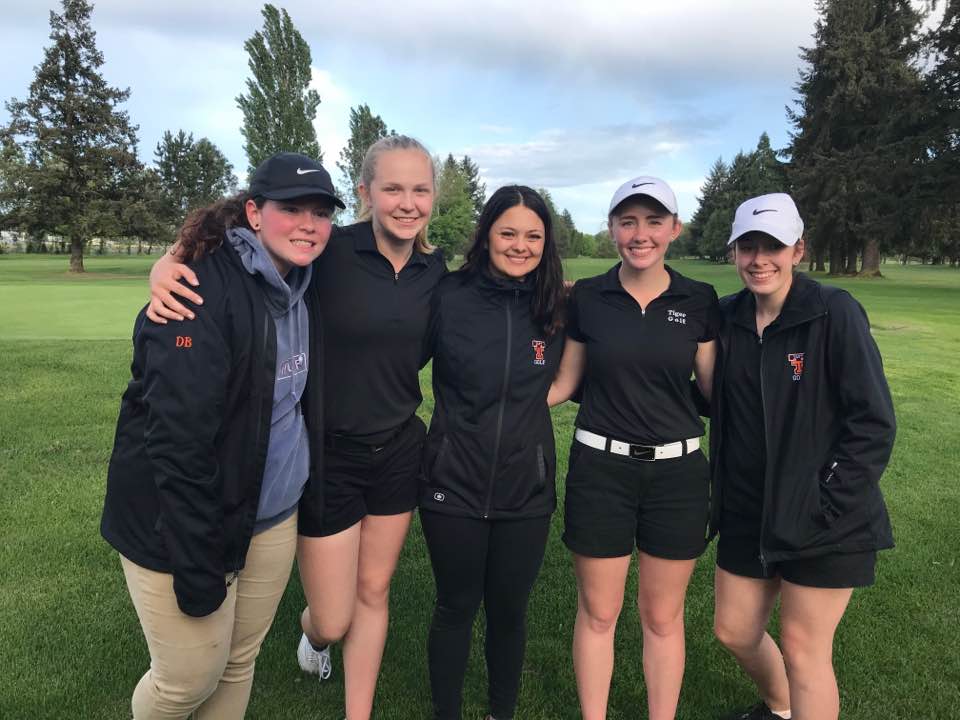 The Tigers finished eight shots behind the co-op team of Salem Academy/Blanchet Catholic and runner-up Katie Goodwin, who fell two strokes short of Hatton's command performance on the par-74 Santiam layout near Salem. Hatton's longtime youth golf rival and high school nemesis closed with a 77.
"Going into today, I knew that I had a lead on Katie before I even stepped into the first tee box, which made the first hole a little less stressful for me," said Hatton, who made the turn with a four-stroke cushion. "I knew I had a couple of strokes to spare, but made sure to stay even-keel and focused."
Hatton said she knew she had victory in the bag while standing over a par putt on the 17th green.
"I played the hole efficiently, but tried to play it slow, because that last hole was nothing but emotional for me," she said.
After shedding tears with her playing partners on the closing hole, Hatton putted out on a four-year journey under her coaching parents, mother and longtime head coach, Heather, and assistant and father, Rick.
"I started these two days wanting to play good for myself, but more importantly to make my parents proud," Maya said. "They have both put so much time and patience into developing my game, and we have all been waiting for me to strike the ball like this forever."
Rick Hatton, Maya's swing coach, proved Monday evening to be not only a mentor, but a caddy.
"After my round yesterday, my dad said, 'I knew you could do it. I just didn't think I'd be waiting until your senior year at Districts to see it happen. Now, go do it all again tomorrow.' That statement is something I couldn't agree with more, and what pushed me to play the same exact way today."
Additional comments from Taft High head coach Heather Hatton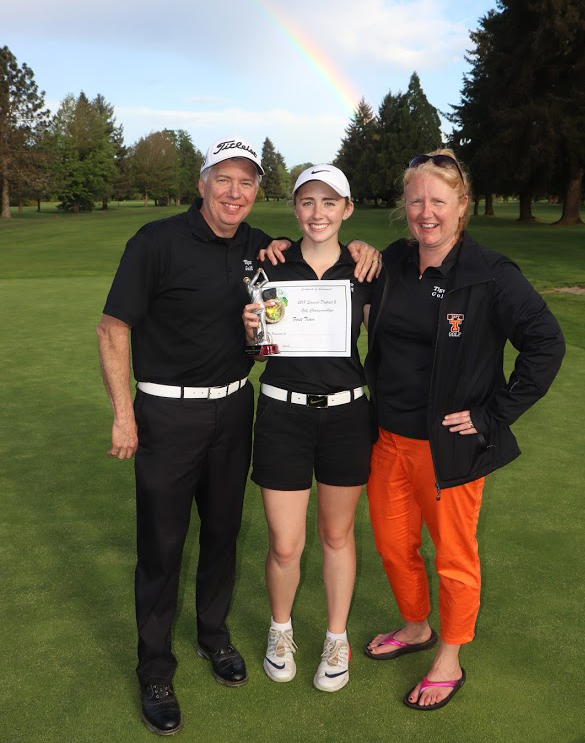 On Maya:
"As a mom and coach, I'm still in awe of what I witnessed the last two days from our No.1 — Maya Hatton. I'm also so over-the-top proud of my team putting together a team score on Day 2 26 strokes better than Day 1 with a 380. That is in the top 5 all-time best team scores in school history.
"Maya Hatton posted the lowest two-day score Taft has ever seen out of a female Tiger golfer. The closest was Jesse Weaver at the State tournament in 2013 with a 154. Maya posted a 151 — only 3-over par for two days. She shot a 75 on Day 2 with a triple bogey on No. 9 after a lost-ball penalty. She kept her composure and proceeded to play strong for the two-stroke win over two days.
"We have also never had a Lady Tiger three-time District champion. This is exciting for the program and for the school. Maya has worked so hard for so long to get here. She is a three-sport athlete who really is only able to dedicate her time starting with golf season in late February every year.
"This year, she started a little early to get herself ready for a competitive year. This wasn't an easy season, as she worked on different areas of her game to get it dialed in when it counted the most. We aren't just talking about a three-sport athlete who excels at her sports, but a strong academic student who is salutatorian and a volunteer in the school and our community.
"She has been volunteering in my youngest daughter's classroom for the past few weeks (third grade) getting ready to be an education major when she enters College of Idaho in the fall. She has become such an amazing person that we can all be proud of, and I hope has inspired Tiger athletes to strive for the best they can be.
"Watching her dad follow her both days and the pride he had was something I will never forget. When she walked off the 18th green in tears and they embraced, I was a proud mom and wife, the coach in me was gone for just a moment. I'm tearing up now thinking about all of it."
On the other players:
"Sammy Halferty really came alive both days with a 201. Her 104 on Day 1 was already a PR, then she continued the fire Day 2 with a 46 on the front nine after posting a 56 Day 1 on that same side. She finished with a 97 — breaking 100 as a sophomore only two years into her career.
"She is strong and truly amazed me both days putting together great rounds with all the pressure of our fight to win as a team. Sammy had a birdie on Day 1 and had an eagle putt Day 2. She ended with a par on that hole, but to give herself a chance at eagle in the early stages of her golf experience is incredible. Watching her perform at the level she did over two days was cool.
"Olivia Baker has been a solid player all season and really put together solid two days with a 110-107. She was crushing her drive on Tuesday. I'm excited to watch her compete at State. She is on the verge of breaking 100. She is now hitting the ball further and more solid and with that comes adjustments of your club usage which results in overshooting greens and putting yourself in to spots you aren't used to.
"With her new-found distance, she really did a great job compensating Day 2 by improving by three strokes. When you have yardage issues with your clubs, it's tough to adjust and she did it very well. She spent extra time working on her approach shots the morning of Day 2 and it paid off.
"Violet Palermini had a rough first day with a 116, but came back strong with a 15-stroke improvement Day 2. She was in some pain after the sun really got to her Day 1 with a pretty bad burn on her legs. She was determined not to let it affect her. Violet also was in a fun group Day 2 with a girls from Sweet Home, and they just had a great day on the course.
"Jocelyn Arguello played well her second year at Districts. She improved her score this year and each day. She had some great shots and like Olivia, needs to learn how to work with her new found distance. She is striking the ball better and now needs to work with that improvement in her swing."
On the State tournament:
"Going in to State, we are in the top-five team scores and Maya goes in with a strong individual chance as well. But in golf, you never count yourself in until the final putt is made. You can't predict what will happen on the course — you hit an awesome drive with a little draw in an area you think you'll find it and, boom, you can't find it, have a two-stroke penalty with lost ball and post a triple bogey.
"It's the athletes that can recover from those truly annoying moments that will come out on top. State will be a game of mental toughness and hard work, experience and determination. I'm looking forward to our team doing their best — and that's all I can expect."