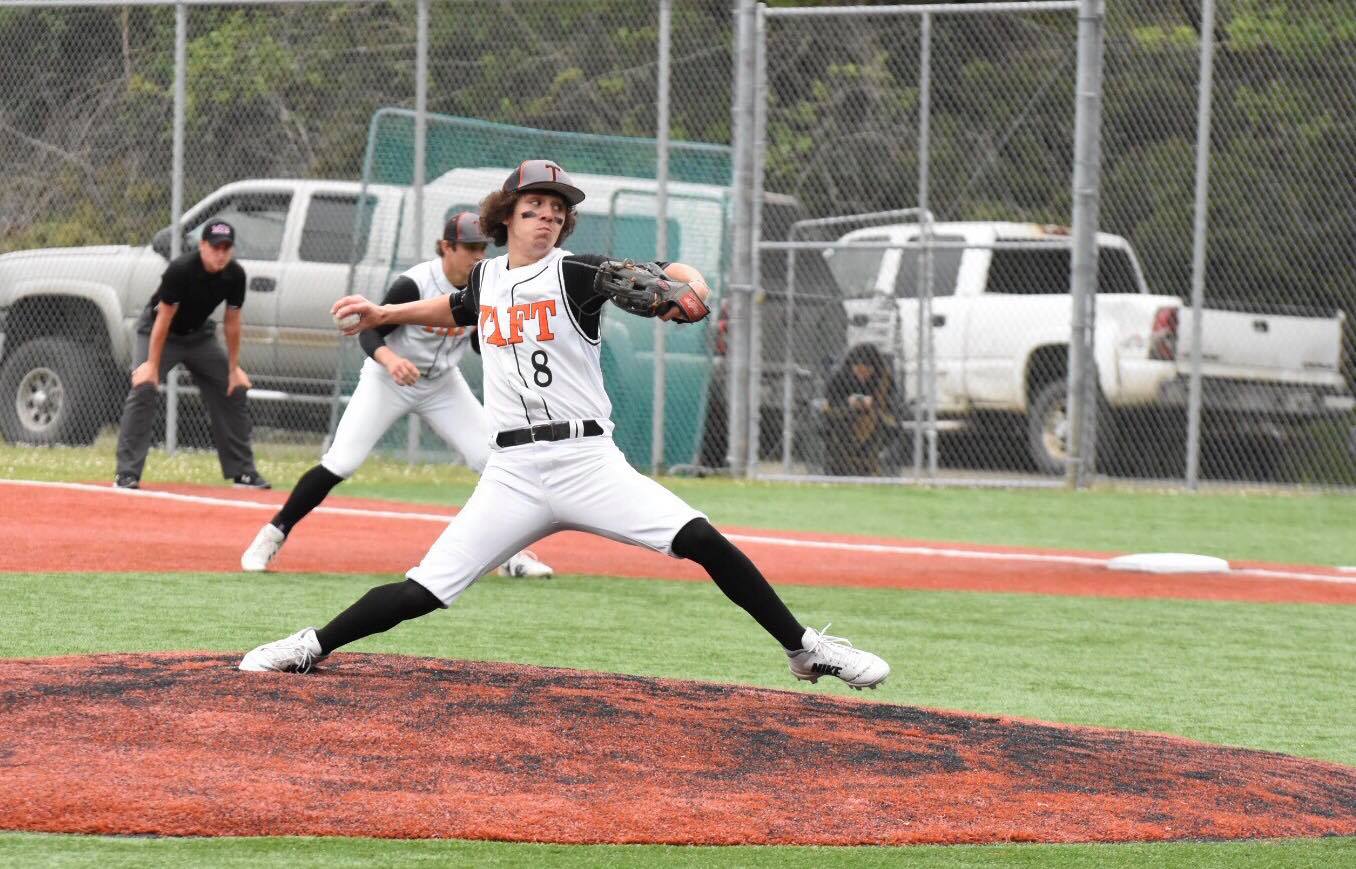 So, that's why they play the game . . .
No. 1-ranked Taft High, playing night after night with a target on its back, got struck in the bull's eye Thursday in squandering an eight-run, seventh-inning lead to fall 9-8 to Santiam Christian in a league home playoff loss that broke the Tigers' 16-game winning streak.
Taft surrendered nine runs in the top of the final inning – more than it had yielded in West Valley League play all season – and watched apparent victory behind a four-hit, 13-strikeout performance by senior starter Caleb King slip away.
"The loss stings," said King, who departed with one out in the seventh. "We haven't experienced this feeling in almost two months, so it's something new, but I think it was for the best. Champions need to know what it feels like to lose. We'll feed off of the feeling and use it for fire for State next week."
Second-place Santiam Christian (18-8, 9-3), playing in must-win fashion to secure a home game in next week's Class 3A OSAA State Baseball Championships, rallied behind a series of improbable hits and mishaps that saddled senior Jack Stempel with the loss. Stempel surrendered five earned runs on seven hits in one-third of an inning.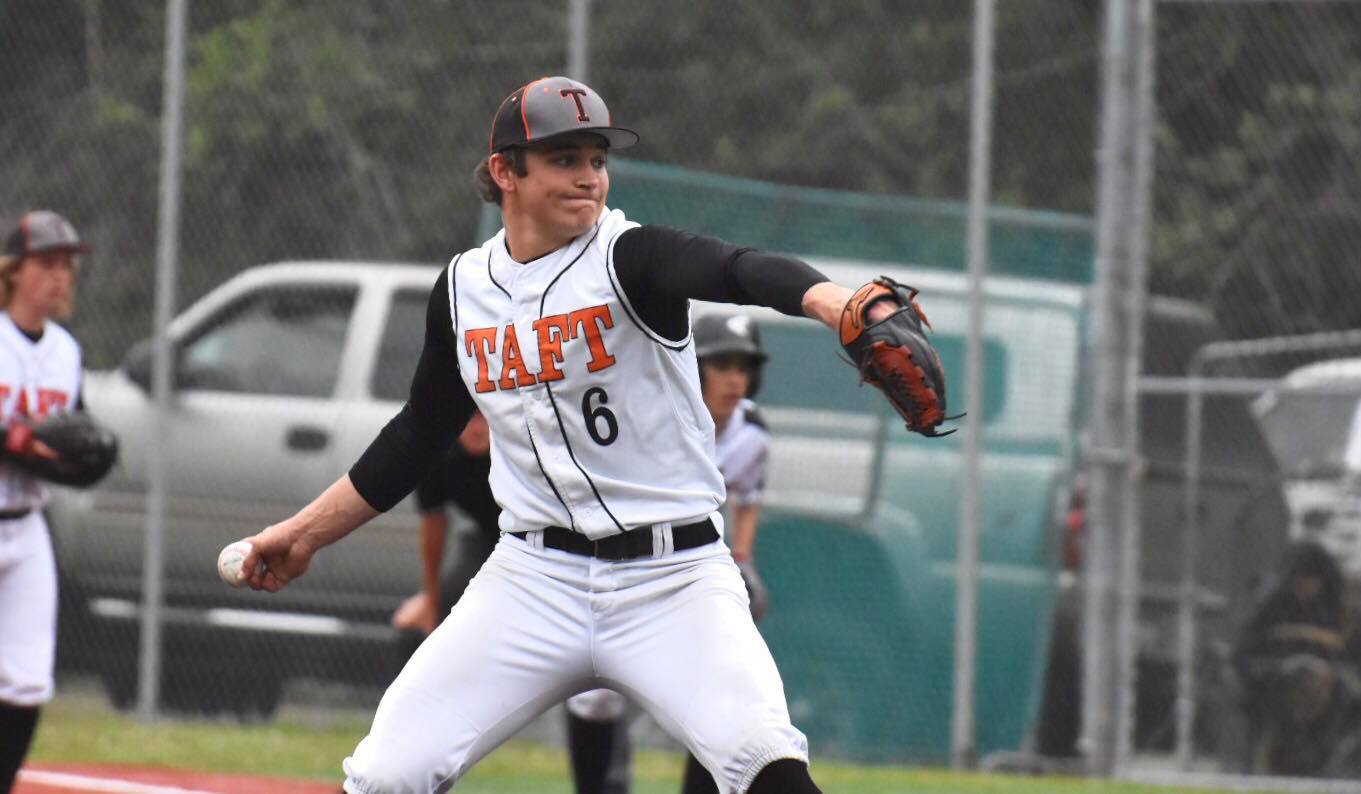 "Today was tough, but it is better that it happened to us now rather than next week," Stempel said.
The Tigers, who ran the table in going 12-0 in conference play, scored once in the first, third and fourth innings before mounting an 8-0 lead with a five-run sixth.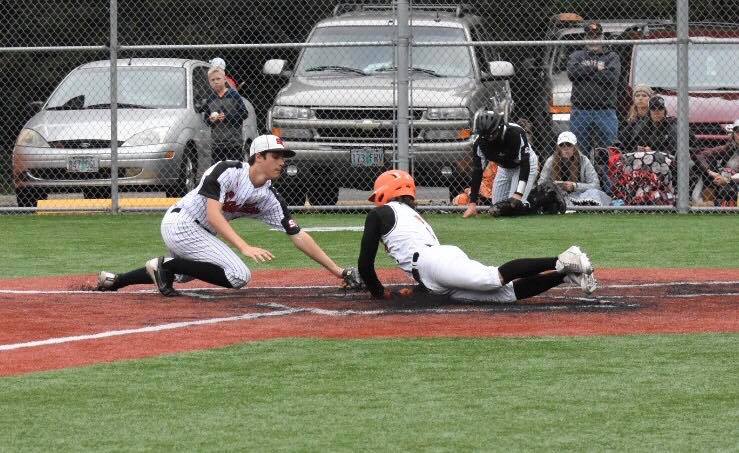 Then, the roof caved in.
"We played a great game all-around until the last inning when Santiam Christian came alive," Stempel said. "Caleb pitched an outstanding game. Santiam just happened to come out hot in the top of the seventh."
Eagles' leadoff hitter and starting pitcher Ryan Hall, junior Patrick Otis and sophomore Sean Riley drove in two runs each in the top of the fateful seventh. Senior Grant Carley, sophomore Mason Wirth and junior Vandon Haugen knocked in one run apiece.
"We just couldn't get over the hump that last inning. It happens sometimes," Taft coach Matt Hilgers said. "We got away from what we have done well all season and we cannot afford to let that happen. That last out can be the toughest out in baseball, and I think we learned that tonight."
Before that, King, who doubled twice, went 3-for-3 with a run and three RBIs; senior shortstop Josh Salsbery 3-for-4 with three runs and an RBI; and junior second baseman Cody Knott 1-for-2 with a run and three RBIs.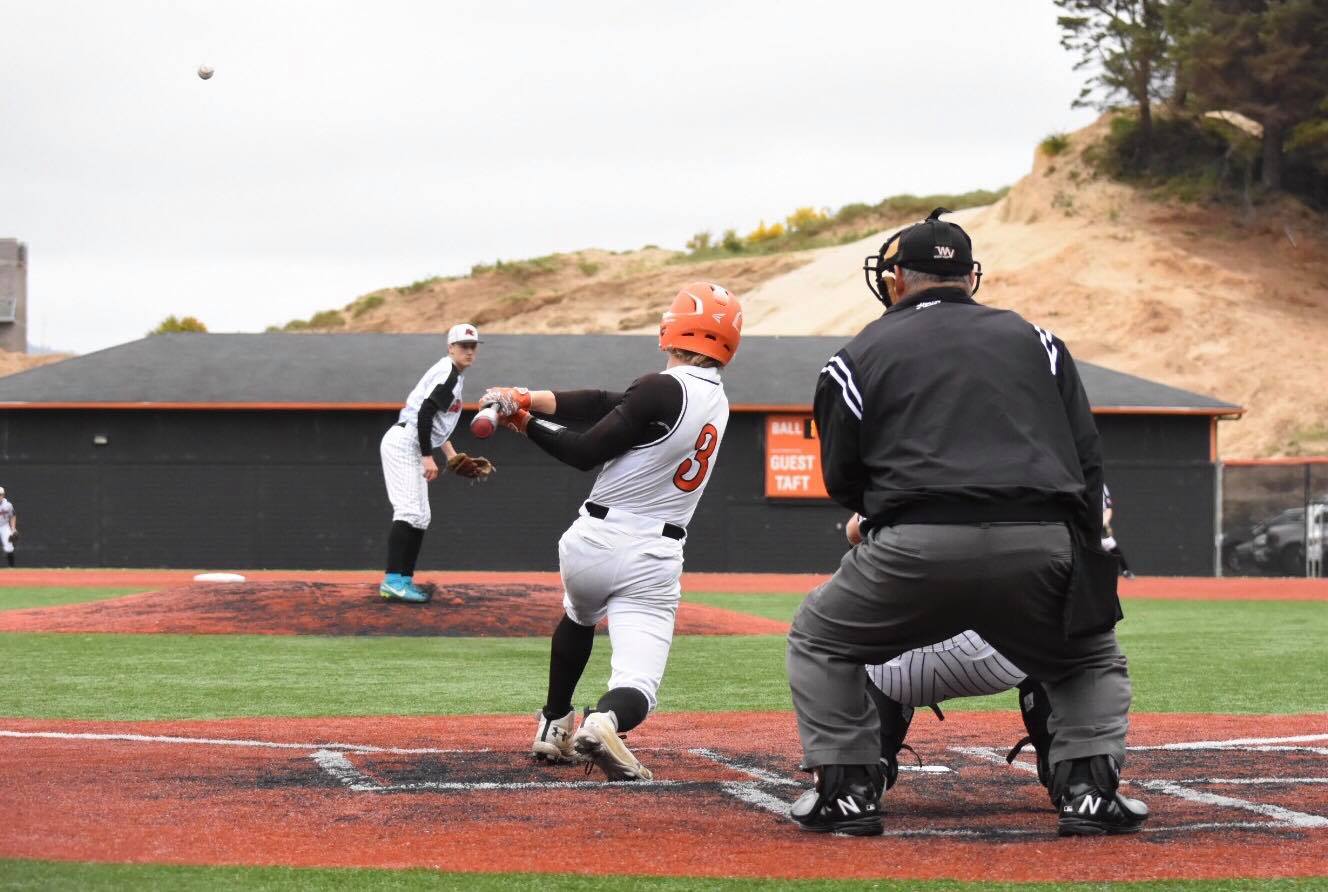 Sophomore catcher Eli DeMello and junior left fielder Tyee Fisher also crossed the plate for the Tigers, who appeared destined for their 23rd victory in 25 games.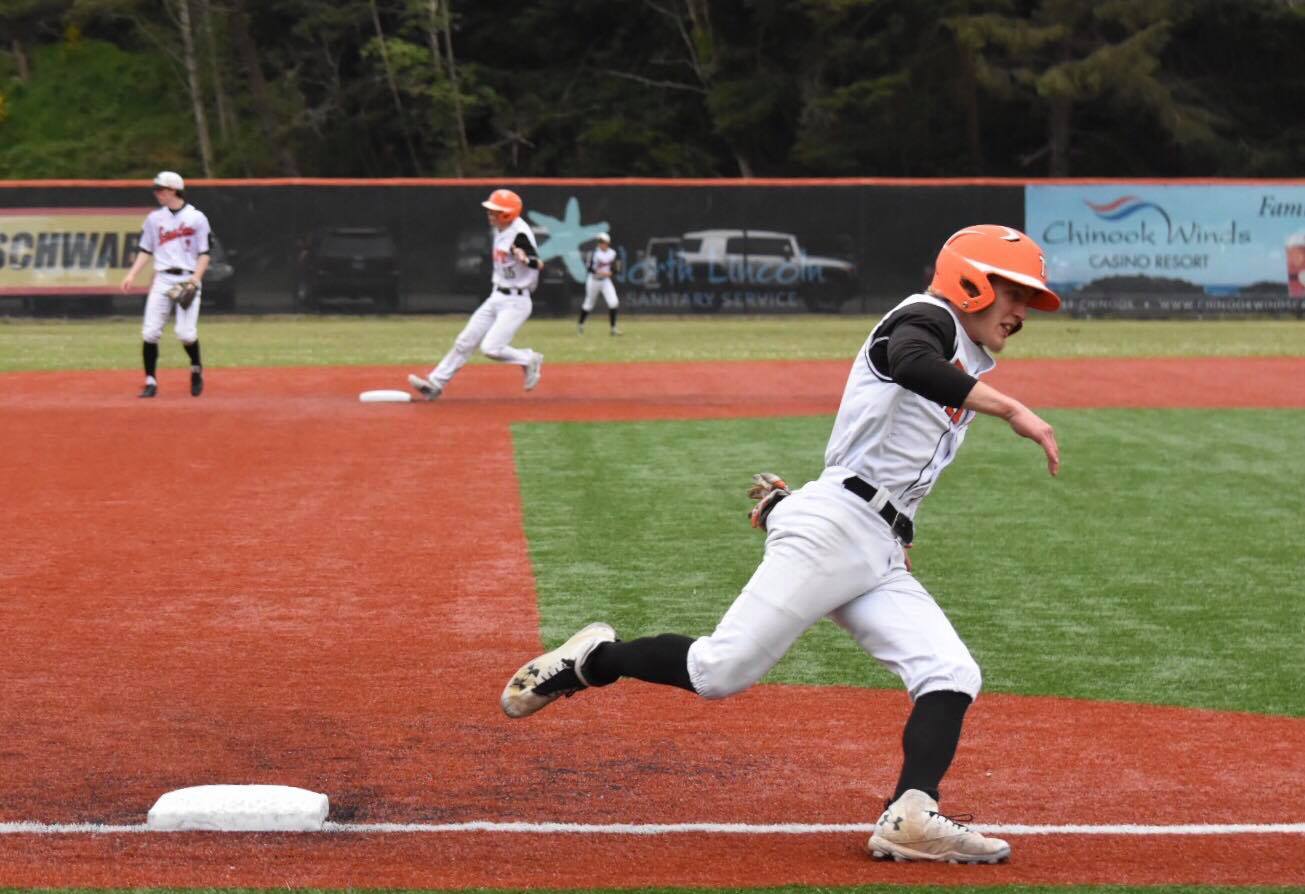 "My viewpoint might be different than some, but I don't think there is such a thing as a good loss," Hilgers said. "I know there are positives that we can take from this game moving forward, but again a loss is a loss, and there isn't a good way to spin that."
The Tigers have been so dominant this season they almost assuredly will maintain the state's top seed entering the postseason, Hilgers said.
"It might not happen, but in my mind we should be the top seed," he said. "We should be playing three home games the next couple weeks."
Taft fell to 22-3 after dominating league foes behind a scoring margin of 156-8, or more than 13 runs per game. The Tigers have outscored the opposition 270-73 in 25 contests.
"We just need to get better next week," Hilgers said. "We have an opponent coming to our place that is going to want to beat us and that needs to be our focus from now until we play again."
The Tigers entered the game having defeated the Eagles 10-0 at home on April 10 and 5-1 in Corvallis on May 4.
"Next week, this loss means nothing," Hilgers said. "Whoever we play on Wednesday is coming into the playoffs with the same mindset as us. The season starts over, and everybody is looking to go 4-0 starting next week."
Taft's only previous defeats had come back-to-back — March 27 when it lost 8-5 at La Pine (3A Mountain Valley), and on March 29, when it fell 18-9 to Crook County (4A Tri-Valley).
"We look forward to hosting a few playoff games starting next week," King said. "And, we hope to have a crowd as amazing as today."
Santiam Christian 9, Taft 8
SANTIAM CHRISTIAN    AB  R  H BI
Ryan Hall             4  1  1  2
Patrick Otis          4  1  1  2
Grant Carley          4  1  1  1
Sam Barton            4  0  0  0
Ryan Mendenhall       4  1  1  0
Mason Wirth           4  1  1  1
Ben Galceran          4  2  3  0
Sean Riley            4  1  2  2
Vandon Haugen         3  1  1  1
TOTALS               35  9 11  9 
TAFT                 AB  R  H BI
Josh Salsbery         4  3  3  1
Eli DeMello           4  1  1  0
Caleb King            3  1  3  3
Jack Stempel          3  0  0  0
Cody Knott            2  1  1  3
Kam Kessler           2  0  0  0
Tyee Fisher           3  1  0  0
Caleb Jones           3  0  0  0
Bleiz Kimbrough      0  0  0  0
Trenton Fisher        4  1  1  0
TOTALS               28  8  9  7
SANTIAM CHRISTIAN   000 000 9 — 9
TAFT                          101 105 0 — 8
LOB–SANTIAM CHRISTIAN 7, TAFT 9. ERR–Sean Riley, Ryan Hall, Caleb King, Cody Knott. 2B–Vandon Haugen, Patrick Otis, Ryan Hall, Josh Salsbery, Caleb King (2), Cody Knott. HBP–Ryan Hall, Kam Kessler, Eli DeMello. SACF–Cody Knott. SACB–Caleb King, Caleb Jones. SB–Patrick Otis, Josh Salsbery, Jack Stempel.
SANTIAM CHRISTIAN       IP    H    R   ER   BB   SO   HR
Ryan Hall                      3.00    2    2    2    3    1    0
Sean Riley                     2.67    6    6    2    1    1    0
Ryan Mendenhall (W)            0.33    0    0    0    1    0    0
Grant Carley (S)               1.00    1    0    0    0    1    0
TAFT
Caleb King                     6.33    4    4    3    1   13    0
Jack Stempel (L)               0.33    7    5    5    0    0    0
Bleiz Kimbrough                0.33    0    0    0    0    1    0
PB–Sean Riley, Mason Wirth. WP–Caleb King. BB–Vandon Haugen, Josh Salsbery, Tyee Fisher, Kam Kessler,Cody Knott, Jack Stempel.
Taft roster/schedule
Class 3A West Valley League standings
Class 3A OSAA rankings