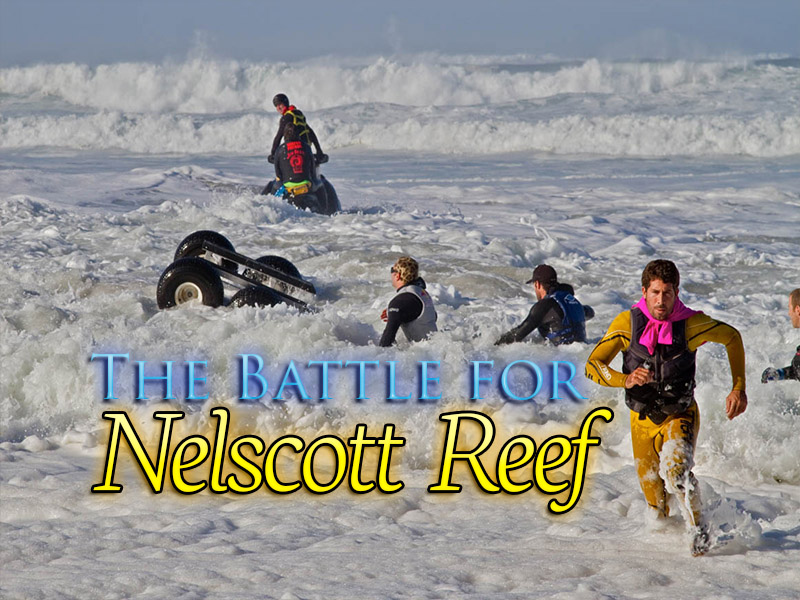 UPDATE: Homepage recieved a call from Executive Vice President & General Manager of the World Surf League (WSL) Graham Stapelberg. He said that they have nothing to do with the Nelscott Reef Big Wave Pro-Am. Stapelberg said the WSL would issue a cease & desist order. The picture below from http://nelscottsurf.com clearly shows that the Nelscott Reef Big Wave Pro-Am has been falsely claiming they have WSL support.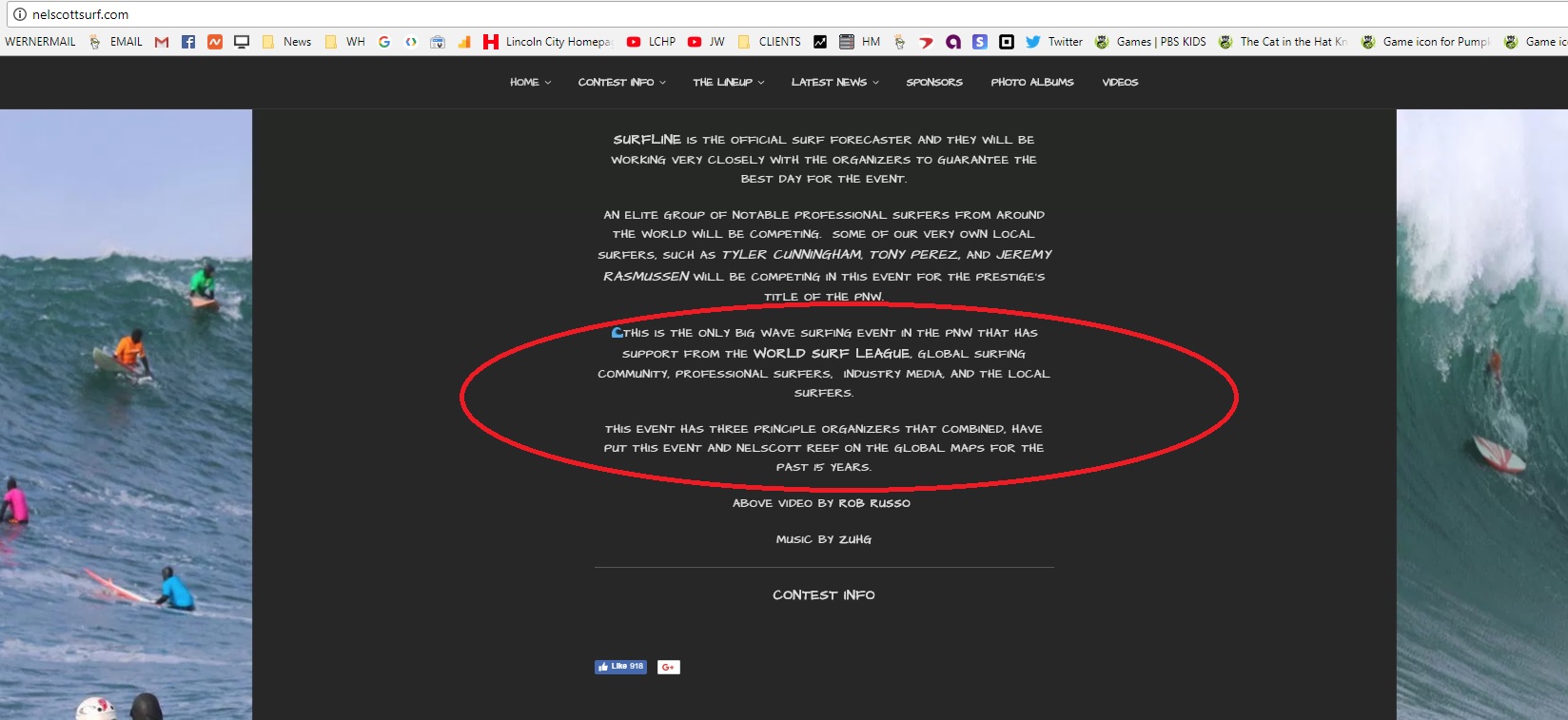 Surfline Editor Marcus Sanders confirmed that they are not sponsoring the Nelscott Reef Big Wave Pro/Am. From the website and photo above one would be led to believe that they are working closely with event organizers to guarantee the best day for the event.
——————————————————————————————
Nelscott Reef is a special natural resource in Lincoln City, Oregon where the conditions are just right for big wave surfing where waves can reach as high as 50-60 feet. The destination draws tourists from all over the world to the small coastal town for a few days in the winter.
Two separate competitions are fighting over the same set of waves. One new and one long established, and this is the story of the battle for who can claim Nelscott Reef.
The Nelscott Reef Big Wave Pro-Am is trying to "Piggyback" on the reputation of the Nelscott Reef Big Wave Classic (NRBWC). This whole mess has crested like a wave because of multiple jurisdictions, nefarious internet characters and intimidation from key players.
The Nelscott Reef Big Wave Pro-Am features event organizers that previously worked for the Nelscott Reef Big Wave Classic but were fired by John Forse, founder of the The Nelscott Reef Big Wave Classic that has been running in Lincoln City for over 14 years. NRBWC has had a few different names over those years, but Forse has held the permits and been in charge of the contest.
Portland resident Gabe Smith contacted Lincoln City Homepage in June to tell his side of the story about why he wasn't defrauding sponsors. The story Smith provided turned out to be false and Homepage could not run a story with his version of events.
Homepage learned of potential fraud performed by Smith after contacting Oregon Coast Bank, who said they believed they were supporting the longstanding NRBWC event and not the new Pro-Am event. Oregon Coast Bank demanded Smith remove their logo from the competing event because they felt misled.
Smith Claimed Forse had Dementia
After meeting with and over the course of a few weeks, it was obvious that Forse did not suffer from any mental conditions except an obsession with surfing.
Forse has the support of Lincoln City mayor Don Williams and the North Lincoln Fire Department Safety Director Jim Kusz. A dozen local businesses including the Lincoln City Chamber of Commerce, have supported the Nelscott Reef Big Wave Classic for the entire duration of the event.
Phone call from Eric Akiskalian
On Tuesday Sept. 19, Eric Akiskalian called me on my personal cell number. Akiskalian is involved with the Nelscott Reef Big Wave Pro-Am. He lives in Washington state and is a water safety and logistics director. Akiskalian introduced himself to me and had knowledge I had become the admin for John Forse's website, nelscottreef.com. Akiskalian threatend my business and offered money to shut down nelscottreef.com, or at least remove the Hall of Shame from the website. I informed Eric that the website would remain the way it is and he became furious. Holding the phone to my ear, standing outside my truck and watching my kids play, Akiskalian descended into chaos. His verbal threats included having Forse's website taken offline by hackers and destroying my Werner Host business.
A short time later, I started getting fake reviews on Google for my business and had to ask for them to be removed. I was able to trace back one of the Google+ profiles to the Nelscott Reef Big Wave Pro-Am. Check out Ed Smizek below.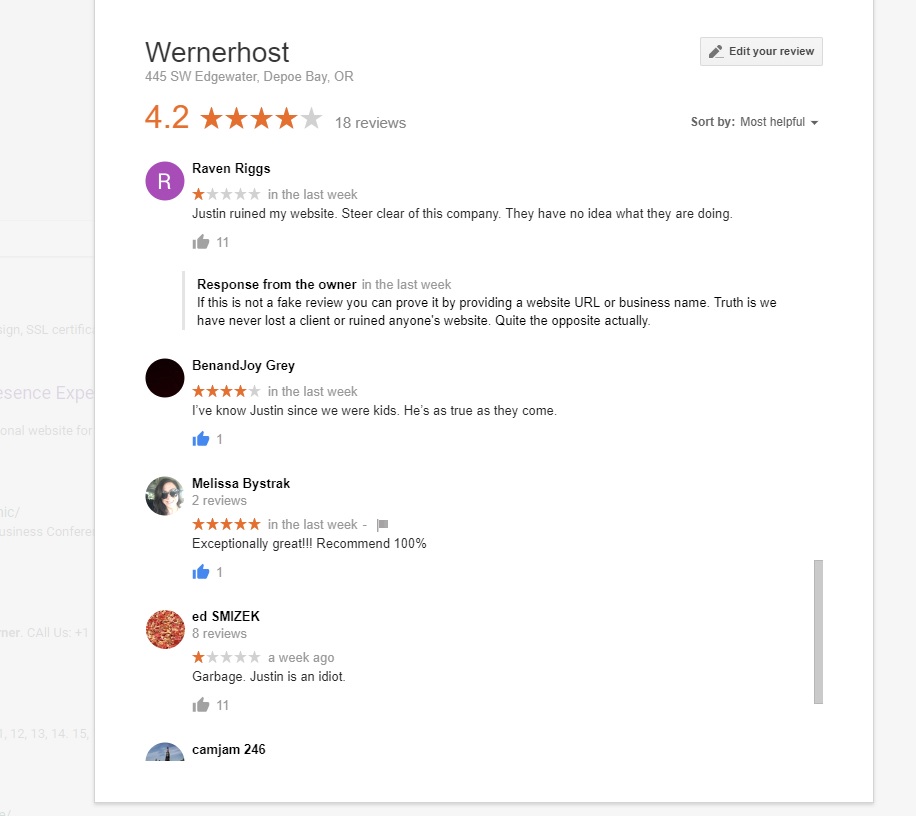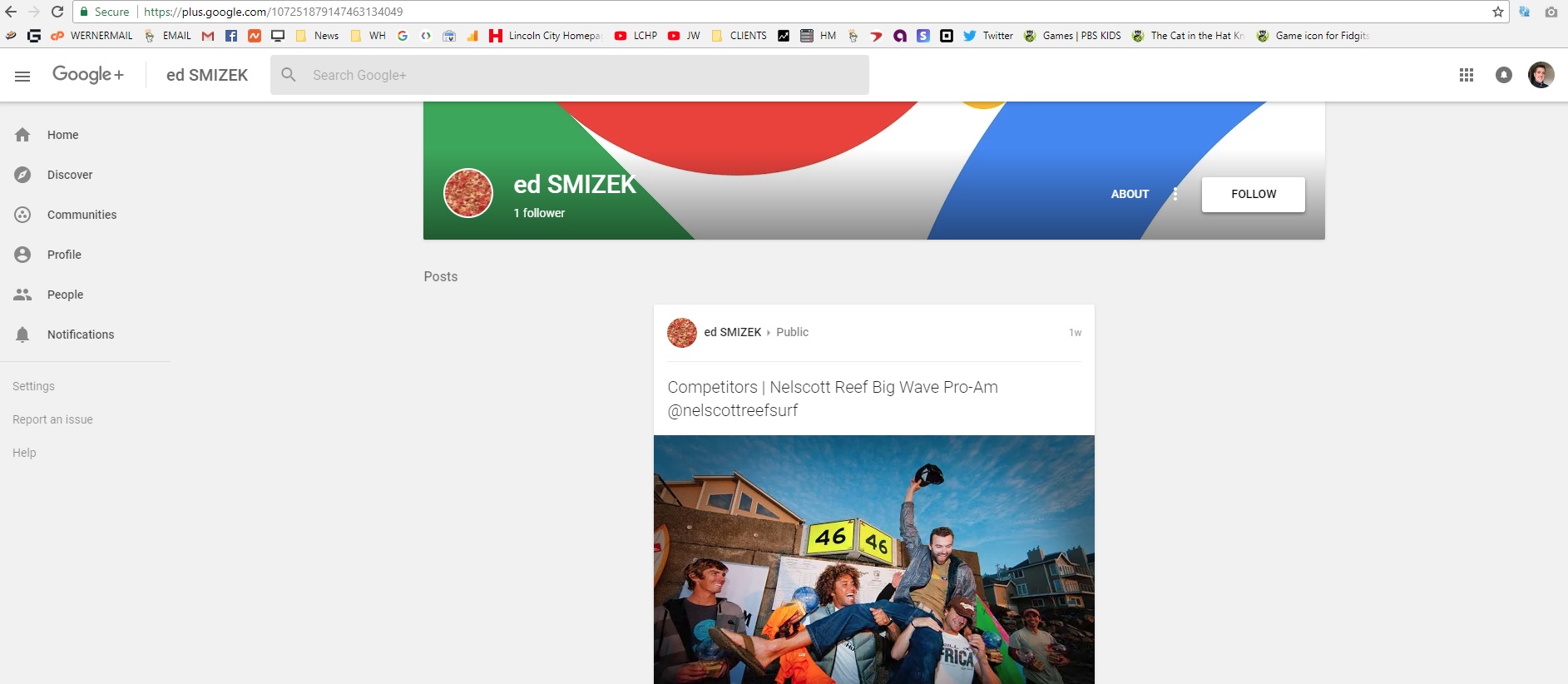 Phone Call From Adam Wagner
Immediately after speaking with Akisalian, I received a call from Adam Wagner. Wagner is involved with the Nelscott Reef Pro-Am and lives in Portland. Wagner pleaded with me to remove this post form Forse's website: https://nelscottreef.com/letter-to-eric-akiskalian-from-adam-wagner/.
Upon informing Wagner of my refusal he became agitated and told me that Forse's website had been taken down before and it was just going to happen again. That statement proved false after talking to LVSYS, who has hosted Forse's website in the past. LVSYS told me they did not want the drama and told Forse to host his own site on Godaddy.
That's just the tip of the iceberg of this story. It gets worse and if you get offended easily it is suggested to stop reading.
Facebook Defacement
When Smith and Forse worked together they both had access to the NRBWC Facebook page. https://www.facebook.com/nrbwc/
When I was brought on to salvage a horribly defaced account on Facebook, I was amazed at the level of detail and the time it must have taken for someone to do this.
Forse's personal Facebook had been subscribed to over 100 gay and lesbian groups. All of his books and movies were changed to gay and lesbian titles. The actual Nelscott Reef Big Wave Classic Facebook page was blocked to the United States so anyone looking for the event could not see it. The person responsible even changed the name of the event to: Nelscott Reef Big Gay Classic.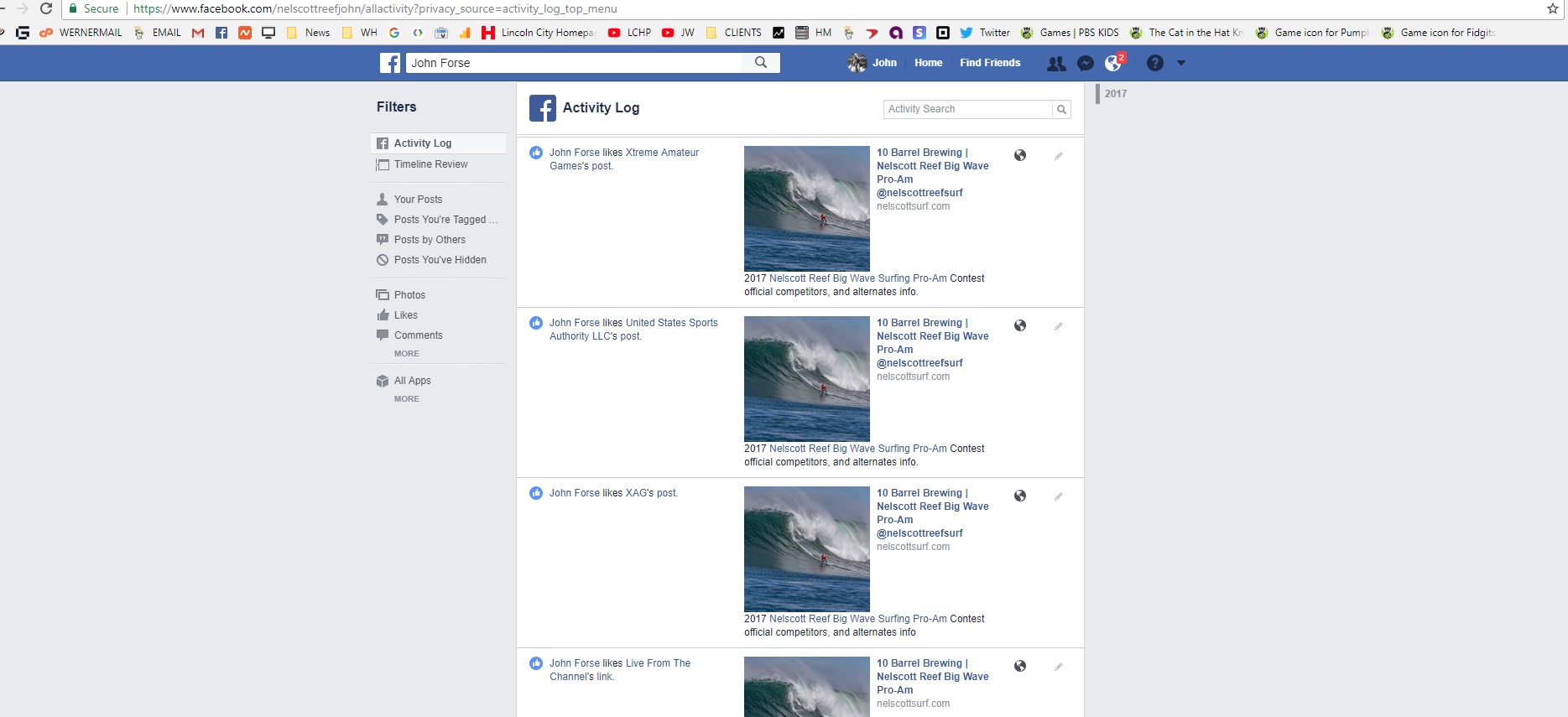 The changes to Forse's account were numerous and tricky to find and just reverting them took a great deal of time. I was able to get an IP address (73.96.115.141) that had accessed the account and made these changes. Forse is contacting law enforcement so they can investigate further.
Forse, out of his element in the computer age, had to reach out to get back in control. We had him change his passwords and have secured his accounts, so going forward there should be no more problems.
The similar websites
Nelscottsurf.com is a website that Smith set up Aug. 8, 2017 after being fired from the NRBWC over sponsor issues.
Nelscottreef.com was created by Forse on: Dec. 27, 2003 You can see the official permit issued by the City of Lincoln City on the site.
Smith violated copyright laws by pulling images from nelscottreef.com. Forse had to file a copyright infringement notice with nelscottsurf.com's web host Godaddy who moved quickly to have the copyrighted works removed.
There is false advertising on that site. This is on the home page: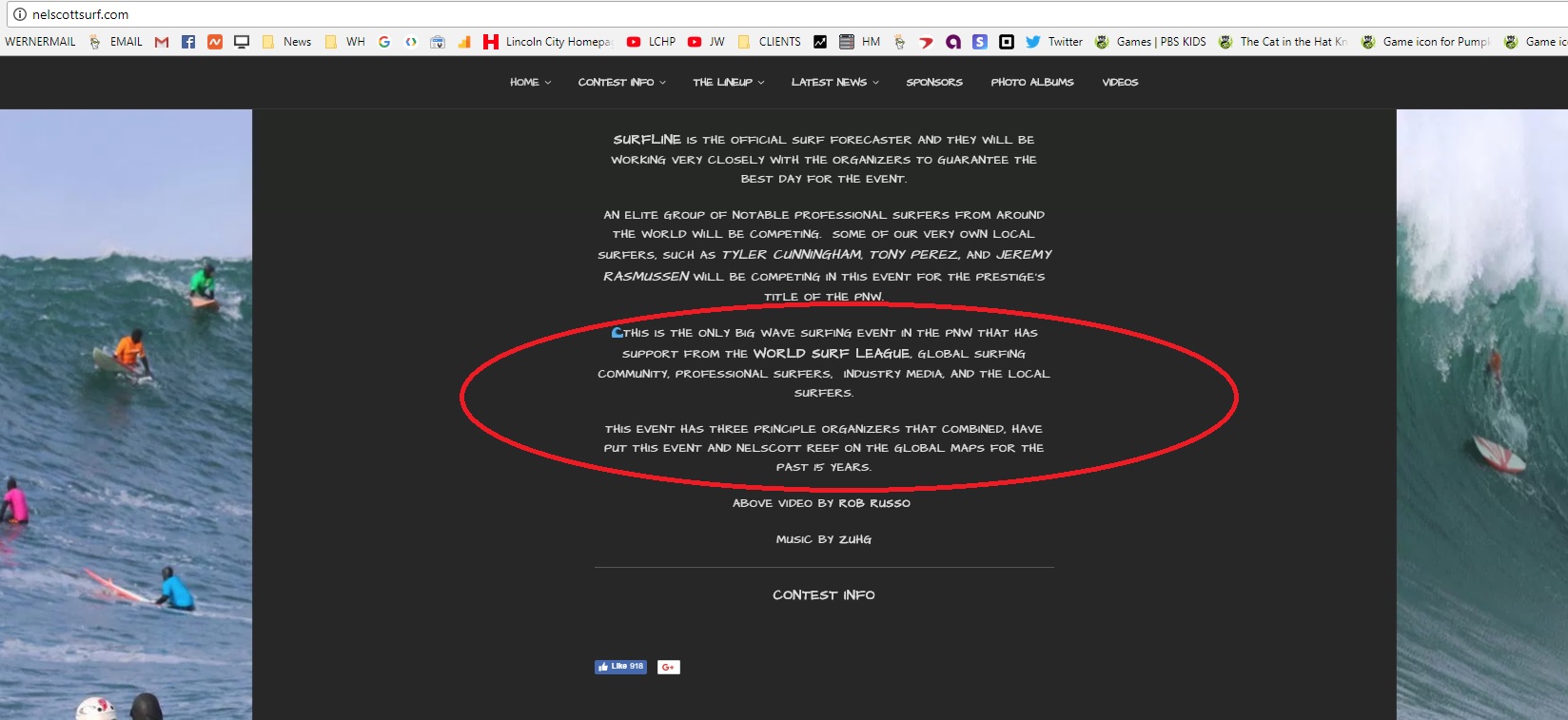 The Visitors Convention Committee also awarded Forse a grant for $15,000.
The Testimonials page speaks about the battle as well as the Hall of Shame Page.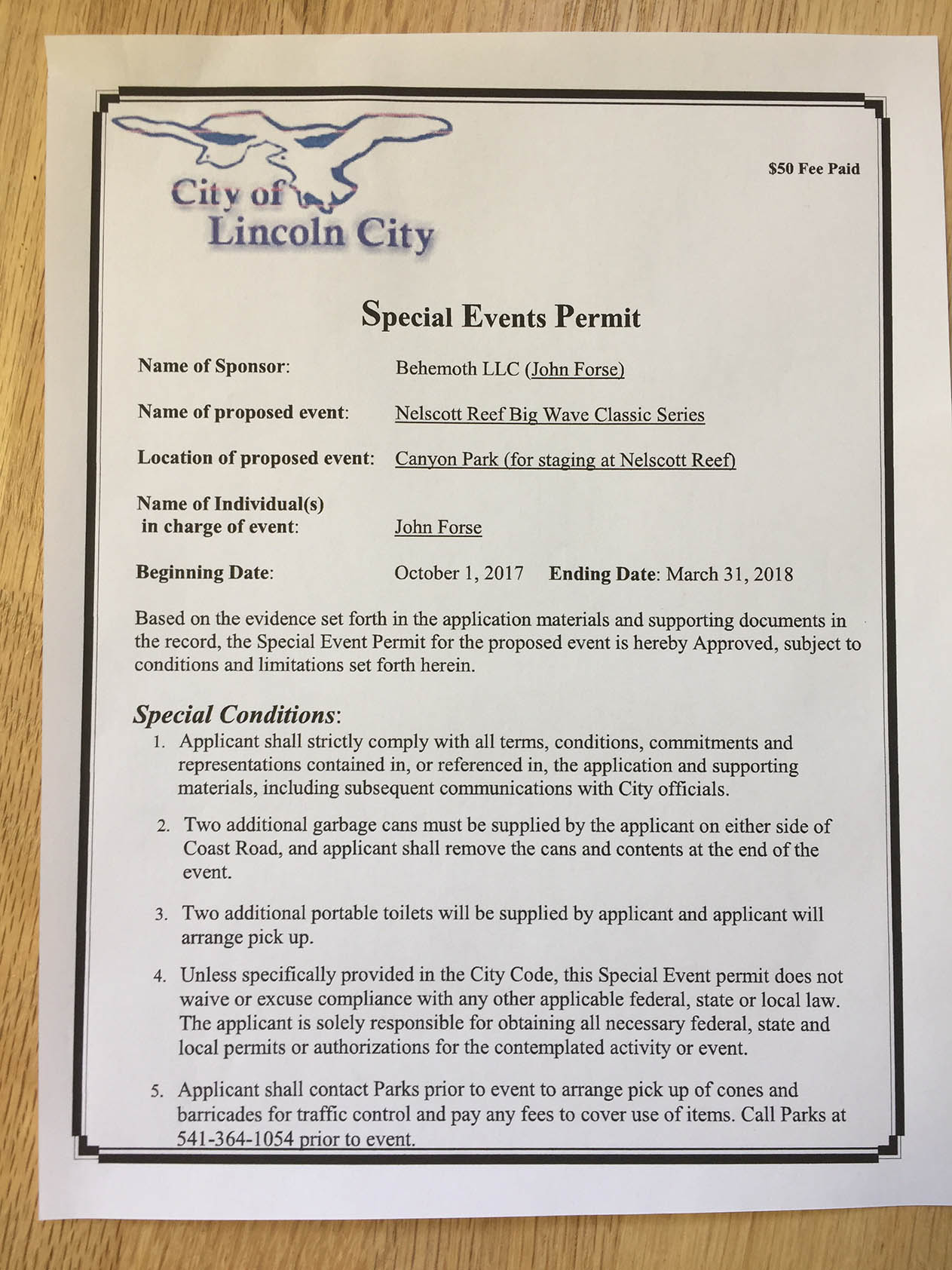 Its pretty bad what's happening to Forse, a Lincoln City resident who founded the event back in 2005. He was bitten by a shark which is another story (Skip to 23 minutes).
Web designer turned reporter
I just stumbled into all this. Friends of Forse contacted me to assist him with a simple website conversion from HTML to WordPress. I completed that job and after investigating this story, 70-year-old Forse appears to be a victim of elder abuse.
In my opinion what the Nelscott Reef Pro-Am and the City of Lincoln City is trying to do to Forse is reprehensible.
This is a Lincoln City event that has been run successfully by Forse in the past. If the sponsors, and WSL knew the truth they would do the right thing. Until that happens someone needs to protect Forse and ensure he and his competition are not defamed or discriminated against further.
This article is part of an ongoing investigative series. More to come.