The witness who called 911 to alert first responders to a distressed surfer near Devils Punchbowl says he regrets not calling sooner to prevent the drowning of the young Corvallis doctor.
"I just wish I would have called earlier instead of waiting for him to call out for help," Jefferson resident Milo Becktold said of the passing of 31-year-old Toren Stearns, who was pronounced dead Saturday evening at Samaritan Pacific Communities Hospital in Newport.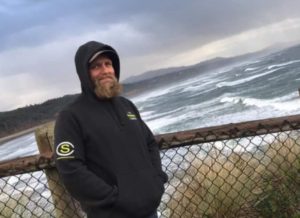 Becktold, who was celebrating his 37th birthday, said he and his girlfriend arrived at the popular natural viewing area about 18 miles south of Lincoln City at approximately 3 p.m. Saturday and saw Stearns, who had left his dog on the beach, struggling in the water.
"We started walking the loop, I guess you could say, and we saw the surfer down there," he said. "He was having trouble staying on his board. We watched him for a few minutes, took some pictures of the scenery, and I told her, [there's] going to be a rescue, not knowing what was going to happen. I did not even think it could have got that bad because he could touch and stand in some areas.
"So, we watched him try to get on his board and ride a wave in for about 10 minutes, but he just kept falling off his board. But then he started calling for help. That's when I told my girlfriend to dial 911."
Depoe Bay Fire District safety and rescue personnel arrived first on the scene at approximately 3:30 p.m. in response to Becktold's report of a man trying to swim to shore but being battered by waves.
"He was still attached to his board at that time, but could not get back to it," Becktold said. "The waves just kept hitting him and pushing his board toward shore while he was being pulled out.
"The waves kept crashing on him, which eventually detached his board. About 10 minutes after I made the call, we heard sirens, so I had my girlfriend go up to the road and wait for the rescue people. But by the time they got there, he had stopped moving and was just floating in the surf lifeless.
"About 25 minutes after the 911 call was made, a surfer from a local shop went down and tried to find him but couldn't. Then, 10 minutes later, the Coast Guard boat arrived, but couldn't get close. Then a [helicopter] came 10 minutes after that, but took a little while to locate the surfer. A diver was lowered in when they located him, but struggled in the surf — actually lost him a couple times — but always made it back to the unconscious surfer.
"The surfer then went in to help with the rescue, came out of the water, then went back in. He and the Coast Guard put the lifeless surfer on his board and made it to shore, where emergency crews were waiting. They tried CPR on him for about 10 [minutes], then loaded him in the [helicopter] to the hospital."
Becktold, a land developer for new housing communities, said being an eyewitness to the tragic death weighs heavily on him and his partner, adding that people who see something should say something — immediately.
"Me and my girlfriend were on our way to Newport to eat dinner, but it was still early so we decided to go see the Punchbowl, then just stopped to watch the surfer when the worst happened," he said.
Local authorities remind tourists and residents to beware of surfing and weather conditions before entering rough water on the Oregon Coast.
"I feel sad for his family's loss at this time of the year, for it's supposed to be a happy time with Christmas right around the corner," Becktold said. "I'm sorry for their loss."