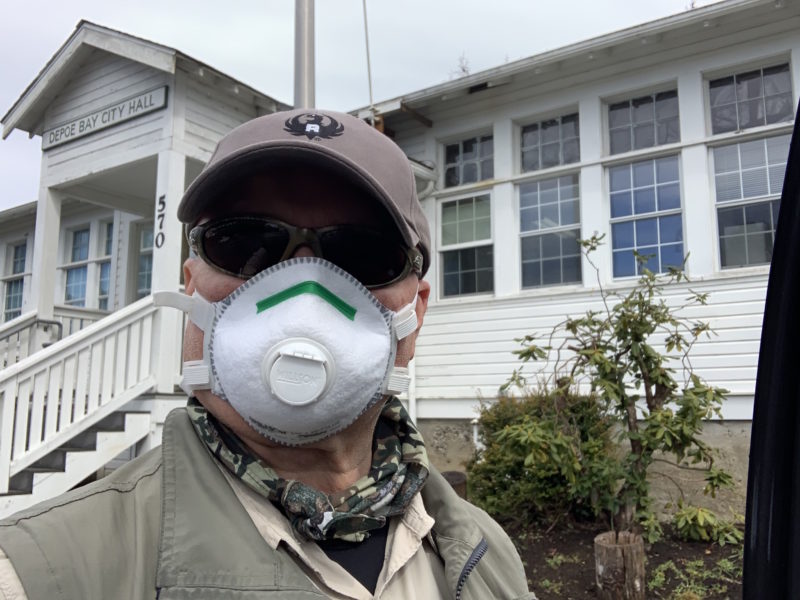 Lincoln Co. Commissioner Claire Hall continues her Quixotic quest to channel the late Republican governor Tom McCall in a cynical warning to second-home owners in "Scram!"
Emulating a famous McCall punchline, Hall blames out-of-towners for using a pesky loophole to defy the commission's best efforts to halt the Wuhan Bat Virus at the county border.
"One group of people isn't getting that message, though — the absentee property owners," opined Hall, who urged to the county lawyer to ban vacation homeowners but was saddened to learn "there's no way we can keep people away from their own property."
In a flourish of Voodoo Science, Hall deduces the link between between the contagion and "parking lots full of out-of-state plates." She stokes the "anger and fear" her constituents claim to suffer but overlooks the likelihood that Lincoln County's Patient Zero could be a neighbor who drove east to shop at Costco, pick up a friend at PDX or get a rectal exam at Samaritan Corvallis. Hundreds of cars exit Lincoln County every day for a round trip to the hot zones.
But Hall speaks less for McCall than a resident anti-tourist crowd who, until they moved or retired to the Oregon coast, were themselves "outsiders." These were precisely the kind of people McCall talked about in a 1971 speech where he concluded, "Come visit, but for heaven's sake don't move here to live!"
Lured by a comfortable infrastructure of health care, big-box shopping and otherwise outsized services for such a remote outpost, these strident NIMBYs dislike much about the Oregon coast's roaring tourist economy: distracted sightseers, slow lines at the checkout, braking for traffic and short-term rentals. Of course, they discount the reality that tourism and the wealth it generates erected the conveniences that drew them here in the first place.
The late Depoe Bay restaurateur Gracie Strom attributed a pithy slogan to this sourpuss faction: "I'm aboard, so let's pull up the ladder!"
But here is a truth that will linger, like Hall's internet trope, long after the pandemic passes: elected officials face the sudden collapse and slow recovery of a crucial industry that filled public coffers with $15 million-or-so in taxes for cities such as Newport and Lincoln City, and nearly $1.8 million for county government.
The losses will be more profound in smaller tourist towns such as Depoe Bay, where 60 percent of the general fund budget relies on taxes from a now-shuttered resort. At stake are other revenues, such as property taxes paid by tourism-related businesses that may not survive. We can only hope these politicians have more solutions than wagging their fingers at outsiders.
No doubt Tom McCall, who led with buoyant optimism and wry humor, is twirling in his grave at Commissioner Hall's brazen scapegoating. But then, he wasn't running for another term on the Lincoln County commission.