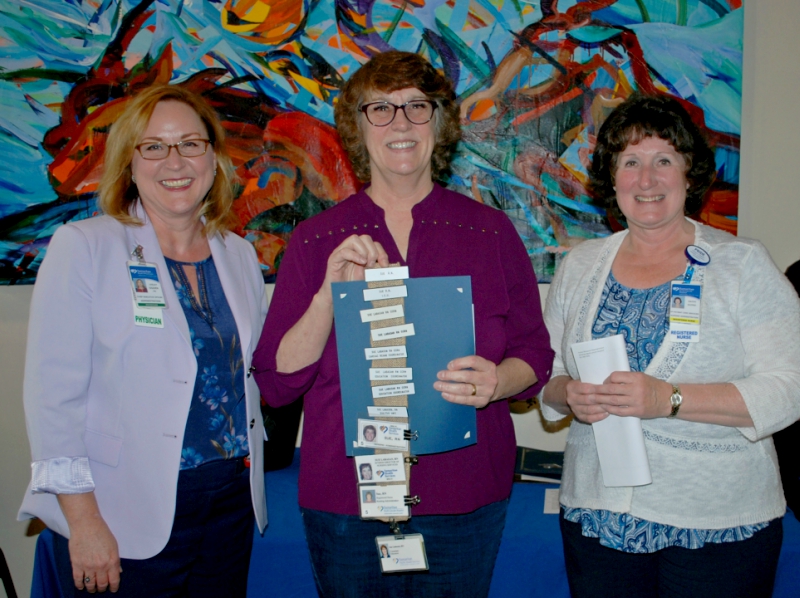 Staff at Samaritan North Lincoln Hospital (SNLH) took a mid-afternoon break on Monday, May 13, to recognize co-workers who have reached employment milestones – including two employees with 40 years of service, Phil Mengucci and Sue Labasan, RN.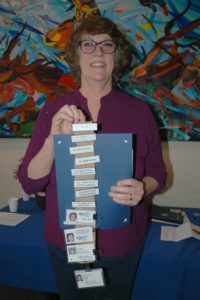 With a hire date of November 1978, Mengucci has worked the past four decades in the hospital lab as a medical laboratory scientist. Labasan's hire date of May 1979, plus two previous years of hospital employment, give her a total of 42 years of service. Unlike Mengucci, who faithfully performed one role through the years, Labasan found her job changing through the years: emergency room clerk, EMT, nurse assistant, LPN, cardiac rehab nurse, nursing educator, dialysis nurse, nurse recruiter and even temporary vice president of nursing for a few months; since 2008, she has been a part-time house supervisor.
At the 2019 Service Awards Celebration, held in the hospital cafeteria, CEO Lesley Ogden, MD, praised the employees' dedication to serving the community through their work at the hospital and medical clinics. Others who were honored were:
30 years of service: Susan Richwine, RN, of ambulatory infusion.
15 years of service: Robert Bumgardner of nutrition services; and Dr. Karen Niehaus of Samaritan Coastal Clinic.
10 years of service: Keith Blanchard of emergency services; Wanda Bolopue of Samaritan Lincoln City Medical Center; Mona Brooks, Kathey Edwards and Charlotte Grant, all of Samaritan Early Learning Center; Bobbie Cuenca of Pharmacy; Jan Inman of nutrition services; Patrosia Kuhn, RN, of wound/ostomy; Maria Gonzalez Tamayo, RN, and Leilani Ibayan, RN, both of ICU/CCU; Cherie Melton, RN, of labor/delivery; Darin Minnich of environmental services; Cassandra Nair, RN, and Gladys Sundling, RN, both of the medical/surgical unit; and Deidre Pearce, RN, of surgical services.
5 years of service: Mari Lasagna-Kircher and Dr. Meredith Mann, both of Women's Health Center; Larry Slattery of information services; Theresa Via of quality improvement; and Rich Waller of community health promotion.