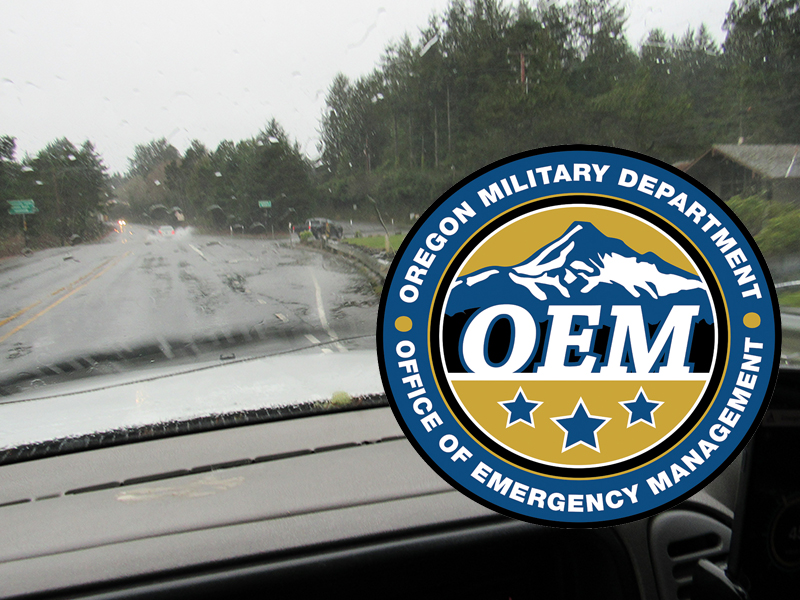 With recent wet weather and more rain on its way, now is a good time to prepare for floods, check your emergency supplies and adhere to basic flood safety.
Some simple tips include clearing out leaves or remaining ice/snow from storm drains and culverts to prevent localized flooding, and having an emergency kit with necessary supplies.
Oregon Office of Emergency Management recommends being "2 Weeks Ready."
Many flood-related fatalities are caused by vehicles driven into hazardous waters.  Six inches of moving water can knock over an adult and 12 inches can carry away a small vehicle. Remember, "Turn Around, Don't Drown."
Heavy rains reduce drivers' visibility. When driving, turn on your lights, increase following distance, slow down, and watch for bicyclists and pedestrians. Follow the Oregon Department of Transportation tips for driving in the rain: https://www.oregon.gov/odot/pages/winter-driving.aspx
Give yourself more time for heavy traffic. Keep a safe distance between you and the driver in front of you, make sure your windshield wipers in are good working condition, obey the speed limit, drive slower in the rain and turn on headlights.
If you are in your vehicle and floodwater is blocking your evacuation route, go to a building on high ground. If your vehicle is trapped in rapidly moving water, stay in the vehicle. If water is rising inside the vehicle, seek refuge on the roof.
A flood does not have to be a catastrophic event, and you do not have to live in a high-risk flood area to suffer flood damage. Around twenty percent of flood insurance claims occur in moderate-to-low risk areas. Property owners should remember to:
Buy Flood Insurance. Most standard homeowner's policies do not cover flood damage. Flood insurance is affordable, and important to protecting your investment. An average flood policy costs around $890 a year, and rates start at less than $516 a year for homes in moderate- to low-risk areas.
Prepare Now. Review your insurance coverage. No flood insurance? Remember, It typically takes 30 days for a new flood insurance policy to go into effect so get your policy now.
Plan Ahead. Plan evacuation routes. Keep important papers in a safe waterproof place. Conduct a home inventory; itemize and take pictures of possessions and the inside and outside of your home. For more information about flood insurance, please call your insurance agent or contact the National Flood Insurance Program Call Center (NFIP) at 1-800-621-3362.
Visit the National Flood Insurance Program at www.fema.gov/national-flood-insurance-program to learn more about flood risk and flood insurance.