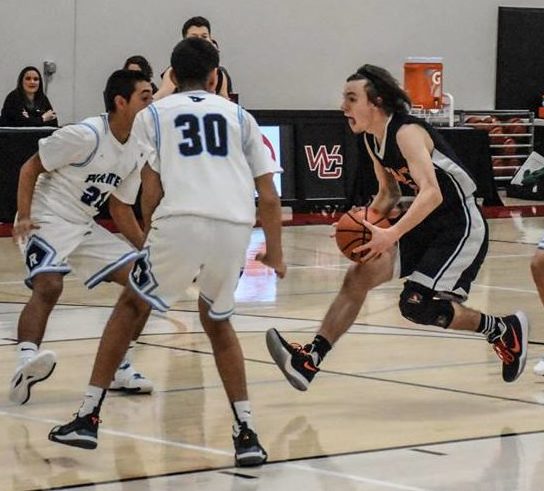 The Taft High boys basketball team built a 26-18 halftime lead Tuesday, but foul trouble proved the Tigers' undoing down the stretch in a 46-41 non-conference road defeat to Jefferson.
Senior and high scorer Ray Darrington and junior Eli DeMello fouled out late in the game as Taft fell to 1-2 despite overall solid play from junior guard Jordan Hall.
The Taft girls, trailing 16-4 after the opening quarter, outscored Jefferson 21-8 in the final eight minutes to improve to 2-1 with a 49-48 victory in an earlier game.
The Taft boys jumped to an early lead, led by dominant interior defense and smart passing inside, first-year coach Andy Morgan said.
"It was the type of offense we have been trying to develop, paired with a much-improved man-to-man offense," he said. "We struggled with some ball handling, panicking at times, and then taking too much time after making some mental corrections."
After taking an eight-point halftime lead, Taft gave up a couple of baskets off of mental mistakes, Morgan said.
Still holding the lead, the Tigers spread the floor to isolate defenders on the offensive side, while failing to exercise the same defensive discipline as in the first half, he said.
Starters Darrington and DeMello got into foul trouble by the end of the third quarter.
"We practiced some defensive changes, using some 2-3 zone, and struggled on the rotation a couple of times before regaining our earlier intensity," Morgan said.
Hall continued to lead the team as the Tigers struggled to score and continued to leave their feet on defense. While Jefferson went to the line twice as often as Taft, poor shooting kept the Tigers within striking distance.
With Darrington out due to fouls, the Tigers were beat on some crucial rebounds before Trenton Fisher closed the game on a coast-to-coast layup and Hall nailed a 3-pointer off an inbounds pass.
A fifth foul on DeMello put the Lions back on the line with 12 seconds to go and closed the door on any Taft hopes.
Senior post player Tyee Fisher played an aggressive game offensively at the rim and provided defensive leadership, Morgan said.
"It was his best complete game this season, and the kind of toughness we will need from him," he said.
"Nearly everyone contributed something, including scrappy defense by Lucas Hindman and solid play by Clay Nelson," he said. "As consistency and teamwork continue to be the focal points of this team, rebuilding an identity, the Tigers are taking home a good vision of what success will look like."
The Taft boys junior varsity, led by first-year coach Kyle Hamlin, started their season with a win behind the hustle of sophomores Fco Ramos and Graden Kerr.
Meanwhile, junior Emma Coulter scored 14 points, senior Savannah Russo 11, sophomore Claira Tolan 10 and senior Autumn Ellis six to lead the varsity girls back from a 12-point first-quarter deficit for the win.
"We came out in the first quarter and made a lot of mistakes — turning the ball over against Jefferson's full-court press," Taft coach Jake Tolan said. "This has been something we have been working a lot on in practice, so to come out last night and not perform well against the pressure was frustrating."
Tolan said the Tigers, who won their season opener over the host Eagles but lost to Riverside in the Western Christian Tournament, must get quality play from the opening tip with the team's Coastal Range League debut and home opener just two weeks away, Dec. 17, against unbeaten Warrenton.
"We have to start games better and avoid digging ourselves holes at the beginning of games," he said. "The second quarter was where we began playing much better, took care of the ball and made better decisions offensively. We were also more composed and executed our press-breaker more effectively."
Taft was still outscored 12-8 in the quarter to trail 28-12 at halftime, but stormed back.
"We made some defensive adjustments during half, changing up our half-court zone and deciding to start applying our own pressure with a full-court press after made shots," Tolan said, "Both adjustments worked well for us in the third quarter by creating some turnovers off of the press and getting more defensive stops.
Tolan said the Tigers' goal in the quarter was to trim the lead to under 10 points entering the final stanza.
Taft narrowed the gap to 40-28 entering the final eight minutes thanks to big scoring contributions by team leaders Coulter and Russo, then blitzed the Lions 21-8 to the buzzer.
"I was so proud of the girls' effort and their mindset to not give up and continue to work themselves back into the game," Tolan said. "This will definitely be a game I use as a reminder that we can always battle back into games."
The JV girls' team suffered a one-point defeat to Jefferson.
The Taft boys varsity returns to action Friday at Tillamook. The girls play the Cheesemakers, Wednesday, Dec. 12, at Tillamook in their next action.